6th March 2010
Etihad and Kuwait Airways delivered Alex and Jez safely (which is more than can be said of Rob's flight a week later — see Diary Part 2), soundly and in varying degrees of comfort to Zia International Airport, Dhaka, Bangladesh. We had great expectations: the Lower Meghna delta is the largest on Earth (a shorebird Mecca?) and Bangladesh still holds the highest-ever recorded count of 202 Spoon-billed Sandpipers in January 1989. Tantalising recent records hint at the country's continuing importance for shorebirds in the imperilled Asian–Australian flyway (see 'Spoon-billed Sandpiper: teetering on the brink of extinction' for background), but in the early hours of Saturday morning, sleep took precedence.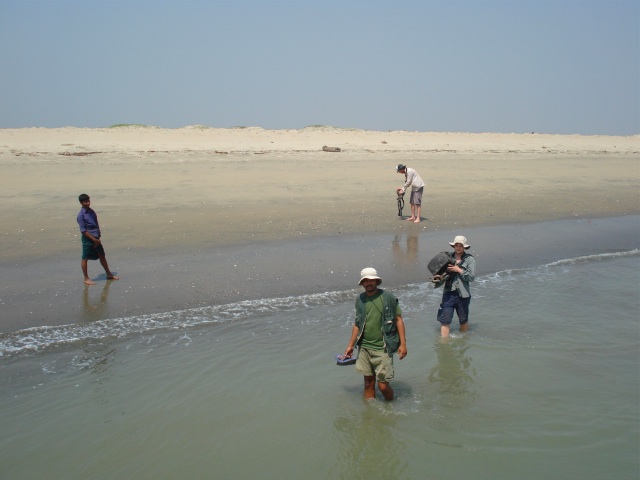 Sayam Chowdhury (Photo: Abu Yousuf)
7th March 2010
Day two and the team are en route to the field! What? Where did the red tape go? Sayam Chowdhury happened: team member and great news for expedition birding in the subcontinent in recent years. Fresh from trapping ducks at an avian influenza training workshop in the north, Sayam sliced smoothly through the usual bureaucracy and logistical nightmares that confront birders off the beaten track and within 24 hours had us out of the capital and waiting in Cox's Bazar in the southeast to catch a boat next morning. The only challenges to confront us on the 7th were sweaty palms and a tangle of shredded nerves precipitated by our introduction to Bangladesh's road traffic — think bad; this is worse.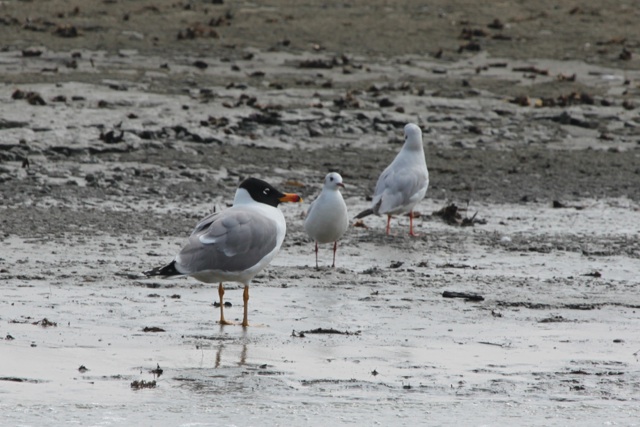 Pallas's Gull (Photo: Dr Alex Lees)
8th March 2010
After planes, bus, cycle rickshaw and row-boat we left Cox's Bazar in a Chinese-Junk-style (minus the sails) motorboat with Pallas's Gulls along the shoreline and Whiskered Terns fishing off the stern. By late morning we were ankle-deep in mud at Tajiakata, a mudflat opposite Sonadia Island (see map) working through the first of many flocks of wintering waders that we will be counting over the coming weeks.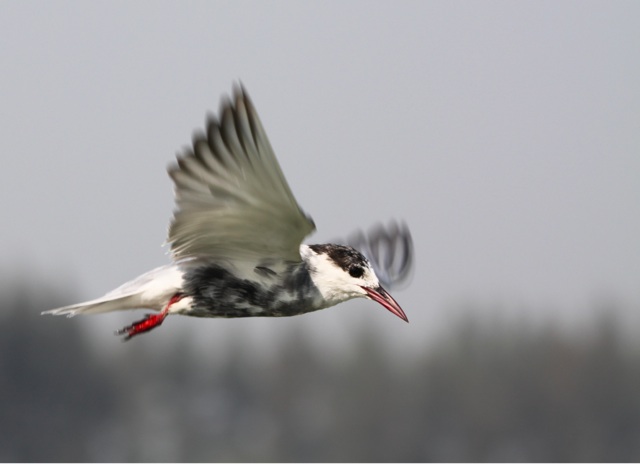 Whiskered Tern (Photo: Dr Alex Lees)
Our main aims during our time in Bangladesh are:
to assess survey effort for shorebirds to date;
to record numbers of Spoon-billed Sandpipers and other threatened waders at known and previously unsurveyed sites;
to gather new data about key species' foraging ecology;
to improve our understanding of potential threats to priority shorebirds and their habitats;
and finally, to do all of the above in March, two months later than previous midwinter counts in January, to test a hypothesis that shorebirds move north into the Bay of Bengal before migrating overland to the Yellow Sea.
This first stop sits under aim 2; we were revisiting a site where Sayam had already recorded two Spoon-billed Sandpipers in January to see whether numbers have increased, whether birds have left, whether there are areas of the site that have not been searched, and to collect sediment samples that are being used by researchers to compare sites and improve our understanding of the species' habitat selection. It was therefore disappointing to draw a blank while searching through Curlew Sandpipers, Greater and Lesser Sandplovers, Broad-billed Sandpipers and Red-necked Stints, as well as a much-needed reality check on the challenges this trip will bring.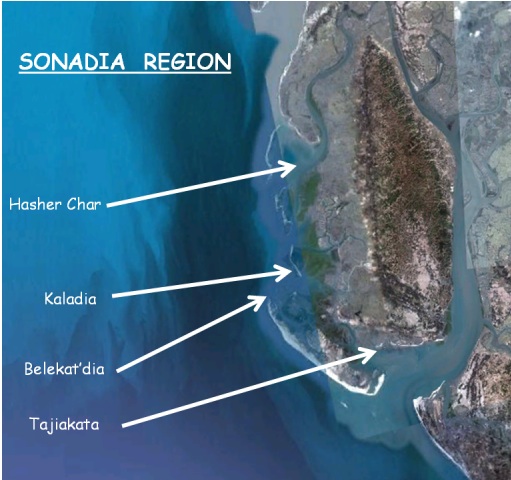 In the afternoon we meandered through tidal creeks banked by mangrove, getting an impression of the mosaic of sand-spits, tidal mudflats, mangrove, saltpans, shrimp farms and fishing villages that dominate this section of coastline. Previous searches have identified sandbars, mudflats and high fluvial inputs as key features for Spoon-billed Sandpiper. This led to the coastal island of Sonadia being highlighted as a potential wintering site and the area was searched by teams in 2005 and 2006 with 21 birds recorded in February 2005. Heading to the north end of the island we moored for the night at Belekat'dia, a sand-spit that hosts a high-tide wader roost where Sayam recorded five individuals in January. This evening was a different story and the slate remained clean until a Peregrine came and flushed the roost. Reality checkmate.
9th March 2010
After checking the nearby mudflat for no further reward, we readied ourselves to head off. Unfortunately the boat didn't. It had become grounded overnight on a falling tide, which to our sun-addled amateur boaters' minds didn't really feel like rocket science. Plan B was flagging down the local equivalent of the Scilly gig-racers who made short work of the reach between Belekat'dia and Kaladia, an exposed mudflat and site of six Spoon-billed Sands in January. In the time it took to set up scopes, a Spoon-billed Sandpiper had walked into the field of view: better. In the time it took to scan once, twice, we had counts of 8, 9 and 10 individuals: much, much better! Full coverage of the site produced a final minimum count of 20 birds in a single thorough scan, and the afternoon was capped off with four Nordmann's Greenshank, an Endangered wader with only a handful of recent Bangladeshi records.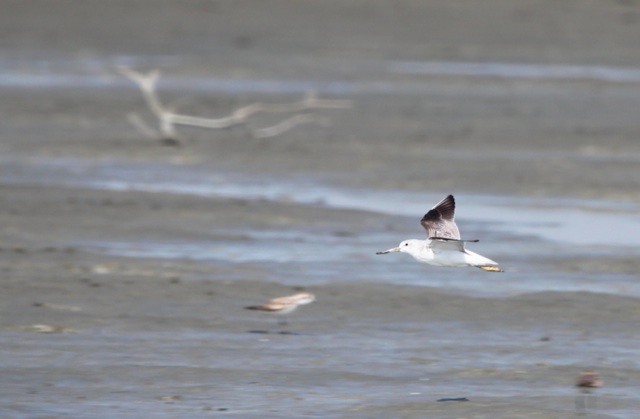 Nordmann's Greenshank (Photo: Dr Alex Lees)
At high tide most of the shorebirds left the roost heading inland so we followed by boat to the coastal saltpans. Thai-wintering Spoon-billed Sandpipers feed predominantly on saltpans and although there are few records from Bangladesh and Myanmar, suggesting this may be suboptimal habitat, the available area is vast and probably offers a good high-tide feeding/roosting area. Dusk prevented a search in the evening, but did bring welcome comforts such as a wash at the local well.
10th March 2010
The morning high tide beat the dawn and a neap tide meant most birds had left the saltpans when we checked them. The 100 or so Temminck's Stints left on the pans feed further inland than most of the coastal waders and probably spend a greater proportion of their time on the pans.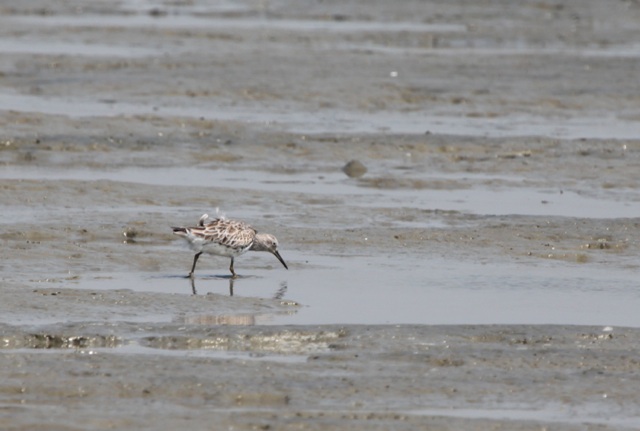 Great Knot (Photo: Dr Alex Lees)
The first of our stops today was at a mudflat island between the coastal saltpans and Kaladia. Here we clocked an impressive 260 Great Knot, presumably the same as a flock of 270 recorded in January. This species is proposed for uplisting to Vulnerable on the 2010 IUCN Red List (see www.birdlifeforums.org) owing to rapid declines recorded in the main northern Australian wintering grounds following land reclamation at Saemangeum, South Korea, a major threat also identified for Spoon-billed Sandpiper whose numbers on migration through Saemangeum have dropped alarmingly in recent years.
Having checked by now the known sites that have received survey effort in recent years, it was time to head off the radar. Extensive searching of Google Earth pre-departure with members of the Spoon-billed Sandpiper Recovery Team had helped to identify a few promising areas. Hasher Char to the north of Sonadia was eventful for other reasons today though, as we became stuck for the second day in succession. A frustrating afternoon looking at thigh-deep impassable mud covered in distant wader flocks turned into a similarly frustrating evening unable to find a suitable campsite for the night owing to piracy issues in the area. Eventually we found an idyllic spot on the sand-spit of Khoir Char to plan for a more productive day on the 11th and to watch two Irrawaddy River Dolphins offshore (this species is listed as Endangered on the IUCN Red List and records from this survey will be passed to a cetacean monitoring programme being run by the Wildlife Conservation Society in Bangladesh).
11th March 2010
Better prepared and with a small fishing boat in tow to access the mudflats, we headed back up to Hasher Char and spent a full morning around this productive area. The site contained expansive areas of very deep soft mud which held the largest wader concentrations encountered to date. Amongst these flocks we recorded an additional 170+ Great Knot and an unprecedented 24 Nordmann's Greenshanks; these records provide valuable input into our understanding of the winter distributions of these species and in themselves warrant further study. Despite the site looking extremely promising, we were unable to add to our total of Spoon-billed Sandpipers at this site.
Having covered the main areas identified prior to the trip we had a day and a half to get back to Cox's Bazar, but were leaving areas around Katubdia Island and inland from Cox's Bazar unsurveyed. On the return journey we stopped briefly at Kaladia and nearby Halodia and recorded a total of 25 Spoon-billed Sandpipers. This represents the largest count in the country since 1997. Great news for Spoon-billed Sandpiper and an early signal that the importance of Bangladesh for the species may have been overlooked in recent years since the discovery of sizeable wintering concentrations in Myanmar (73 were counted in the Bay of Martaban in January 2010 with an estimated 150–200 individuals all told). The shadow looming over this discovery is that the survey area is all either within or adjacent to the proposed site of a deep-water port development currently under negotiation. Further work to understand the seasonal importance of Sonadia and its component mudflats for Spoon-billed Sandpiper should form an essential component of an environmental impact assessment for this project, but any positive steps in this direction are likely to require further advocacy work in the future.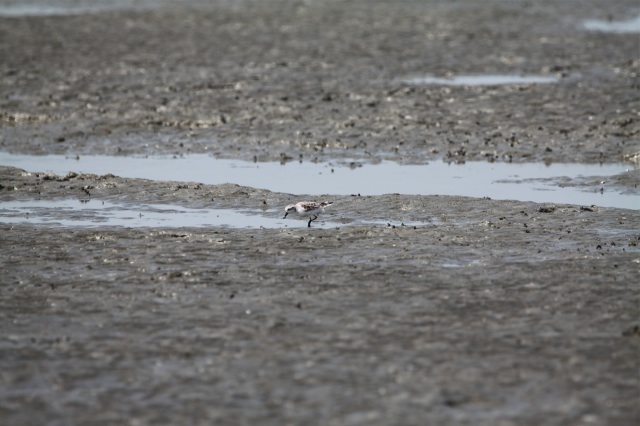 Spoon-billed Sandpiper (Photo: Dr Alex Lees)
12th March 2010
The final day journeying back to Cox's Bazar left little time to explore new sites but did allow the team to gather data from local fishermen on the prevalence of shorebird hunting in the area. In a reasonably successful beginning to the trip, our initial impression is that Bangladesh almost certainly supports several tens, if not significantly larger numbers, of Spoon-billed Sandpipers. The search area, however, is vast and survey effort to date, while committed and fortunately repeated at a number of key sites, is by no means comprehensive.
13th March 2010
Forsaking the coach for the flexibility of a minivan we managed to visit the Shankra River mouth, another previously unsampled area identified as being a potential Spoon-billed Sandpiper spot. Expectations were high when we located a high-tide roost, but despite incurring 3rd degree burns on the blazing sand we couldn't find any of the 'special' waders — although a big group of Pacific Golden Plovers were the first of the trip. More exciting was a rather brief Ganges River Dolphin which proved frustratingly difficult to photograph, despite breaching 10m from our boat! The next two weeks would be spent trying hard to gather the data to illuminate the true status of Spoon-billed Sandpiper and other threatened shorebirds in the intertidal metropolis around Bangladesh's South–Central coastline — the legendary Lower Meghna delta.
Update
16th November 2010: the final results of this work have been published in
Forktail
and are freely available
here
.