An ace of spades among the stint hordes of the great Pacific flyway through southeast Asia, the Spoon-billed Sandpiper Eurynorhynchus pygmeus is one of those amazing quirks shaken out of the evolutionary blender. With regular birds at winter stake-outs in Thailand over the last few years, it has not been a difficult bird to see. In fact, it isn't on most world birders' target lists, because they've already seen it. The same, however, could have been said of Slender-billed Curlew Numenius tenuirostris at the beginning of the 1990s, but perhaps unlike that other Critically Endangered wader we might just have the means to save Spoon-billed Sandpiper from extinction. In the 1970s the population of Spoon-billed Sandpipers was estimated at between 2,000 and 2,800 pairs. By 2000 this had dropped to fewer than a thousand pairs, which was bad enough, but now the situation is rapidly worsening. The 2008 estimate put the population at just 150–320 pairs at most, and last summer appears to have been even worse with only a dozen displaying males located in the Chukotka region (where 60 territories were found in 2003) (Zöckler and Syroechkovskiy 2009).

Spoon-billed Sandpiper (Photo: James Gilroy)
So why has this happened? Spoon-billed Sandpiper represents almost a worst-case scenario for conservationists as its decline is probably being driven by many independent factors, many of which are pretty intractable (Tomkovich et al. 2002). The species has apparently always been rare — it is endemic to the coast of the western Bering Sea (in Chukotka and Koryakia), where it inhabits a narrow belt of coastal tundra, yet it winters at a low density over huge swathes of Asia. The species has suffered from poor productivity for at least the last two years, perhaps owing to heavy nest predation and bad weather, and there are concerns that these stochastic factors may yet be worsened by the impact of climate change, which may already be rendering areas on the southern edge of its breeding range unsuitable. Even direct human persecution by unscrupulous collectors threatens the remaining pairs on their breeding grounds (Syroechkovskiy et al. 2010). However, it is thought that the main factors driving the decline are operating in the species' non-breeding range.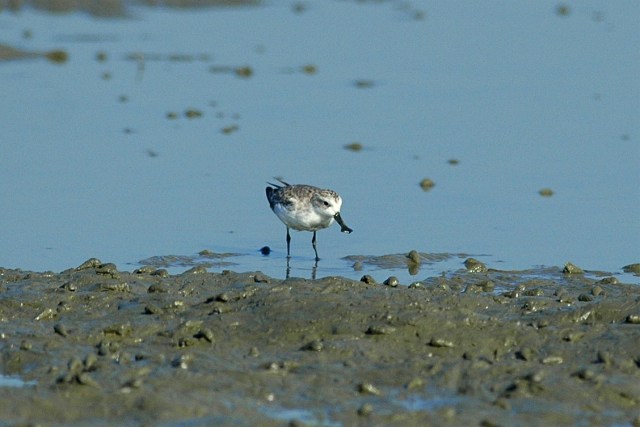 Spoon-billed Sandpiper, Bangladesh, 2010 (Photo: Sayam Chowdhury)
Many critical migration stopover sites, principally intertidal wetlands in the Yellow Sea, have been converted for urban and industrial development: most infamously the Saemangeum Estuary in South Korea, which has recently been destroyed. Large-scale intertidal wetland conversion, e.g. in Tokyo Bay, elsewhere in the Yellow Sea, along the southeast coast of China and locally in Bangladesh and Vietnam have greatly reduced the availability of stop-over sites for shorebirds, and it would not be too much of an exaggeration to say that the whole Asia Pacific Flyway is in a state of crisis with Spotted Greenshank Tringa guttifer, Great Knot Calidris tenuirostris and Far Eastern Curlew Numenius madagascariensis queuing up to go extinct next (Syroechkovskiy et al. 2010). In the wintering grounds extensive intertidal wetland habitats do still remain (e.g. in Bangladesh and along the coast of Myanmar); here the problem facing these and other species is hunting. The overall population-level impact has not been quantified, but on a regional scale Parish (1985) estimated the annual harvest to be of the order of 250,000–1,500,000 birds per annum. This trapping effort represents a significant threat, requiring immediate advocacy and provision of alternative livelihoods for local people at key sites in Bangladesh and Myanmar.
With so many synergistic threats potentially driving the observed decline, but in the absence of clear evidence on which are the most important, conservationists are faced with tough management decisions. Ongoing efforts through the Ramsar Convention and the East Asia–Australasia Flyway Partnership to halt conversion of intertidal wetlands in the Yellow Sea are critical, and dedicated efforts of NGOs in South Korea (particularly Birds Korea) deserve all the support available. The Bird Conservation Society of Thailand (BirdLife in Thailand) is pressing for coastal wetland conservation in the Inner Gulf, and carrying out annual Spoon-billed Sandpiper surveys. Members of the Spoon-billed Sandpiper Recovery Team (SbS RT), chaired by Dr. Christoph Zöckler and BANCA, the BirdLife Affiliate in Myanmar, have already surveyed a large proportion of suitable habitat in Myanmar this January. This work, supported by BirdLife International and the Preventing Extinctions Programme, detected a minimum of 89 birds along the coastline of Myanmar (Zöckler et al. 2010). In addition members of the Bangladesh Bird Club have carried out limited searches around the Cox's Bazar region in southeast Bangladesh. The last piece of the wintering habitat jigsaw is north from here into the Bay of Bengal and the delta of the mighty Brahmaputra, whose myriad shifting sandbars and islands represent the last hope of finding a sizeable population overlooked in recent years. The largest recorded flocks of Spoon-billed Sandpipers are from Bangladesh in the 1980s (one flock of c.200 birds) but recent survey effort has been limited. Concerted searches in 2006 recorded only low tens of birds during January (as individuals or small groups), but a record of 15 individuals in one flock in April 2009 suggests that numbers may increase prior to northward migration (Syroechkovskiy et al. 2010).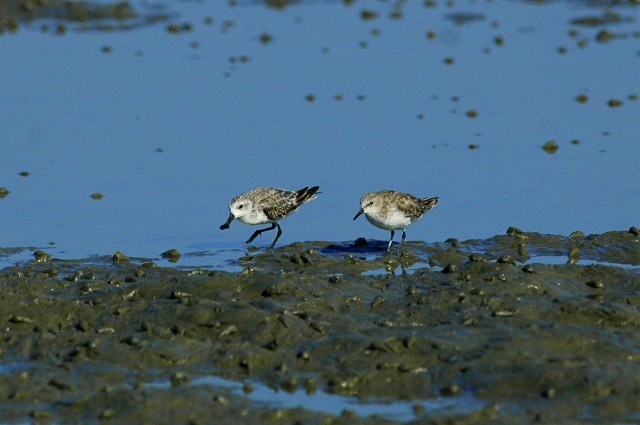 Spoon-billed Sandpiper, Bangladesh, 2010 (photo: Sayam Chowdhury)
A month-long survey in March 2010 will target Bangladesh in an effort to assess the importance of the region as both a wintering and spring stop-over site and attempt to clarify the hunting pressure that shorebirds face in the region. A team from the UK — Jez Bird, Dr Alex Lees and Rob Martin — will work with Bangladeshi ornithologists Sayam Chowdhury (secretary of the Bangladesh Bird Club) and Zahirul Islam (MarineLife Alliance) who have extensive survey experience in the region.
Boat- and land-based surveys will target two areas during March 2010 to search for Spoon-billed Sandpiper, focusing on the Brahmaputra river delta and sites around Cox's Bazar, Bangladesh. The aim will be to search sites known to hold the species in previous years during mid-winter counts, as well as surveying new potentially important sites identified using Google Earth. Data collected will improve our understanding of seasonal abundance, distribution and habitat use by Spoon-billed Sandpiper within Bangladesh, including at Sonadia, a key site proposed for development of a deep-water port. While it is a vital first step to locate any birds present, the key to successful conservation is always getting the community that live with and directly impact on the species of concern to believe in its value. In many cases this requires encouraging alternative methods of land use so that their needs can be met while reducing the impact upon local shorebird populations. We plan to carry out interviews with local hunters to try and quantify hunting pressure on Spoon-billed Sandpipers and other waders and determine the reliance on these birds as a food source for local people.
The expedition will take place between the 5th and 31st March, starting off in the south around Cox's Bazar, before moving north into the Delta. In the next article we will present an expedition diary, hopefully replete with glossy images of Spoon-billed Sandpiper flocks and cause for optimism....
The team is being generously funded by an emergency grant from the Oriental Bird Club, with additional funding from BirdGuides, Ecology Consultants, Sevenoaks' RSPB members group and the Lincolnshire Bird Club.
With its extinction clock seemingly set at five seconds to midnight, the next five years will decide the fate of Spoon-billed Sandpiper. Will we act together?
References
Parish, D. (1985) Threats to wader populations in East Asia. Pp. 211-214 in Proc. of the Third East-Asian Bird Protection Conference, Tokyo, Japan, 29-31 May 1985. Wildbird Society of Japan, Tokyo.

Syroechkovskiy, E. E., Zöckler, C. and Bird, J. P. (2010) Spoon-billed Sandpiper Eurynorhynchus pygmeus: last chance to save. Birding Asia 12: 109-111.

Tomkovich, P. S., Syroechkovski, E. E., Lappo, E. G. and Zöckler, C. (2002) First indications of a sharp population decline in the globally threatened Spoon-billed Sandpiper Eurynorhynchus pygmeus. Bird Conservation International. 12: 1-18

Zöckler, C. and Syroechkovskiy, E. E. (2009) Preliminary results and conclusions of Spoon-billed Sandpiper survey in Kamchatka and Chukotka 2009. Spoon-billed Sandpiper Recovery Team, unpublished report.

Zöckler, C., Htin Hla, T., Clark, N. and Morozov, V. (2010) Report on Spoon-billed Sandpiper Calidris pygmeus surveys January/February 2010 Myanmar, unpublished report.