We all gasped with horror as the big immature Peregrine clattered into the Leach's Storm-petrel. The petrel cart-wheeled into the water with a splash and was soon dispatched by a Great Black-backed Gull. This was a sad end to a fantastic bird, which began a superb few weeks at Grafham Water, my local patch.
Grafham Water is a large reservoir in the west of Cambridgeshire, lying in the armpit of the A1 and A14. Vast flocks of birds, and hordes of rarities, avoid "the reservoir" like the plague for most of the time, and the dedicated small band of birders who do this site as a patch spend many hours trudging round seeing absolutely nothing. However, a couple of good birds in August and September 2005 (most notably a Sabine's Gull and Wryneck) hinted at a change in our fortunes, and by October a real "purple patch" had set in, one that all committed patchers dream of. Fair enough, the birds involved will not seem that inspiring to many people, but within their context at this bird-desert of a site, they are awesome!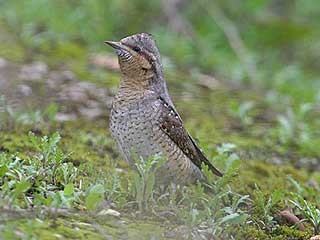 Wryneck: Grafham Water, Cambs (photo: Stuart Elsom).
I am lucky to share Grafham Water with a tiny group of selfless, open birders who share the news of their sightings at all times. Therefore, virtually everything that turns up is seen by all very quickly.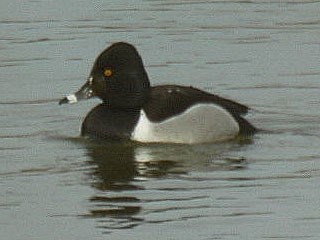 Ring-necked Duck: Grafham Water, Cambs (photo: Mike Lawrence).
On 3rd October, my first day back after a holiday, I had a quick scoot round to check out my Dad's report of a Ring-necked Duck on the settlement lagoons, next to the reserve. As I had shown him "my" RND back in April, I suspected he may have just stumbled across the returning drake.
While checking through the assembled Tufties gathered on the reserve, I was quite shocked to see a Leach's Storm-petrel fly past over the water. "You are not going to believe this but..." was all fellow Grafham patcher Mark Hawkes heard before my phone battery died. Risking the bird going missing, I simply had to get the news out. This was the first Leach's at the site since 1991 and potentially the first twitchable bird in the county. I legged it five hundred metres back to the car, with my 'scope swinging dangerously round my nethers. I plugged my mobile in and spread the word. Fortunately the petrel was still gliding round over the water when I scanned again from Mander Car Park.
What seemed like an age went by, before Mark and a couple of other local birders arrived. Shortly after, a rather mean-looking Peregrine arrived too...
A few expected migrants passed through over the next few days, including Wheatear, Stonechat and Wood Sandpiper, but nothing could make me believe that a few days later I would find a bird to eclipse the Leach's.
On Friday afternoon (7th), Mark rang me at work to say that he had found a couple of Twite near Marlow Car Park. Great! A much needed Grafham tick for me, and a nice bird to boot. Twite used to be regular at Grafham, back in the days when winter meant cold weather, but these days they are few and far between. I shot down to Marlow straight after work, and bumped into Debbie McKenzie, the Wildlife Trust's Education Manager from Grafham Water. Sadly, she had been looking for the Twite without success. I suggested we should walk along the shoreline as there was plenty of flotsam for the Twite to be rummaging about in, looking for the odd seed. Shortly, a small, pale-rumped wader flew past with a bunch of Ringed Plovers. I mentioned this to Debbie, but as we watched, the wader, playing hard to get, shot off across the reserve into the murk.
Banishing thoughts of rare Nearctic sandpipers to the "ones that got away" section of my mind, we trudged on round the rocky shore. Suddenly, I heard the sound of approaching Ringed Plovers, and a beam of fortune shone upon us. The waders pitched in with some Dunlin about ten metres away. I immediately got on the mystery bird with my 'scope, which had decided to continue its silly games by hiding behind a rock. All I could see was a head and bill, reminiscent of photos in the British Birds Monthly Marathon competition. And it looked like a White-rumped Sandpiper. As convincing as it was, I was sure it would emerge to show us the big black Dunlin spots on its belly, but no, here it was in all its glory - a cracking juvenile White-rumped Sandpiper! A first for Grafham and only the third in Cambridgeshire - fantastic! Fortunately, the bird stayed until dusk and remained for the next two weeks, during which time it was admired (and well photographed) by many visiting birders.
| | |
| --- | --- |
| | |
| White-rumped Sandpiper: Grafham Water, Cambs (photo: Stuart Elsom). | White-rumped Sandpiper: Grafham Water, Cambs (photo: Garth Peacock). |
| | |
| White-rumped Sandpiper: Grafham Water, Cambs (photo: Matt Latham). | White-rumped Sandpiper: Grafham Water, Cambs (photo: Dean Eades). |
Okay, so we had peaked early, but good "Grafham birds" continued to arrive, including a Whooper Swan on 14th, plus a couple of Tree Pipits and a Crossbill. On the 17th, excitement arrived again in the form of a dirty great juvenile Gannet. This beast lumbered up and down the reservoir, striking fear into the hearts of the trout below and elation into those of the birders gathered on the shore. It roosted overnight and headed off early the next morning, seemingly none the worse for its visit and apparently not too impressed by the trout on offer. This was the first at Grafham Water for about 5 years and a great inland seabird record.
One or two Common Scoters were expected fare for the time of the year. Grafham Water is a regular stopover site for this species, presumably as they cut the corner off and nip down to the Severn from the Wash estuary. A Slavonian Grebe pitched up on the October WeBS count, which was the first at the site this year and continued our good run. October ended fairly quietly in comparison to its storming first week, with only a flyover skein of Pink-footed Geese making it into the notebook.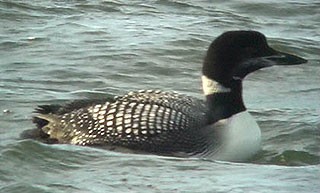 Great Northern Diver: Grafham Water, Cambs (photo: Steve Evans).
November started well, with a summer-plumaged Great Northern Diver arriving on the 4th. This handsome bird gave many visiting birders the runaround, being very elusive, and proving how much water there really is at Grafham and why we find it hard to spot smaller birds, such as petrels and phalaropes! It seemed to have a phobia of fresh air and spent the vast majority of its stay underwater.
And this brings us almost up to date. As the Great Black-back chomped down the Leach's at the beginning of October, I really did not know that the next few weeks would turn out to be such an exhilarating time at Grafham; a real purple patch to keep us trudging round the reserve for years to come.