Having spent the last few months reporting on a seemingly never-ending parade of goodies from coastal sites, it's a welcome and refreshing change to report that, in November, inland areas hit back! Of course, that's not to say that the coastal scene was uneventful (frankly, it was far from it), but a look down the list of highlights on our scoring spreadsheet shows an unusually high proportion of happy inland patchers.
After the highs of October, November was always going to be a bit of a comedown for some. Some listed their highlights as, for example, "b****r all in November", "a very disappointing month" and, reaching new lows in dispiriting feedback, "being at work". Several had taken the apparent lull as an opportunity to take stock of their lists, highlighting earlier omissions or added points for rare subspecies. One patcher listed "a bottle of wine which I thought I'd already drunk" as his best find, giving an indication on just how dull a month it had been!
On the whole, though, there were many more happy patchers than unhappy ones, with wintry goodies supplying a bit of post-autumn/pre-festive cheer. Jack Snipe, Snow Bunting, Twite, and a good selection of winter wildfowl were mentioned frequently among the highlights and best finds. There were one or two moments of very genuine quality for the lucky few as well. A late Fea's Petrel was off Ballycotton — this species will very probably feature in our Meopta and Forest Optic best find shortlist, but by virtue of three birds recorded on the same day off Galley Head in August. A Glossy Ibis was a great bird for Russell Neave at Maldon, possibly made even sweeter by the fact that his girlfriend and co-patcher didn't see it. Never mind Emma Webb — you'll get your own back some day! Causing less domestic turmoil were Penduline Tit at Newport Wetlands and a female King Eider off Blacksod, both additions to our PWC 2013 list. Dave Suddaby created his own little bit of domestic bliss by being able to view the 'queen' eider from his doorstep, generating extra pounds for Cuckoos without even needing to put his shoes on!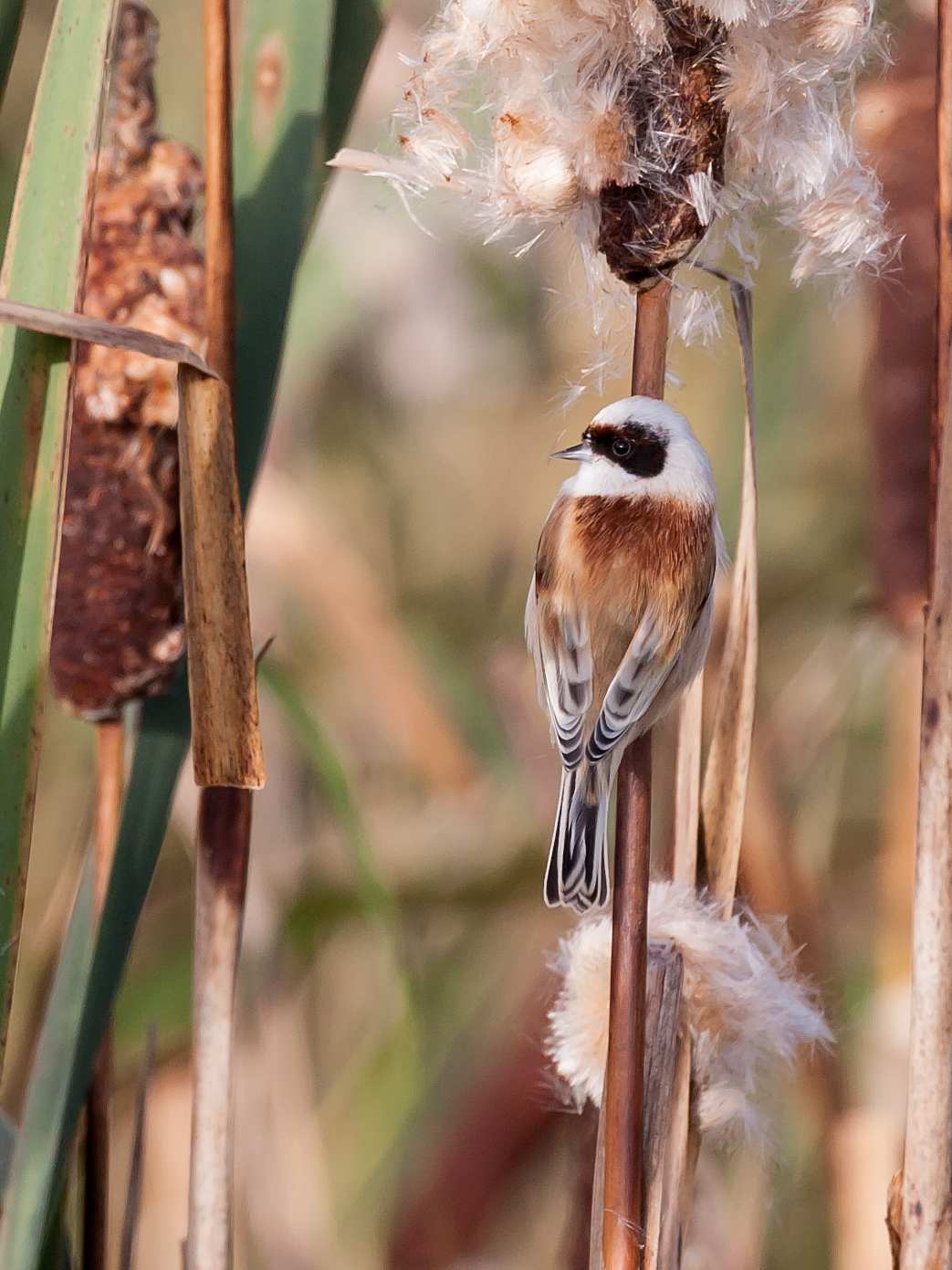 Penduline Tit, Newport Wetlands, Gwent (Photo: Nigel Addecott)
So, an enviable spread of rarities there but, as noted earlier, the inland patchers fought back. Highlights of note include a Little Egret at Carrick Mountain — I've never been to Carrick Mountain, so I can only imagine the bizarre sight of an egret striding up the moorland hillside! There were multiple records of Mealy Redpoll and Great Northern Diver, and inland patches in East Anglia did well to produce records of Osprey, Great White Egret, Caspian Gull and Green-winged Teal. Elsewhere, a Great Grey Shrike at Morton Bagot would have been a nice find had the observer not been beaten to it by a couple of seconds. Worthy of special mention were Dinton Pastures' first Yellow-browed Warbler remaining into November, and the discovery of Pugney's Country Park's first Siberian Chiffchaff, adding a bit of gloss to a rather 'plastic' month at that site, which saw Mandarin and Ring-necked Parakeet as the only other additions! Finally, there was a very succulent cherry on the inland cake in the form of a cracking Pied Wheatear, found at Collingham by Nick Crouch, a great find that leaps straight on to our 'best find' shortlist — you can read the full story on the find here. The top ten finds of the year — as rated by us here at PWC along with a representative of Meopta and Forest Optic — will be appearing on the BirdGuides webzine in the New Year. PWC contestants will be able to vote on the best find of the year, with the winner receiving a pair of binoculars kindly donated by Meopta and Forest Optic.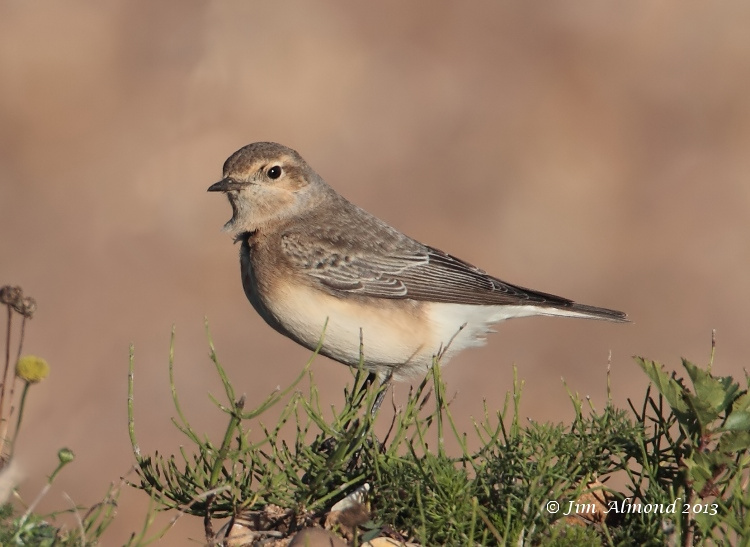 Pied Wheatear, Collingham Pits, Nottinghamshire (Photo: Jim Almond)
It's always nice to have a look at a few alternative finds (rediscovered bottles of wine aside), so the Humpback Whale off Sumburgh Head deserves a mention, if only for the fact that it didn't clog up my Twitter feed as the recent Hemsby whale routinely did! (Only joking.) South Uist also provided an excellent near-miss as Ian Thompson ventured off-patch during the month to do a BTO winter thrush survey and found...well, a winter thrush, but no ordinary one: an American Robin! See the full story here.
So now, for the penultimate time this year, let's have a look at how things stand in the Top 20s.
As ever, it's nip and tuck at the top of both the overall points and species leagues, with Moss Taylor and Simon Chidwick jostling for top spot in both. Simon is behind by 13 points but ahead by a single species, and both of them are tantalisingly close to the big 200. When you consider that the whole of North Ronaldsay and its team of wardens have recorded 213 species this year, you get an impression of not only the diversity available to these guys, but also the effort they must have put in. Top work!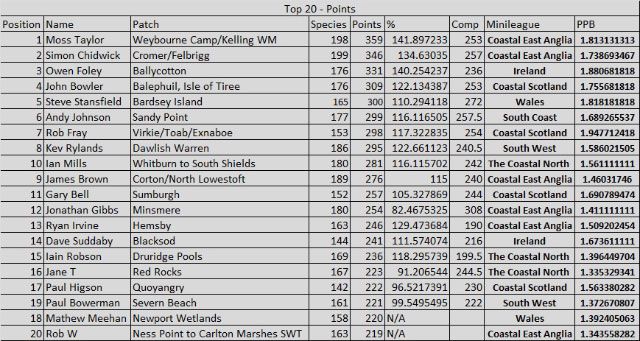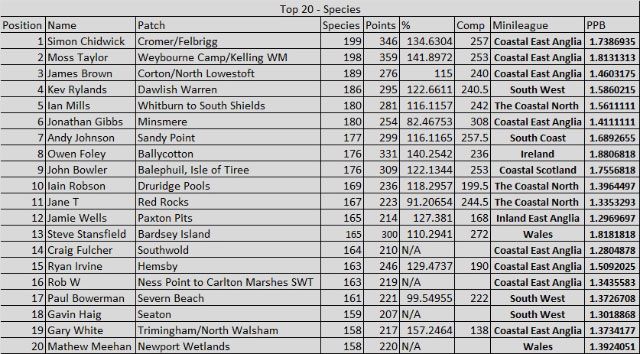 The heavy scoring from inland patchers this month has resulted in the top two (tellingly both in East Anglia?) both having over 150 species and 200 points. I wonder if there's enough time left for Ben Lewis to catch Jamie Wells up? And can Jonny Holliday, in third, reach the milestone of 150 species?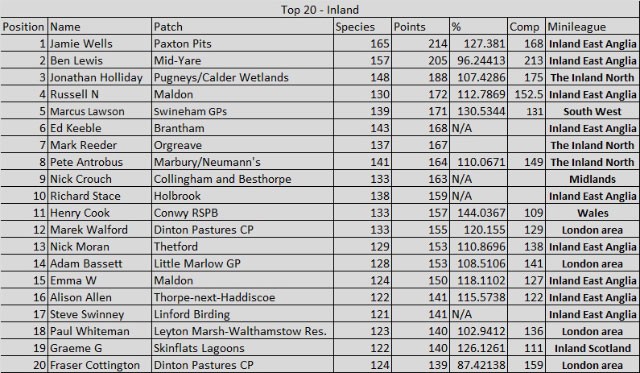 Owen Foley had a good month, which has seen him move up in the points-per-bird league, although surely Rob Fray's incredible score of 1.94 is insurmountable at this stage. Luckily for Rob, we hear he has a bottle of wine at home should he want to start celebrating!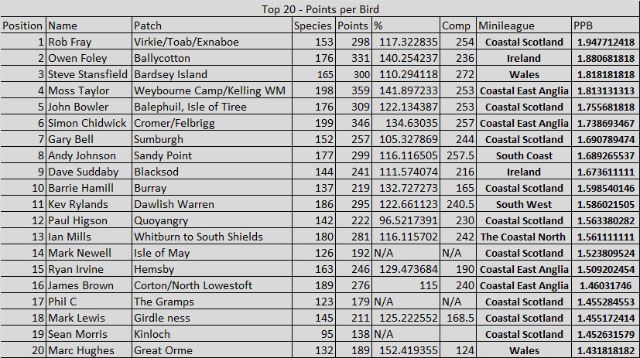 And finally, the comparative and non-comparative leagues. A hefty pat on the back for both Gary White and Mathew Meehan for being top of their respective leagues. It's still pretty close at the top of each of them, so if someone bumps into a wandering Ivory Gull, who knows what could happen?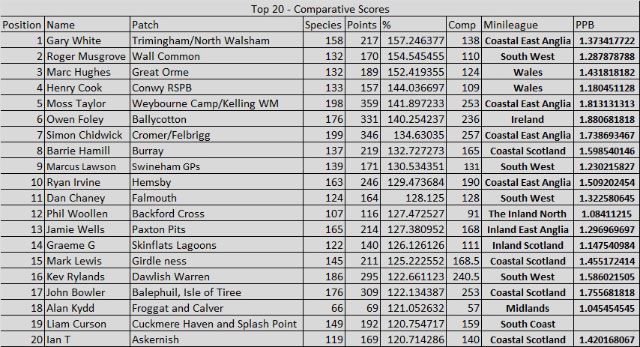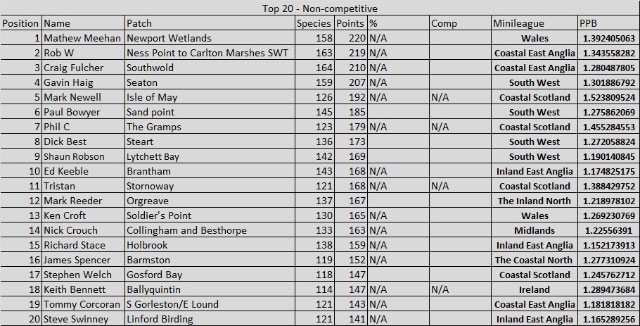 So that's almost it for 2013. Just a few more short days to go before we can start afresh for 2014. Keep your ear close to this particular bit of ground for details on how to sign up for next year!