What a month — but where to start? I always like to begin with the bad news, so for me [Ryan] at Hemsby, it hasn't been great — but then I have been away and out of the loop for much of the month. So when I checked our spreadsheet and saw the list of highlights (and finds), I must admit I was speechless — in fact a little envious. In April the highlights were returning migrants mixed with a few scarcities, but in May the majority of highlights were scarcities and a few rares — unless of course you are birding Pugney's Country Park where Jonny Holliday eloquently described his highlights as 'rubbish' or at Eyebrook Reservoir where Andy Mackays highlights were 'nothing — terrible month!' There were a few other patches that suffered poor Mays, such as Hayle Estuary, Fleetwood and Taverham & Ringland, but the vast majority had a great time.
Now for the good news, and there is an awful lot of it. Breaking down the highlights to scarce and rarer birds, we arrive at an amazing 46 species this month! This includes 22 BB rarities (14 species), 15 of which were found by PWCers. There were seven patches that stand out in May and I thought I'd take a look at each one in a wee bit of detail. The patches are dotted around the country, from Portland in the south to North Ronaldsay in the north, Bardsey Island & Tiree in the west to Horsey in the east and to north-east coast patches.
Starting in the south, Joe Stockwell had a great month on his patch at Portland Bill. He added 19 species in May, accumulating 45 points in the process, thanks to a few cracking finds including Citrine Wagtail, Red-breasted Flycatcher and Serin. Added to this Joe also saw Common Rosefinch, Eastern Subalpine Warbler and Bee-eater! Six scarce or better birds plus a BB find is pretty good going for one month.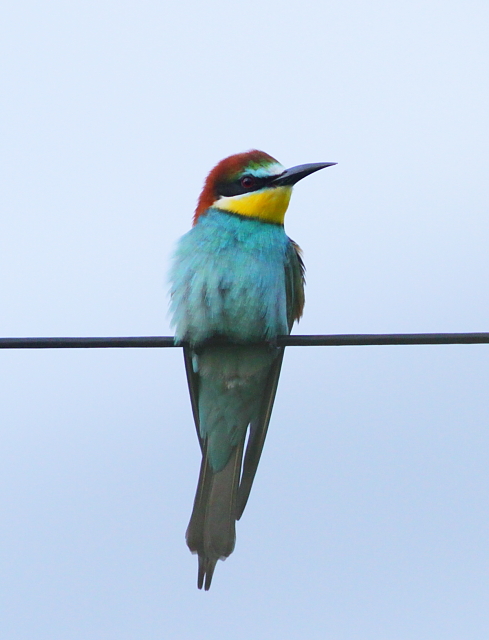 Bee-eater, Portland, Dorset (Photo: Joe Stockwell)
Moving up to Norfolk next and Tim Hodge, our overall leader, continued his excellent year at Horsey. Like Joe, he found a BB (Savi's Warbler) and also collected find bonus points for Golden Oriole and Marsh Warbler. Horsey also hosted Richard's Pipit, Quail and Dotterel in May as Tim clocked up 12 new species and 39 points.
Bardsey Island has continued on from its great 2013 with some cracking birds in 2014. One point separates the two competitors on Bardsey and both Ben and Steve shared finding a BB, Citrine Wagtail, in May. Ben also added Marsh Warbler, White Stork and Stone Curlew to his finds while Steve beat Ben to a Golden Oriole and there was also an Eastern Subalpine Warbler there. Although Ben only added 9 species in May, they netted him an impressive 33 points!
Next we wander over to Tim Jones' patch at Spurn. Unsurprisingly he had an exceptional month, adding 32 species and 72 points. Tim managed to find Marsh Warbler, Red-backed Shrike and Common Rosefinch in May, and caught up with Pallid Swift, Western Subalpine Warbler, White-winged Black Tern, 2 Red-breasted Flycatchers, Icterine Warbler, Golden Oriole and Bluethroat.
Alan Tilmouth at Newbiggin is next on the tour of Britain, and although he didn't see the same quantity of species as the patches above he more than made up for it in quality. Wryneck and Greenish Warbler would make the majority of us very happy but Alan added to these with perhaps the PWC bird of the year so far and a real contender for The Forest Optics best find. A "Bonelli's warbler sp." he found at Newbiggin was, thanks to Alan's sound recordings, soon identified as Eastern Bonelli's Warbler: 15 points and the sixth for Britain — read Alan's full write-up of the discovery here.
We now make it north of the border and on to the island of Tiree. John Bowler was up near the top last year and it looks like he will be there or thereabouts this year as well. He started his highlights with 'Best May ever here' and reading his finds list we can see why: a male Collared Flycatcher (1st for Argyll) topped the bill that also included self-found Rustic Bunting, Red-rumped Swallow, Marsh Warbler, Red-backed Shrike and Common Rosefinch. John amassed 59 points during the month from his 20 new species.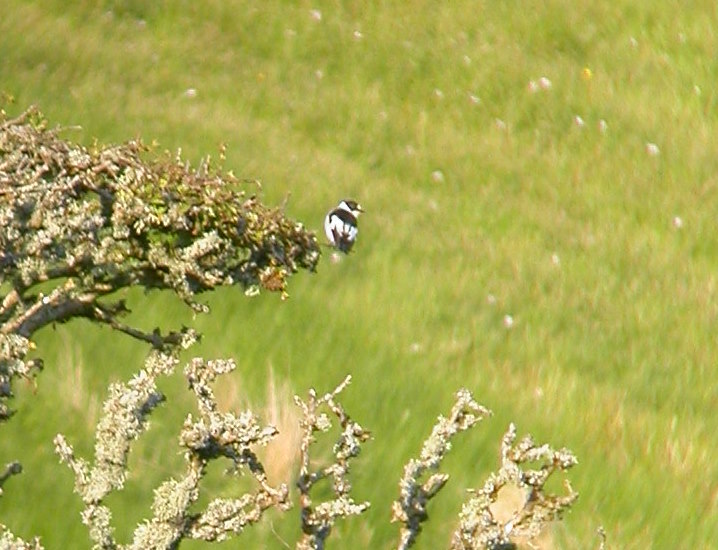 Collared Flycatcher, Tiree, Argyll (Photo: John Bowler)
And finally we hit North Ronaldsay. It can't be easy for Peter Donnelly as he competes with the bird obs wardens on their rounds but he still managed to find some cracking birds including Short-toed Lark, Long-tailed Skua and Red-backed Shrike. Peter missed out on the finds bonus for the star bird, Yellow-rumped Warbler, and he also saw Spotted Sandpiper, Little and Rustic Buntings during May giving him 32 new species and 70 points for the month.
Scarcities and rarities were not restricted to the above patches, though, and it was an amazing month for Black Storks: three patchers all found one, at Little Orme, Goole Fields and Dawlish Warren. Citrine Wagtails were also found on three patches, with Jane Turner's find at Red Rocks adding to the Bardsey and Portland birds. Three seems to be the magic number, as three Blyth's Reed Warblers were found, at Girdle Ness, Long Nab and Wanstead, while three Black-winged Stilts were seen during the month as well. Another Savi's Warbler was found at Newport Wetlands by Mat Meehan, a Bonaparte's Gull was found at Topsham by Matin Elcoate (who also saw Ross's Gull on patch), a Broad-billed Sandpiper at Alkborough Flats by Wayne Gillatt and a White-billed Diver was found at Dunnet by Dan Brown.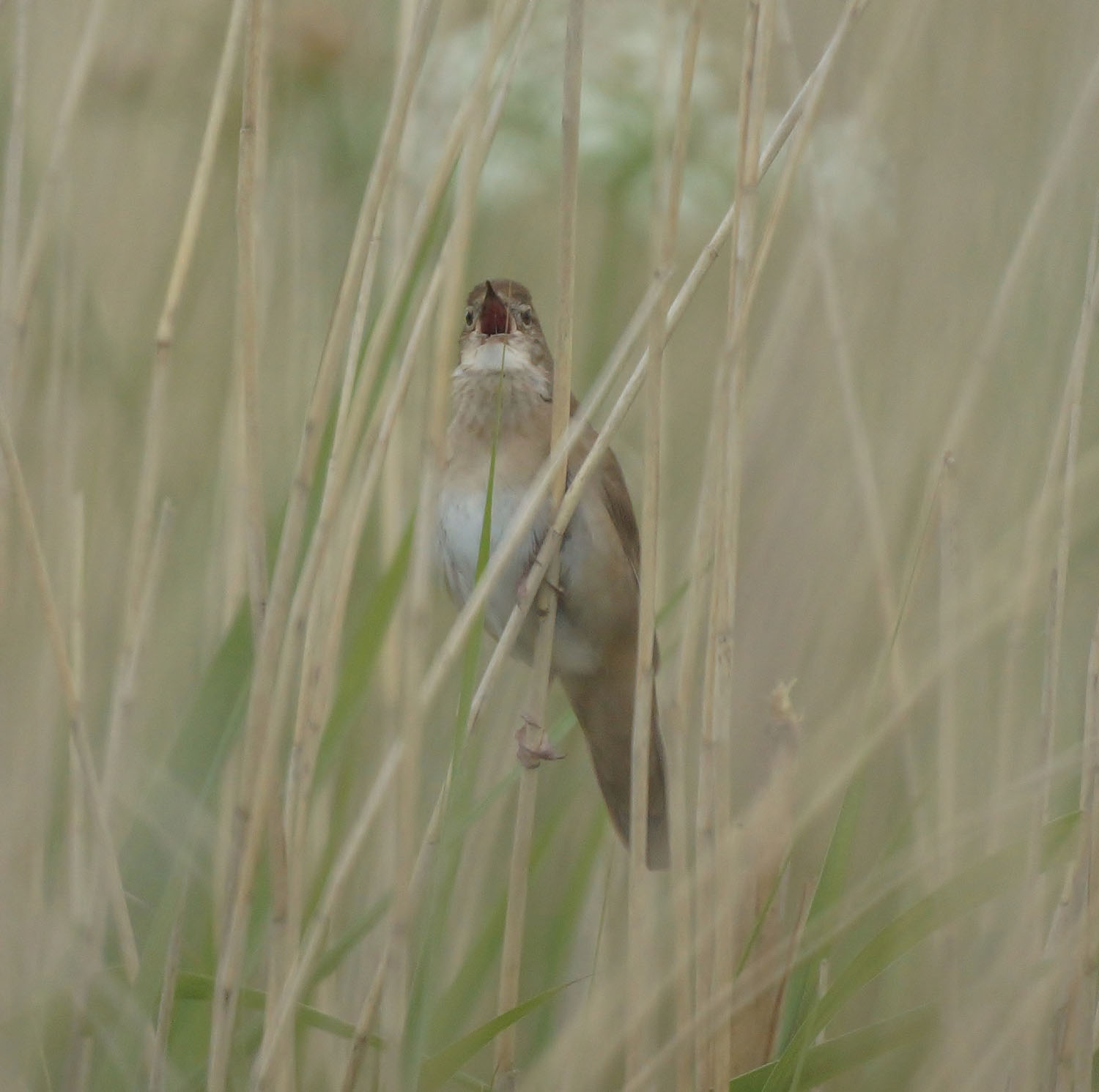 Savi's Warbler, Newport Wetlands, Gwent (Photo: John Davenport)
Scarcities were spread far and wide as patchers recorded classic spring birds such as Great White Egrets (5 birds), Marsh Warblers (6), Red-backed Shrikes (at least 10), Temminck's Stint (4), Corncrakes (4), Bee-eaters (10+), Red-breasted Flycatcher (4), Icterine Warbler (2), Black Kite (1) and Honey Buzzard (1), while Pete Antrobus found an unseasonable patch first in the shape of a Ring-necked Duck! Unlucky patcher of the month has to go to Ian at Askernish as he found a Lesser Yellowlegs next to his patch but couldn't quite get it onto his patch list — maybe next time Ian!
Of course patching isn't all about the rares, and as always there were many a highlight to make us smile and think of 'patch gold' — not least myself as a small flock of Barnacle Geese flew past my house. There were several 'patch ticks' during the month that would, on other patches, barely get glanced at: Ring Ouzel at Backford Cross, Sedge Warbler at Inverkeithing and Bar-tailed Godwits at Needham Market all made their debuts. Perhaps the most amazing piece of patch gold came at Wall Common as Blue Fulmar made it to the county for the first time!
Well, I think that just about covers a very exciting May so on to the league tables, and there has been plenty of movement after such a hectic month. Tim Hodge remains top in terms of both species and points; however his lead has been cut in both leagues with several patchers in hot pursuit. Tim Jones at Spurn moves up several places and is now in contention for the overall lead, while John Bowler's excellent month sees him split the two in the total points table.
Content continues after advertisements
Jamie Wells added 15 points in May to keep his nose in front on the inland table. Darren Starkey maintains his impressive double whammy, his patches occupying third and fourth spots.
After only 5 months we already have five patchers over the 100% mark, Adam Faiers tops the table, a full 19 points ahead of his total at Sandwich Bay last year. Alistair Forsyth comes straight in at number two with 110%, while the leader from April, Mark Nowers, drops to third.
John Bowler's hatful of self-find points means he moves up to the head of the points per bird league. As could be expected, the majority of the top 20 is made up of coastal patches and there are some familiar names making up the top 10, including both Bardsey boys in sixth and seventh spots.
Anybody who knows Zac Hinchcliffe will be aware of his dedication to Birdtrack so far this year, and his amazing 10,000+ records mean he comes straight into the top spot of both the tables for lists and records. A lead of over 2,500 records means his place is pretty secure. Our former leader Andy Bunting has been pushed down to second.
The PWC admins are still holding their own in the green league, with Ryan and Mark holding third and fourth places respectively. Up top Ben Porter has taken the lead: living on Bardsey means that his birding is inevitably non-motorised!
Finally we turn our attention to the Next Generation Birders league where a great battle for the lead is shaping up, Tim Jones's Spurn patch holding an 8-point lead over Joe Stockwell on Portland. Ben Porter is well clear in third on Bardsey with Jack Bucknall and his St Mary's patch being the best of the rest.