When pesticides nearly wiped out the entire UK Peregrine Falcon population back in the 1960s, no one would have thought it possible that 50 years later they would be breeding in most major British cites, let alone that there would be 20 pairs in London! And when Peregrine Falcons arrived in Derby in 2004, few could have imagined that our city would soon host to one of the most successful and popular Peregrine webcam projects in the country.
Five breeding seasons later and the Derby Cathedral birds have laid 19 eggs and raised 15 young, so we thought the time was right to take a look back to see just what has been achieved over that time.
Early years
In the 1970s, there were years when not a single Peregrine was recorded in the county. It wasn't until 1983 that Peregrines began nesting again — in the Peak District — and by 1990 there were three breeding pairs. One pair nested on an artificial ledge high on a cooling tower at Willington Power Station, south of Derby, and over 120 people turned up when we organised a Peregrine watch event there for Derbyshire Wildlife Trust in 1993.
The first signs that Peregrines might be using Derby Cathedral's 212-foot tower came in 2004, when prey remains were found by the vergers on the pavements below. The Peregrines themselves remained unnoticed and an article in the local paper speculated that satanists might be throwing headless bird corpses at the cathedral in some bizarre ritual!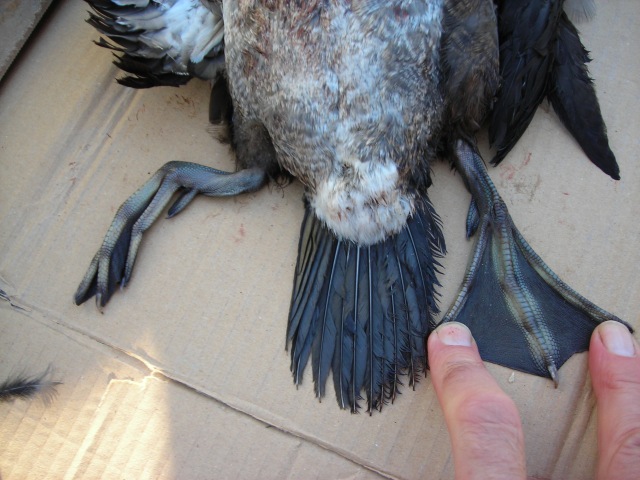 This headless Ruddy Duck dropped right in front of the west entrance to the cathedral (photo: Nick Brown).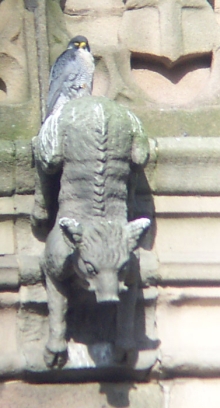 Adult Peregrine at the tower
(
photo: John Salloway
).
The following year, the Cathedral architect took a photo of a mystery bird making an inspection from the top of the mediaeval tower. It turned out to be the first ever photo of our adult male Peregrine. We promptly climbed the tower, found many more prey remains and saw both adults.
In the spring of 2005, nearby office workers saw and heard aerial displays but, with no suitable place on the tower to lay eggs, the birds disappeared, only to return again later in the autumn. That winter, a partnership was formed between Derbyshire Wildlife Trust, the City Council-run Derby Museum and the Cathedral. Early in 2006 when further displaying was seen, we rushed to take advice and constructed a wooden nest platform for them. Delayed by poor weather, we finally installed it on 5th April by abseiling down from the top and fitting it ourselves. Within a few weeks — and much to our amazement — a falcon was sitting on the platform, incubating her very first clutch of eggs on the gravel bed we had placed there.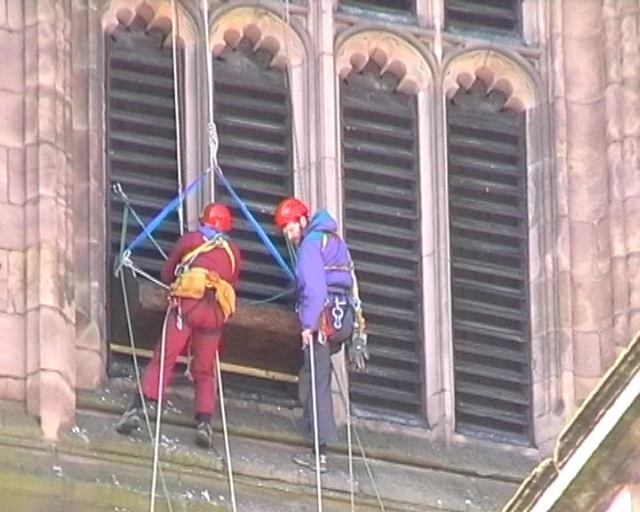 The two Nicks fixing the platford to the Cathedral tower (photo: William Grange).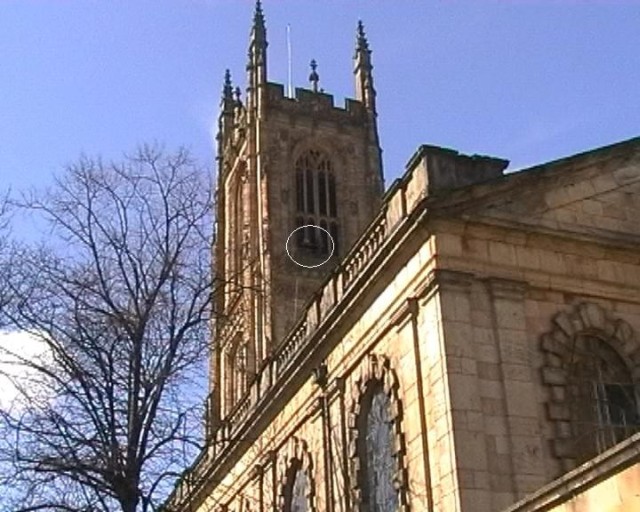 Derby Cathedral tower with the platform site marked (photo: William Grange).
With growing public and media excitement, a series of watch points was organised for the numerous people who gathered below the Cathedral daily to see the developing chicks. Three young birds eventually fledged, although one female had to be rescued from the road below and returned to the top of the tower for a second, more successful, attempt at a first flight.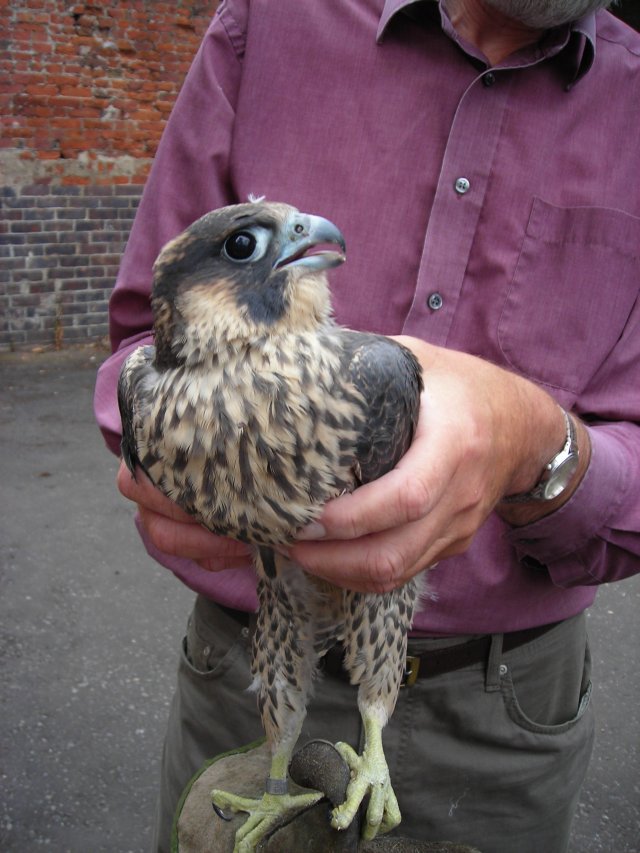 Fallen youngster about to be taken back aloft (photo: Kath Patrick).
Realising just how fantastic it would be if we could see right into the nest, we decided to try to get cameras in place for the second season. At that time, we knew of only one Peregrine webcam in the UK — on St Michael's Church in Exeter, attracting some 40,000 online visits a year. So early in 2007 we set up a blog to report on our attempts to install our webcams and get images out on the internet. We went live online at Easter, just as the eggs hatched. By the end of the season, four chicks had fledged and our website had attracted 250,000 visits, way above our wildest expectations. Our growing, blog-reading following included folk in the USA with their own Peregrine webcams. We also decided to kept both cameras and the blog running throughout the year, rather than closing them down at the end of the season as most other projects do.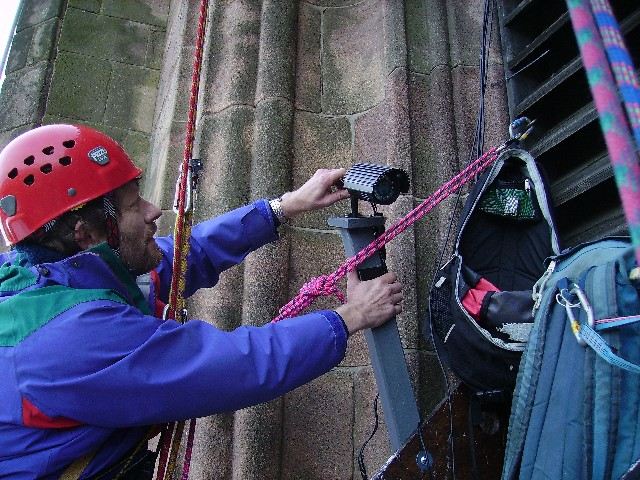 The two Nicks fixing the webcam in place on the nest platform (photo: Nick Evans).
In 2008, Derby Museum installed a third webcam high above the nest platform to give views across the top of the tower where roosting and feeding takes place. This greatly increased the amount of behaviour that people could watch throughout the year, adding a new dimension for viewers. Soon after, we captured superb mating sequences and even a video of a live Jay being brought back.

Peregrine with live Jay at Derby Cathedral (Film: VC57UK).
We were even approached by a local film-maker to make a DVD about the peregrines — a project which still raises funds for the project today. Since going online, we've received over 1.7 million hits, with webcam viewers from over 70 countries, although the vast majority are local. The project team post regular updates on the blog (51 posts in 2010), keeping everyone informed about what's happening. The posts include video highlights posted to YouTube, and these two clips show the remarkable bowing display and the precise moment of egg laying in March 2008.

The male's bowing display to the female (Film: VC57UK).

The first egg-laying in March 2008 (Film: VC57UK).
The blog also allows us to ask for donations to the project and £2,800 was raised last year, covering all of our running costs — we do most of the work voluntarily which keeps costs low. In 2010, the blog was viewed over 190,000 times, with more than 2,500 moderated comments left by readers. It's clear that for many people, of all ages, watching and reading about Derby's Peregrines has opened their eyes to a world they knew nothing about previously. For some who are house-bound or suffer from insomnia, watching these birds has clearly made a huge difference to the quality of their lives. We also know that many local schools show the web cams on their white-boards in classrooms and during break times. One keen infant school class frequently posts comments to the blog and submits drawings to us.

One schoolchild's drawing of the Peregrines (photo: Helen Naylor).
Amongst a wonderful collection of hundreds of complimentary comments, one mother wrote "this is the best science lesson my daughter could possibly get" and a Canadian fan wrote "ever since I stumbled on this website at a very low time in my life, I have seen it go from strength to strength. I cannot imagine it not being part of my life and I will continue to check in all year long."
DWT volunteers have organised 138 Watch Points since 2006 where passers by find themselves looking through a telescope at the fastest bird on the planet. Their response is usually "Wow, I never knew we had such amazing birds right here in our city!" We have shown the birds to local police, magistrates, asylum-seekers, tourists, Jehovah's Witnesses, families and even the Cathedral hierarchy; in fact to every social strata in the city. Several 'webcam addicts' have also come to Derby to see the birds in the flesh. Most notable was Jennie Mak, a young woman from Hong Kong who engineered a business trip to Europe so she could divert to Derby to see the birds she loved watching daily on her office computer.
The project still generates considerable media attention, though nowadays Peregrine web cams are now 'two a penny', with pairs now breeding in just about every inland English county. Many of these are new, artificial sites In urban areas. The BBC's Autumnwatch showed a 'world first' video clip from Derby, in which a live Woodcock was brought back to the tower one dark December evening in 2009. It proved what was already widely known — that Peregrines hunt at night, in our case using the city's floodlighting.

Proof of the nocturnal hunting of Peregrines, as a Woodcock is brought back (Film: VC57UK).
Prey
The remains of over 50 prey species have been collected at Derby since 2006, with the more tricky feathers sent to Ed Drewitt at Bristol Museum for identification. Two ringed birds have so far been found: the corpse of a Swedish-ringed Arctic Tern was found beneath the nest in August 2007 — it had been ringed as a chick in 2002 and may well have been among a flock of 50 birds seen at a local reservoir nearby — and in July 2009, a British-ringed Corncrake leg was found. It turned out that the bird had come from a re-introduction project in East Anglia.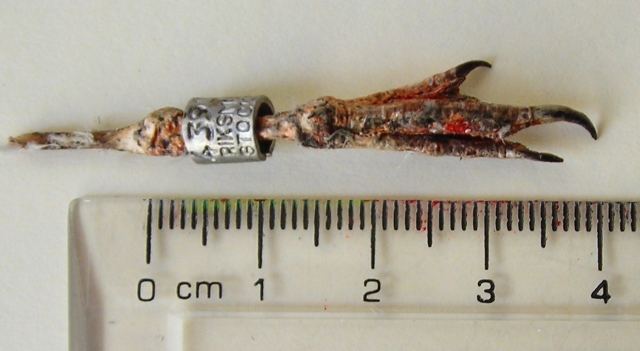 Arctic Tern foot (photo: Nick Brown).
Our prey list includes many species that only fly and migrate after dark — further proof, if any were needed, that the Peregrines regularly catch prey by night. Water Rails, Jack Snipe and Quail were all almost certainly taken after dark. Our birds seem particularly addicted to waders, and we've recorded 12 species, among them Whimbrel, Knot, Bar and Black-tailed Godwit, Redshank and Dunlin as well as the birds' staple winter diet of Woodcock, Golden Plover and Lapwing.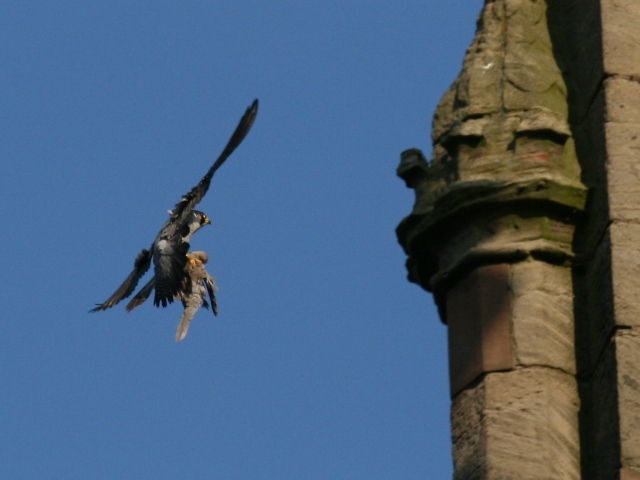 Collared Dove prey (photo: John Salloway).
Other birds on the list include Cuckoo, Swift, Waxwing, Little Owl and Blackcap.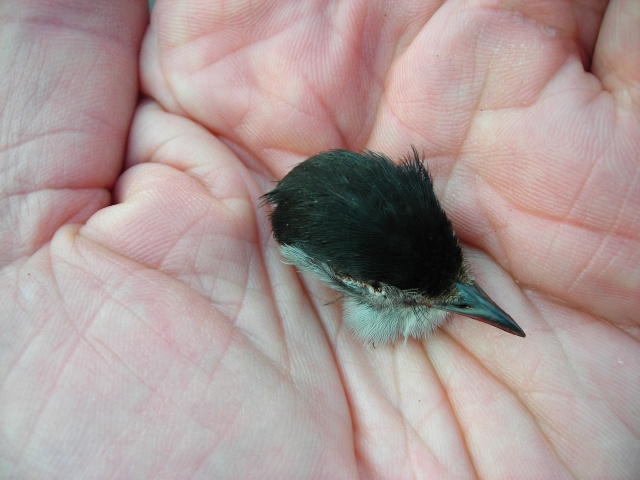 Remains of a male Blackcap (photo: Nick Brown).
On one occasion, a rat was brought in for the chicks — the only mammal prey so far recorded. More details on prey selection in urban Peregrines can be found in this freely available British Birds article.
The 2011 season
The first egg for 2011 was laid just after 10pm on 2nd April, with the second at 11:18 on 4th April.

The moment the second egg was laid (photo: Craig, Nottingham, on Flickr).
It goes without saying that the project would never have got underway without the very close partnership between the Wildlife Trust and Derby Museums. The vital technical elements of platform-fixing, webcam installation and management have all been achieved by the tireless, and mostly voluntary, work of one of the authors from nearby Derby Museum. Council cuts and a museum 're-organisation' are now threatening the museum's vital input to the project, though we have been assured it will continue to be supported, one way or another.
This potted history can be followed in more details in the previous webzine articles by the Derby Cathedral Peregrine Project:
Acknowledgements
Our thanks go to Nick Dixon, for specialist advice on urban Peregrines, especially in the early years; Nick Evans for constructing and helping to install the wooden nest platform; Ed Drewitt for identifying the more difficult prey feathers; Tony Grantham, Head Verger, for his excellent support from the start; Ant and Martin, the two bird ringers, the Watch Point volunteers and the project donors.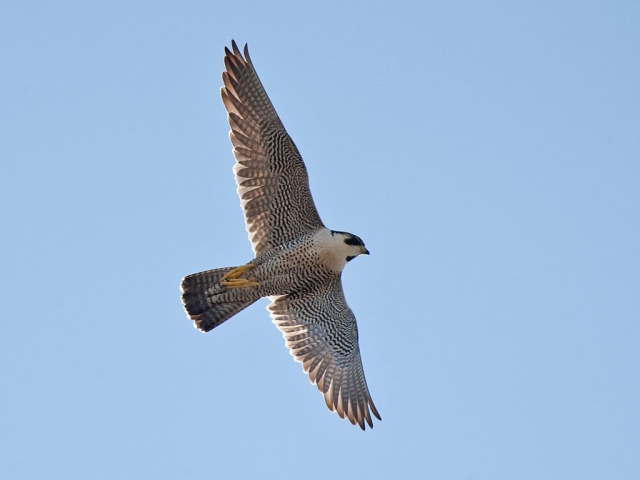 Adult flying (photo: Andy Byron).
Keep an eye on the BirdGuides news page for more information on the Watchpoint programme this summer, or follow the project blog.