Yellow Wagtail is one of the more easily recognisable summer visitors to the UK, with its unmistakable bright yellow and green livery. However, a quick glance at the Yellow Wagtail page in the Collins Bird Guide, and the bewildering array of heads portrayed is more than enough to disprove this assumption, with races aplenty waiting to baffle and confuse.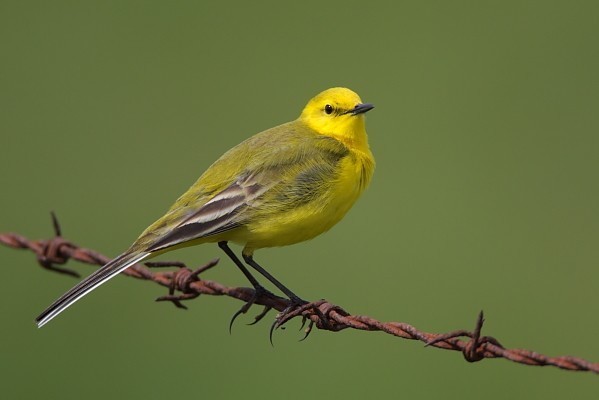 Yellow Wagtail, Lydney, Gloucestershire (Lewis Thomson).
Restricted to southern and eastern Britain, 'our' Yellow Wagtail will be the most familiar race to British birders. It is quite widespread north to the Borders, though surveys show the population is centred around the Lincolnshire and The Wash.
Aside from our own race, BWP details 14 races of Yellow Wagtail, many of which have occurred, or theoretically could occur, in Britain and Ireland. Some of these races are fairly regular spring overshoots into the UK from mainland Europe, with others occurring much less frequently. As might be expected by a European overshoot, south- and east-coast records dominate, but they can, and do, turn up anywhere, so which ones should you be on the lookout for on your local patch?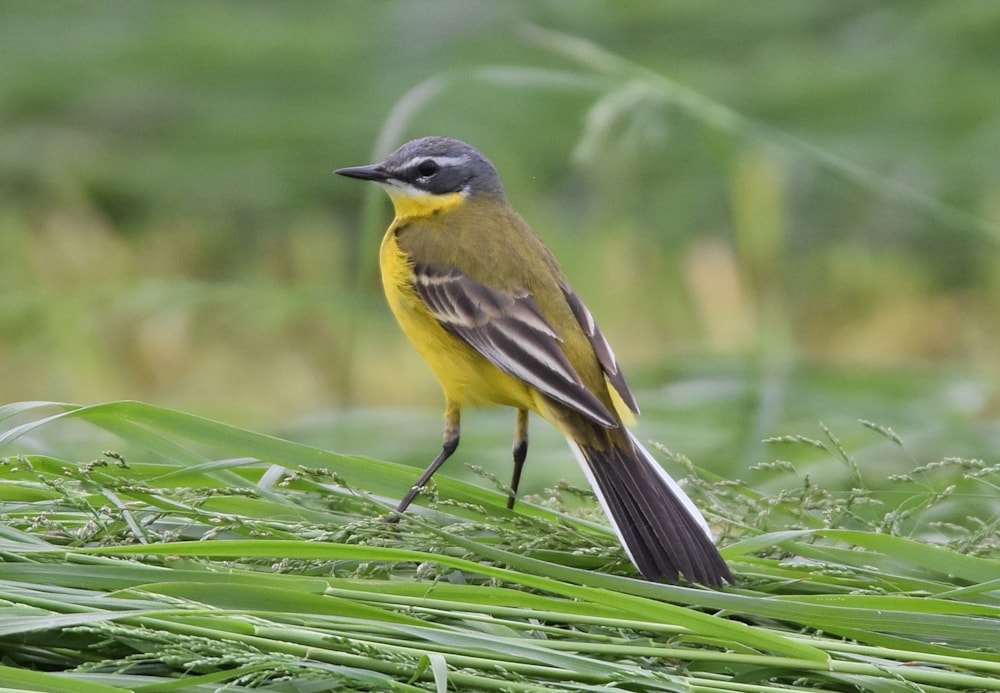 Blue-headed Wagtail, Germany (W.Schulenburg).
This is the nominate race, breeding in mainland western and central Europe, migrating through North Africa and the Middle East. It is by far the most common of the Yellow Wagtail races to occur here, other than our breeding birds (flavissima). Blue-headed Wagtail has successfully bred in the UK, as single-race pairs and also with flavissima.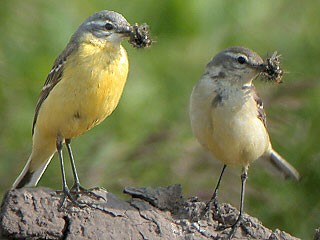 Blue-headed Wagtail, Frodsham Marsh, Cheshire (Sue & Andy Tranter).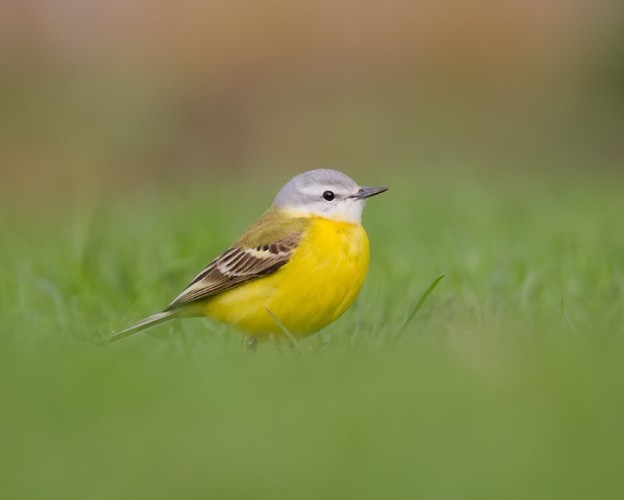 Channel Wagtail, Covenham Reservoir, Lincolnshire (Nick Clayton).
In northern France, there is an 'intergrade zone' where Blue-headed and Yellow Wagtails regularly interbreed. The offspring of such pairings are variable in appearance, but many individuals show a head pattern that resembles a washed-out Blue-headed, with a paler powder-blue head and often more extensive white in the supercilium, ear-coverts and throat. These intergrades are colloquially known as 'Channel Wagtail'. They are the commonest form of Blue-headed to occur in many northern areas of Britain.
This race breeds from northern Scandinavia to north-west Siberia and is much less common than Blue-headed in Britain and Ireland. It is, however, recorded in small numbers each year.
A dark grey head, lacking any supercilium, and a yellow throat differentiates them from other races. Grey-headed tend to arrive later than Blue-headed in Britain as a result of their more northerly final destination.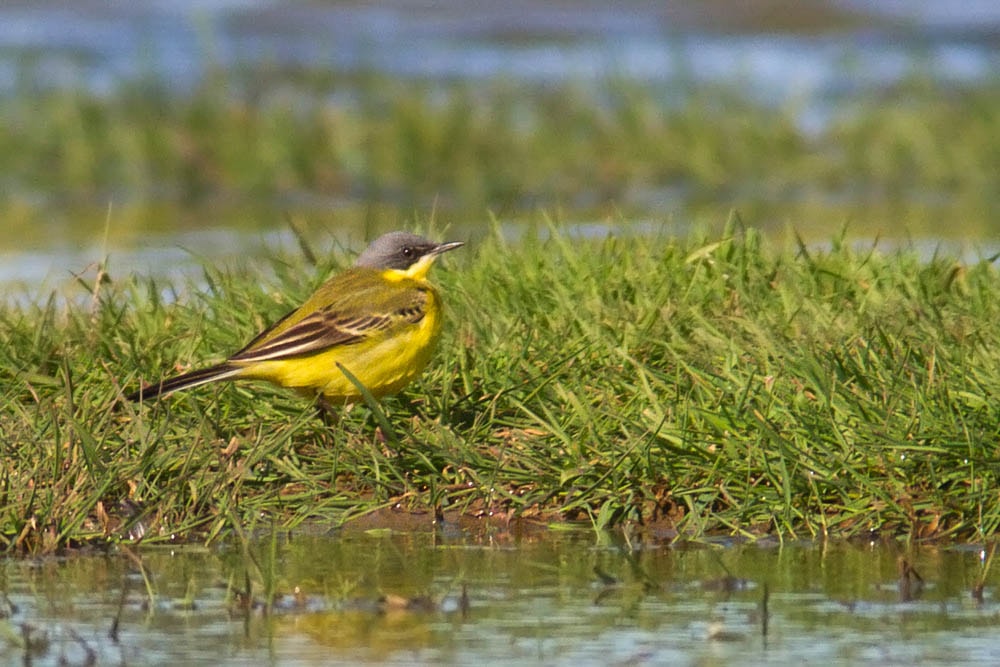 Grey-headed Wagtail, Low Newton-by-the-Sea, Northumberland (Gary Woodburn).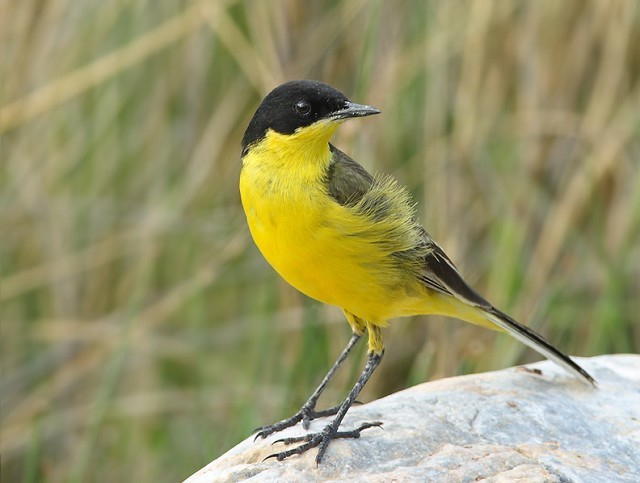 Black-headed Wagtail, Turkey (Mehmet Goren).
This is a much rarer visitor to our shores, with fewer than 20 records to date. Black-headed show a complete black head and yellow throat, though a proportion of individuals do seem to show some anomalies or intergrade characters, such as pale marks on the chin, throat or supercilium. These birds continue to spark discussion and some experienced observers consider that these characteristics are shown by a percentage of individuals in fresh spring plumage (Corso, 2001).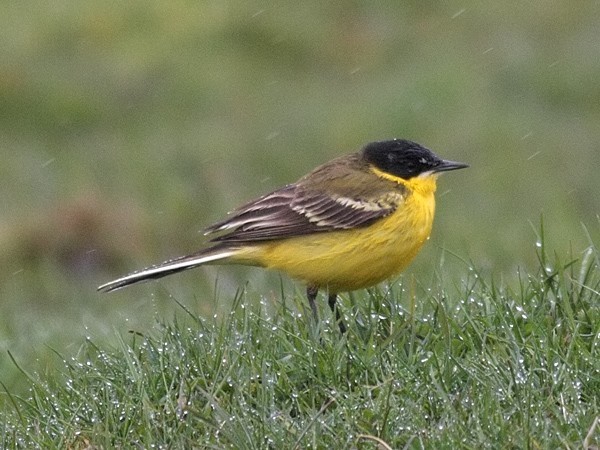 Black-headed Wagtail, Cresswell Pond NWT, Northumberland (Alan Gilbertson).
What might appear not too complicated so far begins to make other ID challenges look easy by comparison once you throw these two races into the mix. Subtle differences between the two exist, with Spanish tending to have a more well-defined supercilium and Ashy-headed darker cheeks and a shade paler yellow underparts (a gross over-simplification).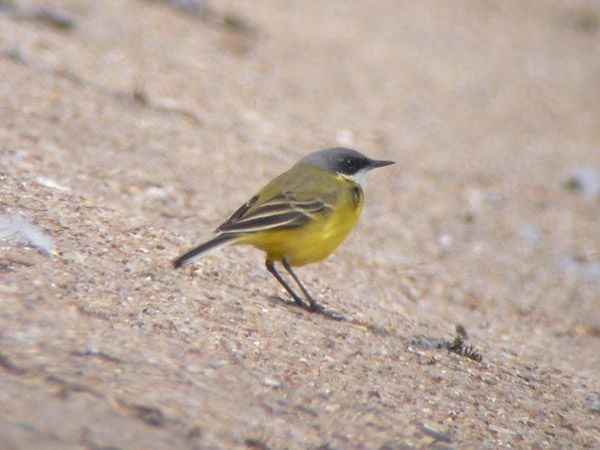 Ashy-headed Wagtail, Covenham Reservoir, Lincolnshire (Russell Hayes).
While Ashy-headed is on the British List, and there have been detailed claims of Spanish, the 2006 report by the RIACT sub-committee of BBRC highlighted concerns over intergrades between these two races as presenting possible identification difficulties.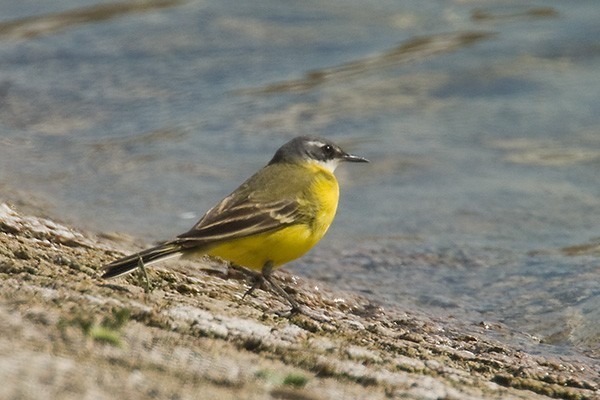 Bird showing characteristics of Spanish Wagtail, King George V Reservoir (Permit Only), London, Greater (Roy Woodward).
The big prize when it comes to Yellow Wagtail races would be a good record of Sykes's Wagtail, which was present on the British List until early 2010 when BOURC removed it, considering the five previous records "unacceptable or inconclusive".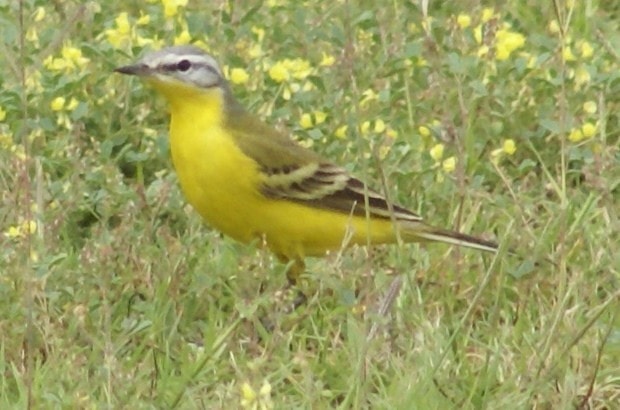 Sykes' Wagtail, Sealine beach resort, Qatar (M J Grunwel).
Finding your own rare Yellow may not be easy but it is possible to make some generalisations that might help. Spring records outweigh autumn ones, mid-April through to end-May the key time; east coast is best with a combination of freshwater and cattle. Many sites have good track records: Titchwell, Norfolk has recorded Black-headed and Grey-headed in the last decade as well as Blue-headed; Cresswell Pond, Northumberland has two of three county records of Black-headed and annual Blue-headed. Skateraw in Lothian also has an impressive track record, with Grey-headed, Ashy-headed and Blue-headed all found.