Red-bearded Bee-eater, Black-eared Shrike-babbler, Fire-breasted Flowerpecker and Fire-tufted Barbet: the list of species goes on with continuous excitement seemingly forever. Indeed, there are few places in the Far East where the feeling of anticipation to see something excellent is so frequently rewarded. Whether it is your first or fiftieth visit to this exquisite hill resort, the buzz builds as you wind up the endless hairpins from the ubiquitous palm plantations of the lowlands into the cool tranquility of the mountain forest.
For many years, Malaysia has been high on the list of countries to visit for anyone with more than a passing interest in birding outside the UK; and rightly so, with over 720 species recorded and a modern, cheap and efficient tourist infrastructure, birding can be exhilarating without breaking the bank. For detailed instructions on when to go, how to get there, accommodation and costs, refer to the sections at the end of the article.
For a country that boasts so many excellent birding areas - Danum Valley and Mount Kinabalu on Sabah, Gunung Mulu in Sarawak and Taman Negara on the peninsula - why single out Bukit Fraser for this article?
It may sound obvious, but Malaysia is hot - not a "nice day at the coast" kind of hot, but a constant, relentless, draining heat that leaves you exhausted and sweating if you're daft enough to be out in it. The wet season brings some relief, but torrential downpours are hardly ideal birding conditions and birding in lowland rainforest can be painfully slow; long muddy hours trudging dark trails apparently devoid of any life other than biting insects, leeches and the constant screaming of cicadas.
Fraser's Hill (Bukit Fraser), perched at about 4300 feet above the sweating plains of Peninsular Malaysia, is considerably cooler, with the temperature rarely exceeding 24°C. As you wander along the roads at dawn hearing your first Fire-tufted Barbets, you'll be glad of a light jumper. For those intent on suffering, there is a network of trails that will supply the leeches, and for any chance of seeing gems like Orange-headed Thrush, Rusty-naped Pitta or White-tailed Robin, into the pit you will have to go! Thankfully, a large number of Malaysia's mountain birds can be enjoyed by sticking to the extensive road system, enabling you to get excellent views of species usually confined to the canopy.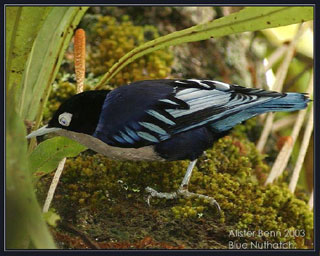 Blue Nuthatch: One of the many stunning species to be found on Fraser's Hill. (Photo: Alister Benn)
Bird waves are the way it works up here. A totally quiet stretch of foliage can be transformed into a frenzy of 30-50 birds comprising up to 15 different species. With little warning you are suddenly under pressure to put names to as many as you can before all too quickly they are gone, and you are left with your empty bushes again and the memory, or photograph, of something amazing. And that's the way it is: there is no single site where you are guaranteed to see something, the whole area is worthy of thorough exploration, and superb birds such as Long-tailed Broadbill, Red-headed Trogon and Blue Nuthatch are just as likely to be seen on the outskirts of town as on one of the remote trails.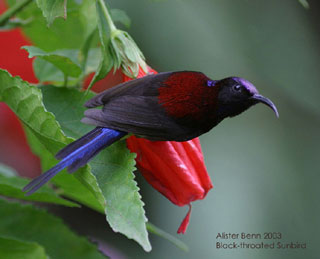 Black-throated Sunbird (Photo: Alister Benn)
Most waves should have a core of the following species: Silver-eared Mesia, Mountain Fulvetta, Long-tailed Sibia and Chestnut-capped Laughingthrush, with a wealth of flowering bushes such as Hibiscus providing food for Streaked Spiderhunters and Black-throated Sunbirds. You would consider yourself extremely unlucky should you not see these species. Other birds in the "fairly sure thing" category would be Fire-tufted Barbet, Greater Yellownape, Grey-chinned Minivet, Mountain Bulbul and Large Niltava, and with a site list approaching 250 species there are plenty of interesting possibilities.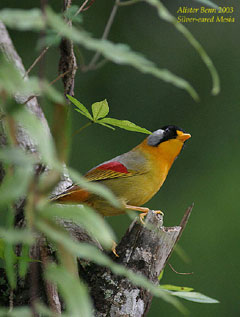 Silver-eared Mesia (Photo: Alister Benn)
I've been up the hill a couple of dozen times and have found seasonal variation, with March/April and October/November being most productive. At such times resident species get boosted by the arrival of Eastern Palearctic migrants. Bukit Fraser is a major wintering area for some of Asia's most sought-after birds: Mugimaki and Yellow-rumped Flycatchers, Eastern-crowned Warbler and Siberian Thrush, which is best looked for at the rubbish tip at dawn (where else!!). I prefer the spring months, as many of the resident birds are more conspicuous as they call and establish territories, and the northern migrants are stocking up for their long trek up to China and beyond. At this time of year a visit of a couple of days would typically produce in the region of 50-70 species, assuming some homework had been done, or if a local guide such as Durai is used. When a wave goes through, you can miss many species by not identifying the birds fast enough, or as is more often the case, by soaking up the dazzle of a Blue Nuthatch or Silver-eared Mesia at the expense of something else in the flock. More species can be added by including the area around The Gap, 8km downhill from the resort, but that is beyond the scope of this article. However, don't miss out on a day at the lower elevations, as birds recorded change considerably with altitude.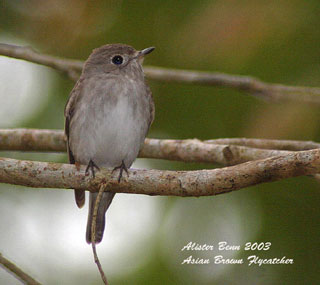 Asian Brown Flycatcher (Photo: Alister Benn)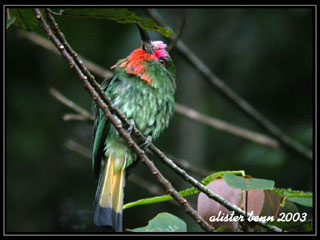 Red-bearded Bee-eater (Photo: Alister Benn)
Peninsular Malaysia gets influenced by two monsoon seasons, but at this elevation rain can be expected at any time of the year. I have never had a day totally washed out by rain, although mist has made it problematic, so you can usually expect good birding conditions at some stage in the day.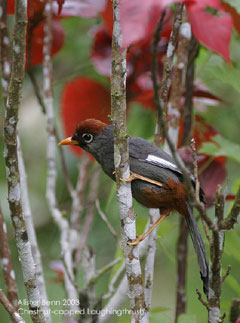 Chestnut-capped Laughingthrush (Photo: Alister Benn)
Access to Bukit Fraser is via an 8km one-way road from The Gap, with cars allowed up during odd hours and down again during even hours. The first thing you see as you come up through the gate is a clocktower at the top of the road. Here there are some shops, a couple of little cafés, and the first tee of the 9-hole golf course.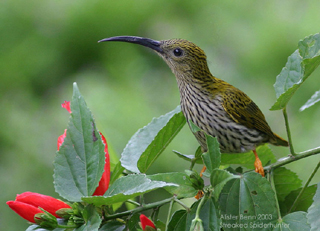 Streaked Spiderhunter (Photo: Alister Benn)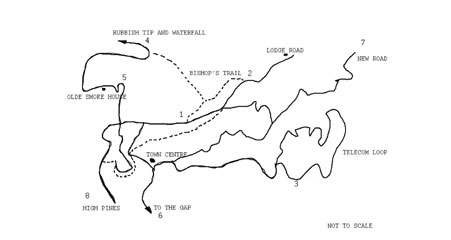 Map of Fraser's Hill
The following areas have in the past produced virtually all the birds I have seen here, and should make up the basis for any planned itinerary (numbers correspond to the rough map above). A "detailed", though wildly inaccurate, trail map can be obtained at the WWF exhibition on the 2nd floor of the golf clubhouse by the clocktower.
1: Bishop's Trail: This is the best-known trail and can usually be relied upon to produce a couple of good birds. The area around the start of the trail where it meets the road can be very good late afternoon and an hour sat quietly can deliver delights such as Black Laughingthrush, Green Magpie, Black and Crimson Oriole. The trail itself is fair going most of the time, but after rain can be slippery, treacherous and leech-infested. White-tailed Robin are in here as are Lesser Shortwing. Rusty-naped Pitta used to be regular here, but recently has been elusive. The trail is also good for Thrushes, with both Orange-headed and Siberian present, but typically shy.
2: The trail comes out on the road to the Lodge, and this road again can be very good for waves. Low trees near Muar Cottage has been a reliable place for Blue Nuthatch, and there are usually Fire-tufted Barbets close to the road. In early December I had 6 Mugimaki Flycatchers along this stretch of road in less than an hour. There is a no-entry sign at the entrance to the grounds of the Lodge, and this should be respected. I have been in once with the local guide Durai, and had Yellow-vented Pigeon, Little Pied and Yellow-rumped Flycatchers.
3: The Telecom Loop, as it is called, is another one-way street that girdles a hill surmounted by the Telecom Tower. Again, this road can be devoid of birds, and suddenly turn on a cracking wave. Chestnut-crowned Laughingthrush, Rufous-browed Flycatcher, Barbets, Woodpeckers, Cuckooshrike, Flycatcher Shrike and Flowerpeckers are all possible on this route. The side-road up to the tower itself has been reliable for Cutia recently in the tallest trees, but this sought-after species is very elusive.
4: No self-respecting birder can resist a rubbish tip, and Fraser's Hill delivers a fine smelly one, located about 1km down the road from The Olde Smoke House (yes, "Olde") to the waterfall and another golf course. The tip is on the right as you head down, but the road itself is also good, particularly for woodpeckers and pigeons. At the tip, mosquitoes are troublesome, so oil up, but the birding can be great. Siberian Thrush early in the morning, Flycatchers, Drongos and Red-bearded Bee-eater can all show up here, but it does stink. Further down the road to the waterfall, as you leave the last of the buildings behind and come into fairly good forest, is worth a good wait. Red-headed Trogons, Sultan Tit, Minivets and Barbets are in there.
5: The gardens and adjacent bushes and trees of the Smoke House are great for Black-throated Sunbirds, Streaked Spiderhunters, Silver-eared Mesia, Blue-winged Minla and Greater Yellownape. I have also had Drongo Cuckoo in here.
6: If you're just up for one day, and are waiting for the down hour at the gate, this area can be very good too, as can the first 2 kilometres heading down to the Gap. Cars are forbidden from stopping on the road, but it makes for a great walk. Black Laughingthrushes favour the open areas about 300m downhill from the gate, but usually at dawn only. The stream at the gate used to be the site for Malaysian Whistling Thrush, but reports have been few recently. There is a reliable record from December 2003, again, an early morning bird.
7: The New Road was open on and off for about 8 months, but has again succumbed to the landslides which forced its closure. It does make for an excellent walk, reliably turning up hornbills and plenty of woodpeckers. It is a stiff climb back up though, so remember that on your way down, and there is no traffic on it - so no lifts.
8: Finally the area around High Pines, which is about the only place where Brown Bullfinch is possible. This corner of the resort is pretty quiet, and the long walk from town can be rewarding.
At the time of writing 1 GBP = 6.79 Malaysian Ringgit (RM).
Location:
Fraser's Hill is 103 km north of Kuala Lumpur via Rawang and Kuala Kubu Bharu (KKB). Coming from KKB, turn left off the road to Raub at The Gap where the 8km one-way road starts. 2km in either direction from the Gap on the main road can be very good early morning and late afternoon, but beware of traffic. Also, the first couple of kilometres up the road to Fraser's Hill can be amazing.
Transport:
A hire car is best, as it gives much more flexibility. Although not as cheap as Thailand, with prices comparable to UK, between 3 or 4 it works out pretty reasonable. Petrol is cheap, RM1.35/litre = 20p/litre. Long-distance taxis can be arranged in Kuala Lumpur, and I have done this once (Mr Loo 012 2535441); a drop-off at Fraser's Hill, collected 2 days later and taken to Kuala Lumpur International Airport cost RM300 (GBP44). You will struggle to get a taxi from Fraser's Hill, so always make sure you have made return arrangements. Buses are super-cheap, and go to the top via KKB, but there are only two a day from there to FH. I have never done this.
Accommodation:
There is a wide range of reasonably priced accommodation available in Bukit Fraser, and during the week there are plenty of rooms available and prices come down. I would avoid weekends and public holidays unless you have no choice. During these periods it seems as though half of Kuala Lumpur empties itself to get out of the heat; rooms will become very scarce and twice the price. If you fancy colonial style and a real log fire and an expensive dinner, The Olde Smoke House is nice, but about RM365 per night!! Recently I have stayed at the Silverpark Resort, which can be less than RM100 for a room with a great view. Beware, these prices are a guide only and can vary wildly. Try http://www.asiahotels.com.
When to go:
March/April is my preference, although I have been in every month of the year, and always have something to smile about. Avoid weekends and holidays as previously mentioned.
Contacts:
K. S. Durai, 09 36222195/013 9831633 fax: 09 3622273: or email durefh@hotmail.com. This guy knows the birds of Fraser's Hill as well as anyone. He is a freelance Nature Tour Guide and has quit his job with the WWF basically to show birders around. He doesn't actually ask for money, but be reasonable, he is a hell of a nice guy.
It cannot be reiterated enough that the whole area of Bukit Fraser is a goldmine of birding opportunity. As a birder, one cannot go there and fail to have at least one magic memory, not least getting to escape the heat of the lowlands and breath "cool", clean air in wonderful mountain habitat.
This article is by no means comprehensive nor complete but hopefully, for those who have not visited Malaysia, it may give you some more evidence as to how excellent it can be. For those who have come over to this part of the world, it is a reminder of how great the birding is, and the photographs in the article will no doubt provoke many happy memories.