News broke on the morning of 6 February 2021 of a Northern Mockingbird at Exmouth, Devon, representing potentially just the third British record after two individuals in the 1980s.
Photographed by local resident Chris Biddle, he posted the images on Twitter asking if it could possibly be a Northern Mockingbird, a North American species. It was first seen on 23 January and represents the first record anywhere in Britain or the Western Palearctic in more than 30 years – the last was as far back as 1988.
And in profile pic.twitter.com/TJdoRjoe5X

— Chris Biddle (@ChrisBiddle109) February 6, 2021
In Britain, occurrences don't appear to follow a particular pattern, with accepted individuals recorded in both May and August, while the sole other European record occurred in October. The first was a brief one-day bird at Saltash, Cornwall, on 30 August 1982, Found early morning during a strong north-westerly gale, it was promptly chased off by local Magpies.
The second accepted record – at Horsey Island, Essex, from 17-23 May 1988 – was only 10 km from the port of Felixstowe, Suffolk, and was thought to possibly be ship assisted. Indeed, the nearby area has hosted records of both Lark Sparrow in 1981 and White-throated Sparrow in 1992.
Another finds itself nestled in Category D of the British List. Pre-dating the pair of accepted records, a singleton was at Worm's Head, Gower, Glamorgan, from 24 July-31 August 1978, although was considered to have occurred at an unusual time of year for a genuine vagrant. Another at Blakeney Point, Norfolk, in August 1971 showed features consistent with an escaped individual and was rejected.
Northern Mockingbirds from the north-eastern part of their range appear to be migratory. It is an abundant species along the North American Atlantic coast and has colonised parts of Quebec, Canada, in recent decades. It has been identified as a vagrant in Bermuda, Honduras and the Pribilof Islands, Alaska. There have been ringing recoveries from more than 800 km away from their known range, while a record from Gambell, Alaska, in September 2014 is roughly 3,000 km from the nearest breeding area.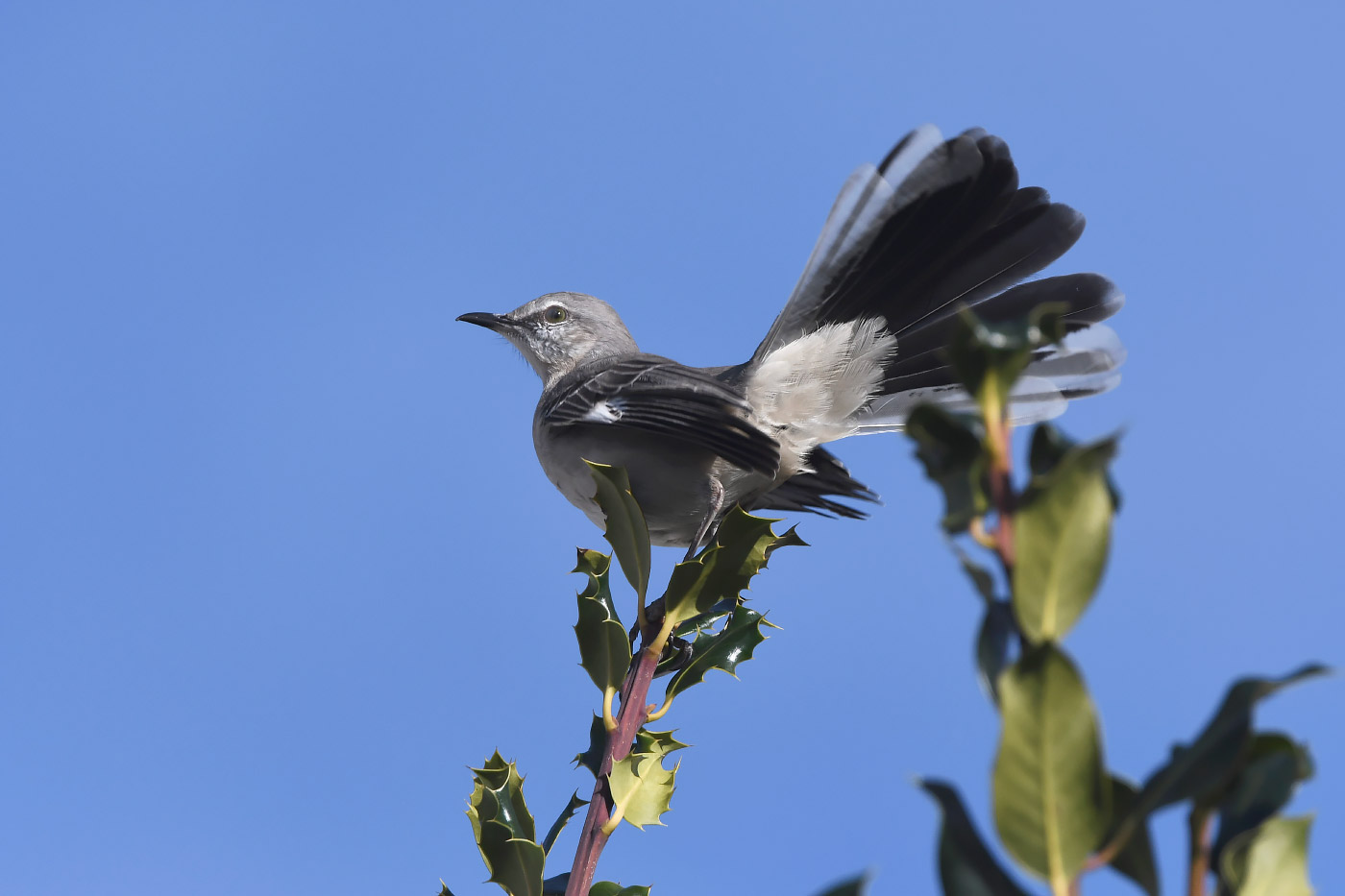 Content continues after advertisements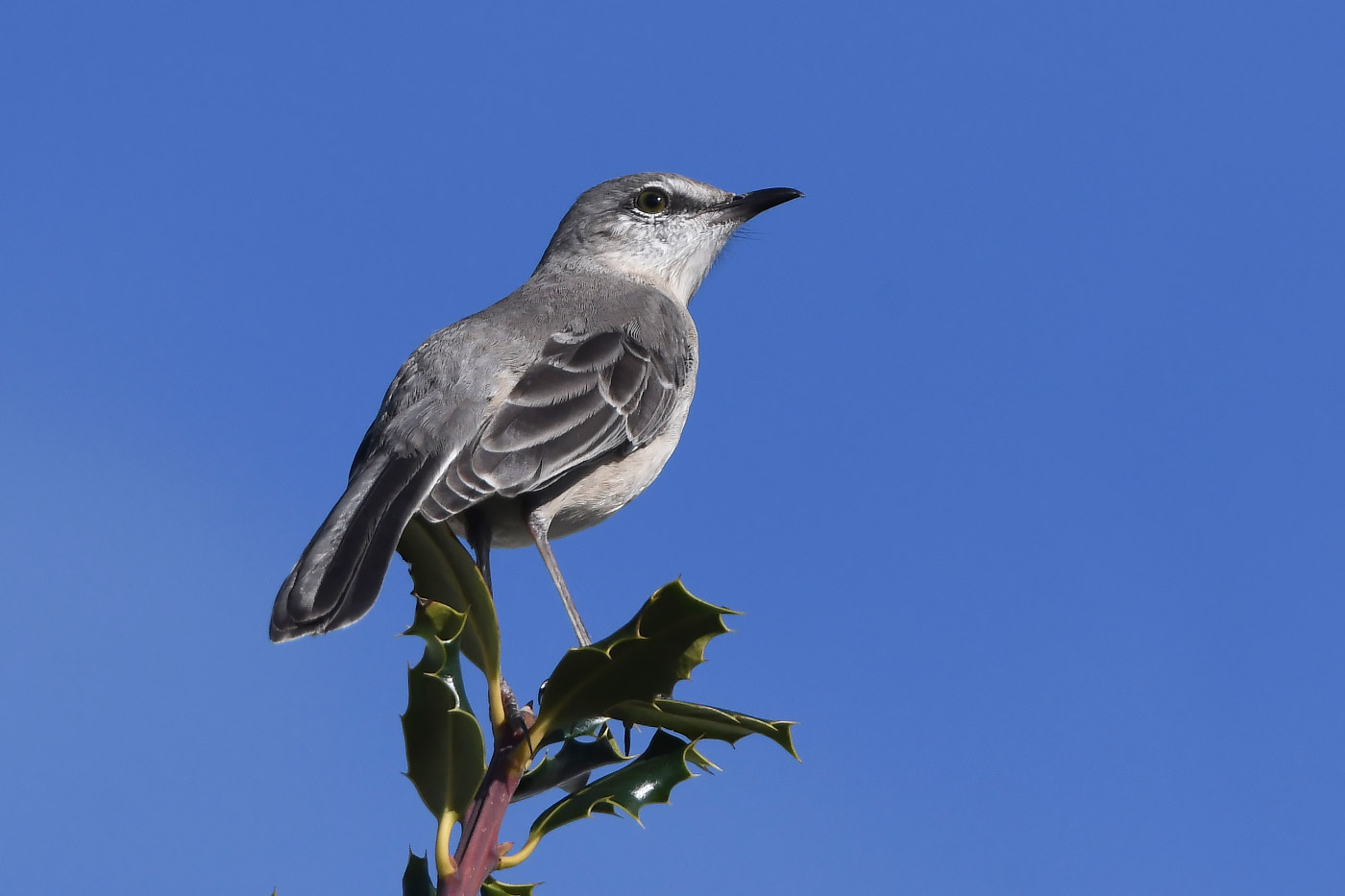 A handful of local birders living in the vicinity of Exmouth were able to enjoy superb views of the Northern Mockingbird on the afternoon of 6 February 2021, obtaining the selection of images shown above.
Although the species is predominantly sedentary within its North American breeding range, it is nonetheless considered to be a possible – though not very likely – transatlantic vagrant, and is roughly analogous to its near relatives, Grey Catbird and Brown Thrasher. Brown Thrasher has been recorded on one previous occasion in Britain – at Durlston Head, Dorset, from 18 November 1966-5 February 1967 – while there have been records of Grey Catbird in Anglesey and Cornwall, alongside records from the Azores, Jersey, Germany, Tenerife, Belgium and Co Cork, Ireland.
Further afield, the only other accepted record of Northern Mockingbird from the Western Palearctic concerns an individual on the island of Schiermonnikoog, The Netherlands, from 16-23 October 1988. In addition, there is a single record from the Canary Islands found at Arguineguín, Gran Canaria, on 15 November 2004. It remained in the area until 2006, before being trapped on 29 January and taken into captivity. However, it was considered to be ship-assisted and placed onto Category D of the Spanish List.
Keep up to date with news on this bird and other breaking rarities at www.birdguides.com/sightings or via our bird news app.