Part of my job at the BTO involves replying to some of the hundreds of bird-related email enquiries we receive each week from volunteers and members of the public. The vast majority are common birds: a female Chaffinch that can't be found in their book, a juvenile Wood Pigeon or a leucistic Fieldfare are recent examples, all of which need a response.
But on Monday 31st January, I opened an email sent the previous night from a BTO Garden BirdWatch participant, with four images attached of what was clearly a juvenile/first-winter winter 'turtle dove' species from a rather wintry garden in Chipping Norton (Oxfordshire). The finder had just sent his counts for the week of 12th December back to the BTO, and this prompted him to also email us about the unusual pigeon/dove that he'd seen in his garden during that week.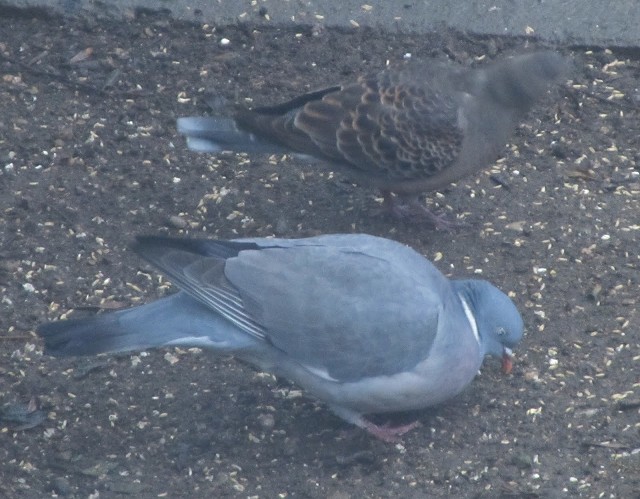 Oriental (Rufous) Turtle Dove, Chipping Norton, Oxfordshire (Photo: via BTO/BirdGuides)
When I looked at the images, alarm bells started ringing. Even though I thought it was a juvenile/first-year Oriental Turtle Dove (based on several features), I wanted to err on the side of caution — many a putative Oriental Turtle Dove has been claimed in the past, and disproven as just a (European) Turtle Dove.
I had a look through Killian Mullarney's revamped plate in the second-edition Collins Bird Guide, and also at Ian Lewington's plate in the 1992 Birding World article. I asked several colleagues for their opinions of the bird; people were unsure, although several thought it looked good for Oriental Turtle Dove. In terms of likelihood of occurrence, the odds were stacked in favour of Turtle Dove, there having been at least two in the country this winter according to BirdTrack.
I felt that a couple of apparently crucial features were lacking in the photos: the primary coverts were not visible (fine narrow pale fringes in OTD, broad buff tips in TD), nor were the bars on the neck (4 in TD, 5–6 in OTD). Certainly it did resemble Oriental Turtle Dove photos that I'd seen in the past, but looked a dull-coloured bird. I have seen a few abroad too, but always fleeting views. But with the level of scrutiny required these days, could I be sure?

Oriental Turtle Dove, Chipping Norton, Oxfordshire (Film: courtesy of BTO)
Objectively, the pro-Oriental Turtle Dove features visible in the four photos were:
Greyish tips to the outer tail feathers, which would confirm race orientalis rather than meena. Both subspecies occur as vagrants in the Western Palearctic. These tips appear to be pale grey and not white because the neck patch on the adjacent Wood Pigeon shows as white, and not pale grey. Therefore it's not a feature of it just being an overcast day.
The rump appeared wholly blue-grey coloured, with no hint of brown.
The nape appeared brownish (no hint of blue-grey).
Sizewise, OTD is a larger bird than TD, and this bird certainly looked largish and Stock Dove-like alongside the Wood Pigeon. But, how much smaller than a Wood Pigeon would a Turtle Dove actually look? It's been a long while since I've seen the two species side by side. In summer they look quite dainty, but in winter they might be quite fluffed up.
The appearance of the perched bird amid the snowflakes recalled more a Wood Pigeon than a Turtle Dove.
The solidly dark centred juvenile coverts were spot on for OTD.
The sullied greyish-pink underparts are also very good for orientalis (white in meena and TD).
Structurally, it also fitted. The short primary projection was equal to the tail projection beyond the wing tip, whilst in Turtle Dove the primary projection is twice that of the tail projection.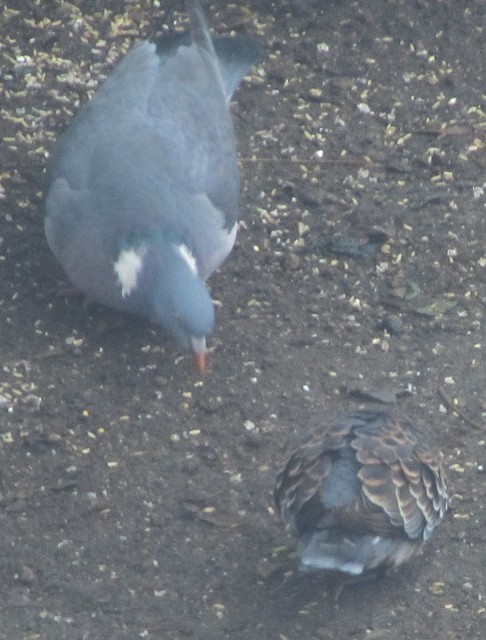 Oriental (Rufous) Turtle Dove, Chipping Norton, Oxfordshire (Photo: via BTO/BirdGuides)
It did seem quite short-winged, but that seemed hard to assess. Was I deluded?! Even though all these pro-Oriental Turtle Dove features were visible I doubted there was enough to clinch it (maybe), especially without two apparent key features. I decided to send the pictures to Ian Lewington straight away. It was far better to risk a mistake and be proved wrong than to say nothing and risk the record being lost! Furthermore, as the County Recorder, Ian was also well placed to go and visit the site. I didn't want to lose any more time either, as the bird might still be present.
So I was stunned when Ian emailed back less than two hours later confirming that the bird was indeed an Oriental Turtle Dove: "Wow! You're right. I can't believe it... an Oriental Turtle Dove in Oxon? Pull the other one, but it's true. Well done for not completely dismissing it." He agreed that it was a juvenile/first-winter orientalis.
The last ID point is a very useful test that can easily be used to confirm or eliminate a potential candidate Oriental Turtle Dove. I have looked at many photos since, and it seems to always hold true. Surprisingly, this feature is not mentioned in the birding literature; it is a rule that Ian has devised. Later that evening, one of my work colleagues, Nick Moran, emailed me independently to say he too was quite convinced that the bird was an Oriental Turtle Dove.
So, now that it was confirmed — could anyone see it? The file properties of the images showed them to have been taken between 16th and 18th December 2010, tying in with the period of snow in Oxfordshire. The observer had not seen the bird since 18th December. I contacted the finder, who kindly agreed to meet Ian the next day [1st February]. Ian visited the finder's garden and the surrounding area, but sadly did not see the bird. He was able to confirm that the photos matched the location, and that the tree in which the bird had perched in was visible from public rights of way. The bird may have succumbed during the cold spell, or moved on after the thaw. But then again, it is a dove; it might be quite site-faithful (there have been long-stayers before, including a recent bird in Sweden). Although he didn't see the bird on 1st February, he mentioned that there is a lot of potentially suitable habitat nearby where it could still be present. It'd be nice to think that the bird may still be surviving in the area.
The news of the bird's location was released that day, so I hope very much that birders will be inspired to go there and search for the bird again this weekend. If enough people do go and look, there is a chance that it may be rediscovered.
If accepted, this will represent the ninth record of Oriental Turtle Dove for Britain. According to Parkin and Knox (2010), Status of Birds in Britain and Ireland, there are eight previous records and of the six identified to subspecies there have been three of each.
This record highlights the value of schemes like the BTO Garden BirdWatch, with its weekly recording periods. After all, gardens are just another form of patch birding.
It's not every day you find a rare bird at your desk... I was only doing my job!
[Update: the bird was relocated on 12th February and performed for thousands of birders before the last sighting on 9th May. See
this article
for more.]