There are many galleries of bird photos online, but it has to be said there is no other resource quite like BirdGuides. Twelve months on from our last Photo of the Year award, and the number and quality of images submitted continues to rise, with almost 325,000 photos uploaded at the time of writing. A total of 4,937 bird species are now represented on BirdGuides — surely we will pass the 5,000-mark in the coming year. Butterflies, moths, dragonflies and other orders remain popular too, with a further 1,280 species represented in these well-supported sections of our Iris galleries.
Getting to know the galleries and the scale of image submissions from so many contributors was top of my to-do list when I joined BirdGuides last year. The sheer number of images posted daily surprised me, as did the quality of submissions; the time it takes to look at them all (and I do look at every single one) has also taken me by surprise, and these days I probably spend more time going through other photographers' pictures than I do taking my own!
Viewing every submission is a necessary part of judging Photo of the Week (POTW) — and, by extension, Photo of the Year (POTY). Both are difficult but enjoyable tasks, and in the case of the former, I'd like to say thanks to Mike Atkinson, my predecessor at BirdGuides, who selected the POTWs for the first part of 2014. For the latter, I was joined by four fellow judges for our annual task of assessing the ultimate winner: they were Dominic Mitchell, Managing Editor of BirdGuides, David Hosking from Frank Lane Picture Agency, US-based Alan Murphy and leading Finnish photographer Jari Peltomäki.
The new judging system introduced for the 2013 award was broadly maintained this year, and the judging panel (see below for more background on the judges) carefully reviewed and assessed all POTW winners from 2014. Interestingly, each judge chose a different top photo in the first round of voting, but a clear winner emerged in the final stage. Here is the verdict:
BirdGuides Photo of the Year 2014
Winner
Kestrel taken by Austin Thomas in Lancashire on 10 November 2014:
Judges Dominic Mitchell and David Hosking commented as follows:
DM: "What's not to like about this extraordinary portrait of a Kestrel? It has everything — engaging eye contact, movement, focus and above all wow factor. With the bird striding purposefully towards the photographer, at eye level yet mid-step off the ground, Austin Thomas has captured an utterly unique image of a familiar species in totally unfamiliar pose. You can almost feel what it's like to be the imminent prey item of this determined-looking predator. Austin has gone for perfection — and succeeded. Congratulations on an outstanding winning image."
DH: "This Kestrel jumps off the page. It's a common species much photographed, but I've never seen it recorded like this. It's a well-executed image which shows pre-planning to attract the bird, then to record the action from a low angle with the bird running towards the camera, which is the hardest form of movement for the auto focus to determine accurately. The end result is an original angle on a common species."
Austin wins £200 worth of books, and a complimentary BirdGuides Platinum news subscription for his winning image.
Runners-up

Purple Sandpiper, Fife Ness, Fife (Photo: John Anderson)
SY: "A stunning shot with everything in place for a photo-session with Purple Sandpiper on rocks in beautiful light; the wave, spray, foam and then the leaping bird just make you wish you'd taken this shot yourself — lovely!"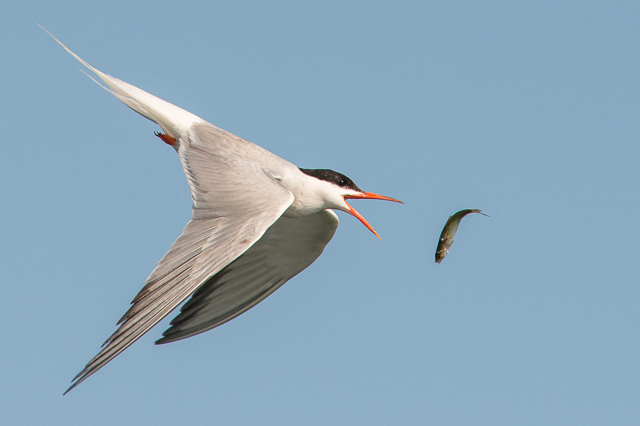 Common Tern, Farmoor Reservoir, Oxfordshire (Photo: Dave Collins)
SY: "A 'grab' shot, but a grab shot to beat all others! The photographer has stayed alert to the opportunity of what was happening and carried on pressing the shutter instead of stopping to watch; beautifully caught with perfect light and background."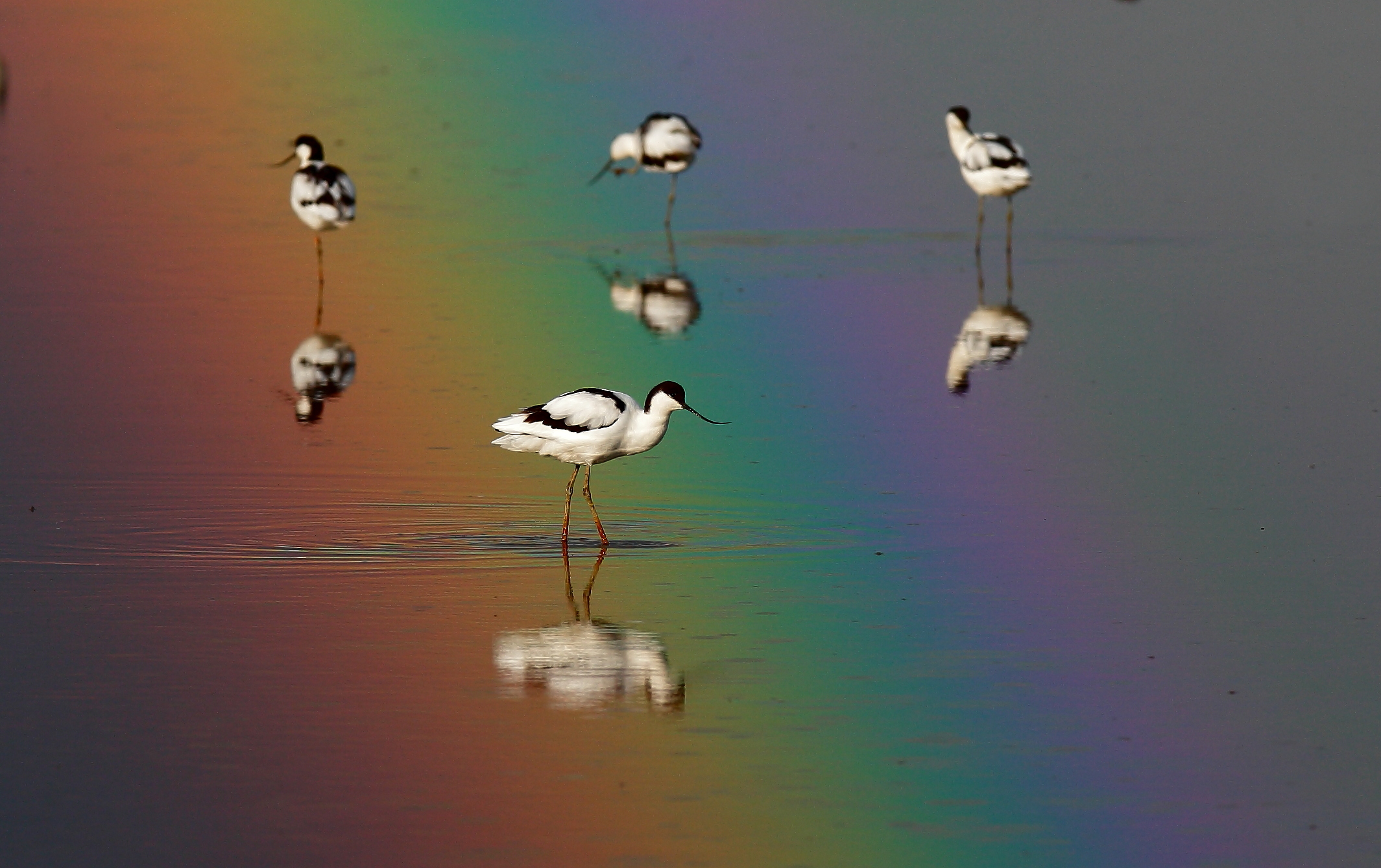 Avocet, Titchwell RSPB, Norfolk (Photo: Chris Darby)
JP: "The photographer has taken full advantage of the short space of time given by the rainbow's colourful reflections to take this wonderful photo; something like this may not happen again and the exposure and composition have all combined to make this a unique image."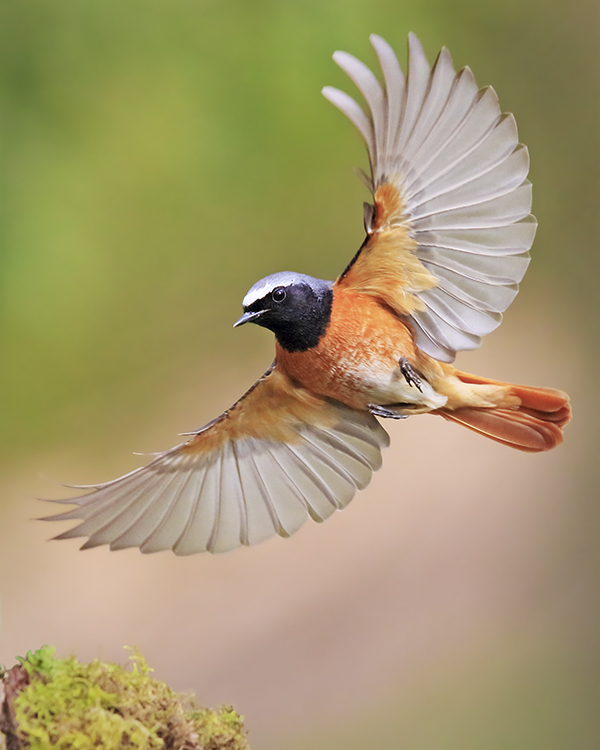 Redstart, undisclosed site, Shropshire (Photo: John Fielding)
AM: "The full diagonal banking shot of any songbird is one of the hardest to get. The beautiful species, out-of-focus background and colours make for a stunning image of this Redstart."
Each of our runners-up wins a year's subscription to Iris Pro.
Commended
The judges were impressed with the extremely high quality of Photo of the Week throughout the year, and as previously also nominated a selection of additional images as Highly Commended: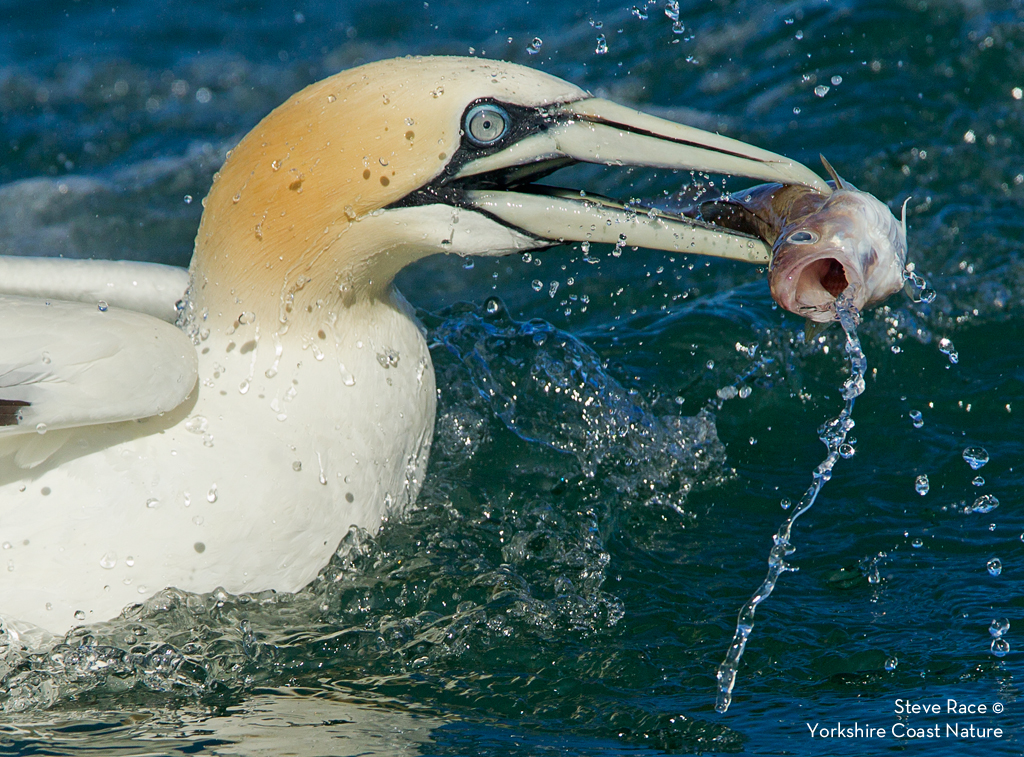 Gannet, Bempton Cliffs RSPB, East Yorkshire (Photo: Steve Race)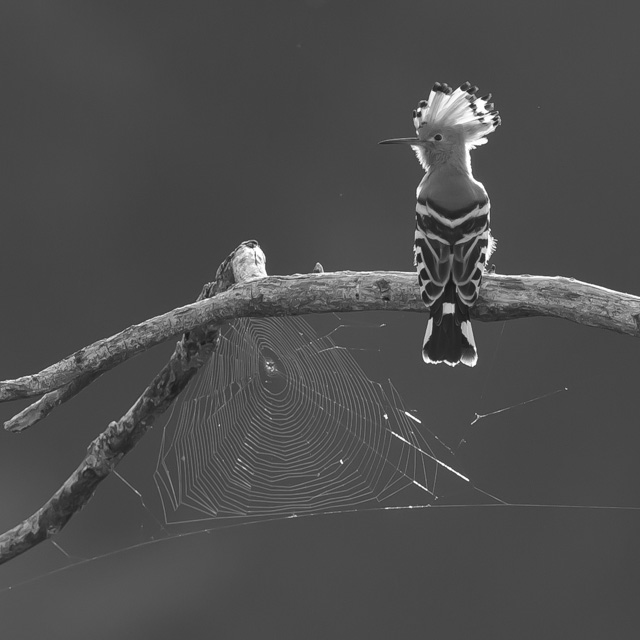 Hoopoe, Spain (Photo: Ashley Grove)

Bittern, Kenfig NNR, Glamorgan (Photo: Bob Hopkins)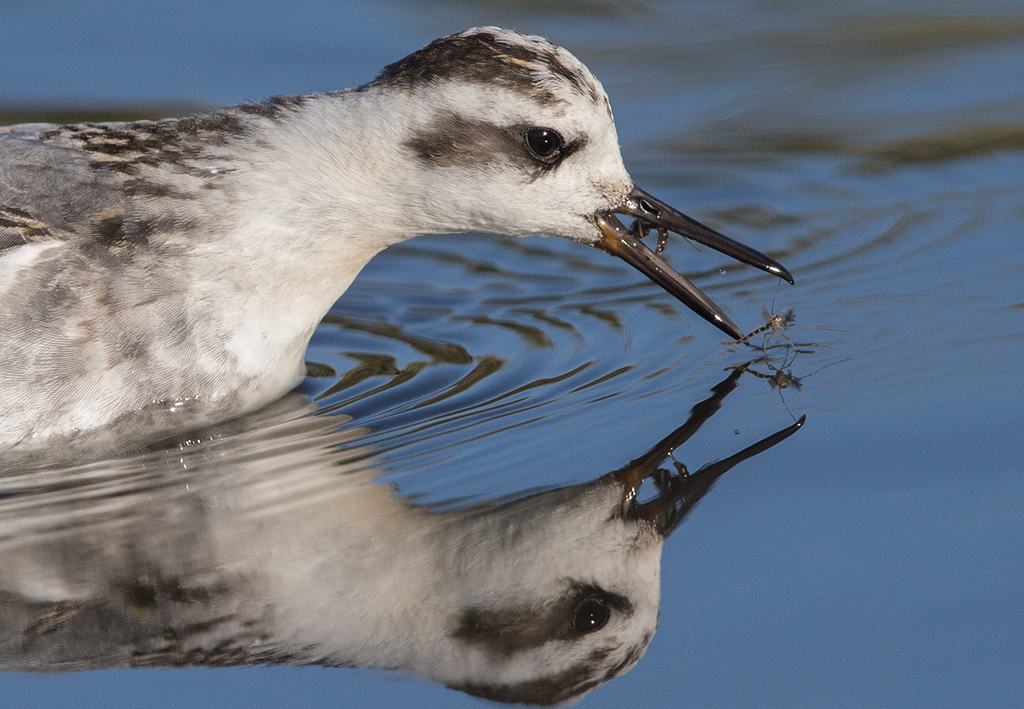 Grey Phalarope, Morfa Madryn NR, Gwynedd (Photo: Dave Williams)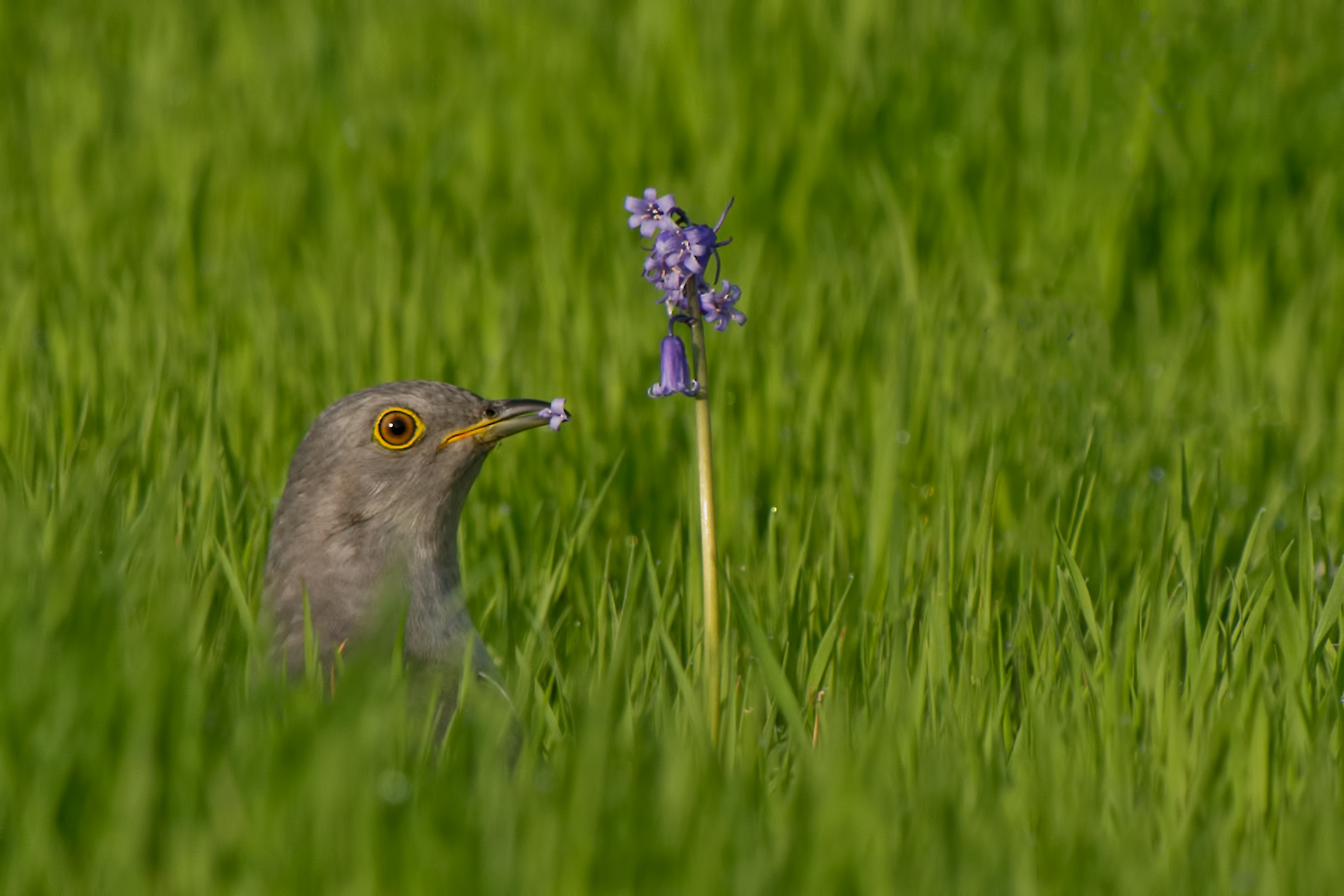 Cuckoo, Ingram, Northumberland (Photo: Mark Bowen)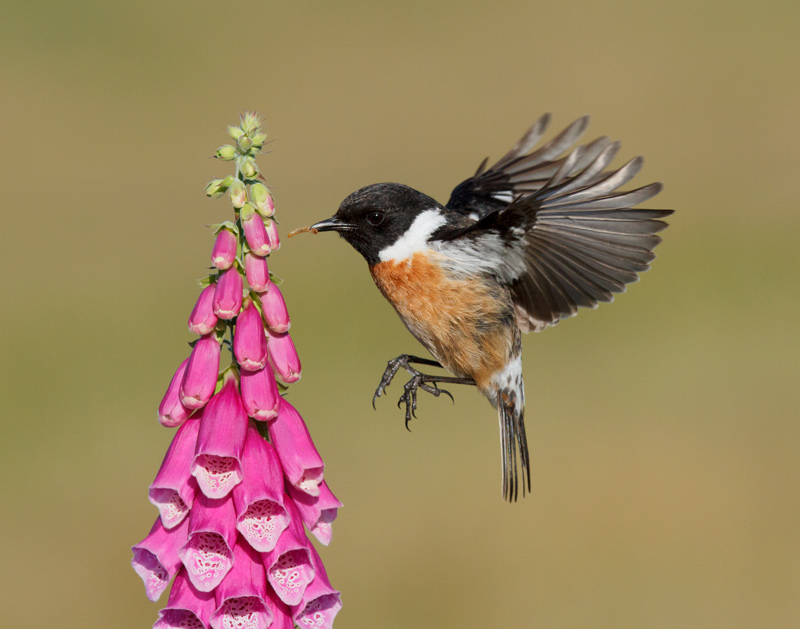 Stonechat, Wayoh Reservoir, Lancashire (Photo: John Barlow)
Thanks to all our photographers for submitting so many excellent photos during the year — this competition is only as good as it is because of all the images you send in.
With 2015 being my first full year as Photo Editor, I'm really looking forward to seeing the tens of thousands of images that I'll be browsing through in the coming months. The first few winners of POTW this year have already set a high standard that might see one of them take POTY for 2015. It's up to everyone else to get out there and take something even better — good luck!
Judging panel
David Hosking
David is a Fellow of the Royal Photographic Society and has been an examiner on the RPS Associateship and Fellowship Assessment Nature Panel. He is also a Fellow and Vice President of the British Naturalists Association; founded in 1905, the BNA promotes the study of all branches of natural history. With his wife Jean he is a director of FLPA Ltd. Founded by Jean's father in the 1930s, it is the oldest picture agency specialising in natural history and has over half a million images on its website. His photographs have appeared in a vast range of magazines and books, including more than 20 which were the product of his happy and prolific partnership with his late father Eric Hosking OBE Hon FRPS. David's three most recent books in the HarperCollins Traveller's Guides series are Wildlife of East Africa, Wildlife of the Galapagos and Wildlife of Southern Africa. David is also chairman of the Eric Hosking Charitable Trust.
Dominic Mitchell
Having watched birds for more than four decades, Dominic Mitchell has travelled to all seven continents, and never without his cameras. A judge on previous photo contests organised in association with Kodak, Swarovski Optik and other companies, he is Managing Editor of BirdGuides and also Birdwatch, Britain's leading monthly magazine for keen birders, which he founded in 1992. Dominic also leads birdwatching tours and has written and edited a number of books on birds, including A Photographic Handbook of the Rare Birds of Britain and Europe, Where to Watch Birds in the London Area and A History of Birdwatching in 100 Objects. When not studying and photographing gulls in his home city of London, his travels regularly take him to Norfolk, the Azores in the mid-Atlantic, and the Neotropics.
Alan Murphy
Award-winning photographer Alan Murphy grew up in England and is an avid birder. Having emigrated to the United States, he picked up a camera and began pursuing his vision of how birds should be photographed. He has developed a style that is very recognisable, with stunning portraits of birds on beautiful perches. Now a full-time professional bird photographer, he is in demand as a speaker at festivals, conferences and photography clubs around the nation. Alan is the author of bird photography instructional ebooks and videos which have helped thousands of photographers take better images. He also teaches his techniques through highly successful in-the-field workshops with small groups. When not photographing birds, he is busy submitting images to a wide range of magazines, with published credits including National Geographic, Birder's World, Wildbird, Birding and many more.
Jari Peltomäki
Jari is director of Finnature, Finland's leading wildlife tour operator, and a professional wildlife photographer living in Liminka, Finland. He has been taking photographs for more than 37 years, turning professional around 15 years ago. Bird photography is his passion and his main subjects of interest are owls — he is known as the 'owlman' of Finland — though his photo library includes other wildlife as well, taken both in Finland and abroad. His work is used worldwide and he has co-published several books about birds and photography. His images are regularly featured in international competitions including Wildlife Photographer of the Year, for which he was also on the final judging panel for the 2012 competition. Jari has been a Nikon ambassador since 2012. See more at www.jaripeltomaki.com and www.birdphoto.fi.
Steve Young
One of the UK's best-known bird photographers, Steve Young writes a monthly column for Outdoor Photography magazine and is Photo Consultant for Birdwatch magazine. His work has illustrated countless magazines and books, and he was the overall winner of the British Wildlife Photographer Awards in 2010 with a stunning image of a Herring Gull in breaking waves. Based in Liverpool, his favourite subjects include two local seasonal specialities, Little Gull and Leach's Storm-petrel, while his favourite rarity is the enigmatic Ross's Gull, of which he has seen no fewer than 15 in the UK. His work can be viewed at www.birdsonfilm.com.