As ever, we continue to be delighted and amazed at the numbers and quality of photos uploaded to Iris. In 2012 we published our 250,000th photo, and launched new galleries for butterflies and moths, dragonflies and damselflies and other arthropods. Here is the now traditional and astonishing graph: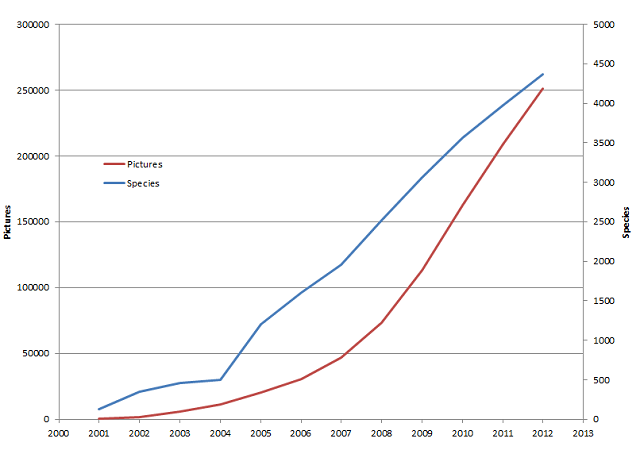 Cumulative numbers of photos and species approved per year. (For consistency with previous years, non-bird photos are excluded from the data shown here.)
At the time of writing we were hosting 255,888 photos of 5224 different species and forms. Of these, the vast majority (253,866 pictures of 4379 species) are in the avian gallery, but our new invertebrate galleries have made an encouraging start, so far attracting 2022 photos covering 845 species.
Influxes in both winter periods saw the amateur photographer's favourite, the Waxwing, return to the top of the species chart, with 2011's chart-topper Short-eared Owl dropping back into second place. A "new entry" in the top 10 was Iceland Gull, reflecting a huge influx in the first winter; this species didn't even make the top 50 in 2011. The four-way tie for 4th place is an interesting quirk in the data!
2012's favourite species were (with number of uploads):
Waxwing (969)
Short-eared Owl (764)
Great Spotted Woodpecker (519)
Kestrel (460)
Kingfisher (460)
Nuthatch (460)
Robin (460)
Blue Tit (414)
Wheatear (396)
Iceland Gull (387)
The regional distribution of our photos is remarkably consistent; in fact the top 3 most productive counties in 2012 were the same as in the previous year:
Suffolk (3459)
Norfolk (2572)
Lincolnshire (1853)
Clyde (1395)
Lancashire (1233)
East Yorkshire (1143)
Hampshire (1035)
Northumberland (981)
Dorset (946)
Essex (941)
The Judges
Content continues after advertisements
Julian Hughes
Julian is warden at the RSPB's popular Conwy nature reserve in North Wales, returning to his homeland a few years ago after 18 years in East Anglia. Julian has been a keen birder since the age of 16. Although a decent rarity will still occasionally deprive him of sleep through excessive caffeine consumption, most of his birding is now done in North Wales, both at Conwy and along the coastal headlands such as the Little Orme and Great Orme. He's enjoying getting into unbirded bits of the countryside through BTO Atlas surveys, and is a Council member of the Welsh Ornithological Society.
Mike Toms
Mike Toms has worked for the BTO since 1994. A keen amateur when it comes to photography, he mostly works with macro subjects, thus avoiding the problematic decision of which to take out birding: telescope or SLR and 400mm lens? Married to an artist, he has a strong interest in design and composition, and appreciates photographers who take time to plan and compose such stunning images as those appearing in BirdGuides' growing gallery.
Mike Atkinson
Mike's twin passions for birds and photography have been with him since his teen years. The advent of digital photography has finally enabled him to combine these passions to create a rich collection of images covering over 200 British species, over 1400 of which are featured on his website. His images have appeared in a wide range of publications, both in print and in electronic media. Since suggesting the initiation of the Photo of the Year contest in 2006, Mike has acted as Photo Editor for BirdGuides, encouraging the development of bird photography through the Reviews of the Week and other activities. Having learnt the art and craft of bird photography the hard way, Mike now enjoys passing on his knowledge to others through tutorial articles, workshops and one-to-one training.
Winner of BirdGuides Photo of the Year 2012
Knot taken by Gerhard Hofmann on 16th December 2012.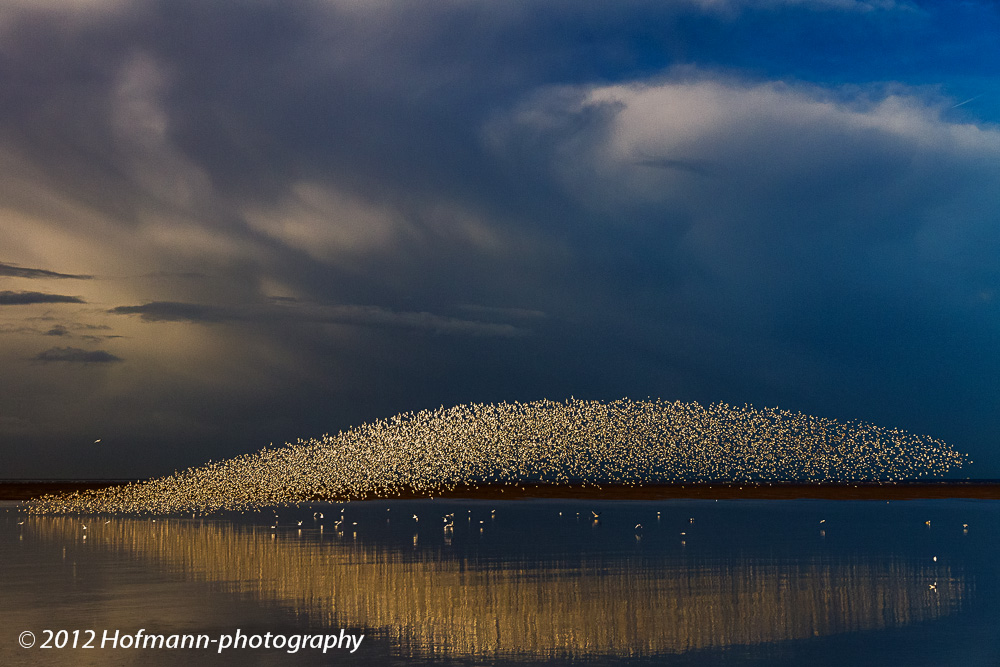 Knot, Hoylake, Cheshire (Photo: Gerhard)
The judges' comments included:
MA: "Wader flocks are a true wildlife spectacle, as thousands of birds join together to create a mass with a life of its own, twisting and turning and morphing into ever-changing shapes. This spectacle is, however, notoriously difficult to capture in a still image and normally has to be seen in the flesh to be appreciated. Gerhard Hofmann's glorious image of sunlit Knot reeling over the Irish Sea is as close as you can get, and has the added advantage of allowing us to savour a perfect moment that would have lasted only a fraction of a second in reality. A dramatic, Turneresque sky provides the dark canvas across which the flock is strewn, a myriad glowing dots reflected in the calm water and repeating the shape of the overarching clouds. A truly sublime scene beautifully rendered."
JH: "Flocks of waders swirling over mudflats are a popular draw for birdwatchers and photographers, but it's hard to get such a perfect picture. You can go in close and slow, capturing the patterns and movements of a few birds, or you can pull back and see their fluid movement in the landscape. Gerhard has gone for the latter approach on the Dee Estuary, and the result is almost abstract art. If this picture were not on the BirdGuides website, on first glance would you even know these were birds? The reflection of the flock on the wet sand and the contrast of pale-plumaged birds against a menacing, but interesting, sky is magic, and a worthy winner of this year's title."
MT: "To me, birding is not just about the birds; it's about the sense of place and how the birds sit within their wider landscape. Gerhard Hofmann's photograph delivers just this, the flock of Knot captured against a dramatic sky and a mirror-calm pool. The brightness of the birds balances the deep Payne's grey sky and the curve of the flock echoes the curvature seen in parts of the sky. The umber of the distant mudflats provides an important horizontal, separating sky from the reflection of the pool and balancing the blues and greys. To bring these elements together requires a good eye for composition and this is a deserving winner."
Gerhard said:
For high tide the promenade at Hoylake is among my favourite spots to visit. Usually I am there long before the tide is in. On this morning my friend Mike called me that he spotted some Knot at a spot which is very suitable for knotscapes (a picture which shows the birds in their habitat). My wife and I decided to skip lunch and jumped into the car to get there and sure enough things where exactly how our friend told us. We followed the flock and at one point my wife suggested to walk further ahead and waited at a pool of water without any obstacles in the background...either we would be up for something special or the birds would just leapfrog and we would only enjoy the moment without getting any pictures. Luckily the birds read our mind and settled down and just as the sky opened for some magic light they began to take off and showed a great performance...from that moment on it was just about waiting for the right moment. Thanks Mike.
Equipment
Canon EOS–7D camera
Canon EF-S15–85mm f/3.5–5.6 IS USM lens
Settings
ISO 640
Shutter Speed 1/1000 second
Aperture f/4.6
Runners-up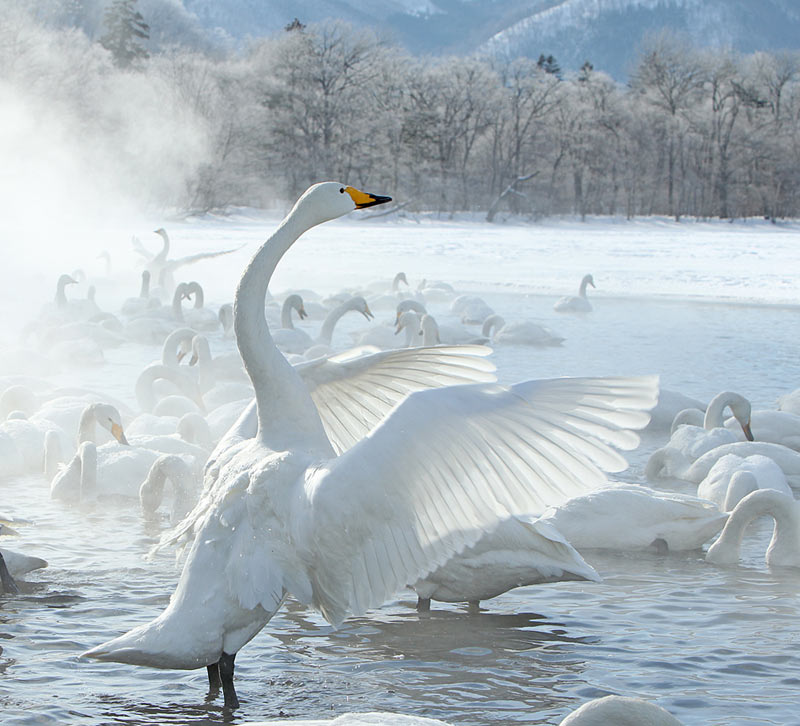 Whooper Swan, Japan (Photo: Andrew Moon)
MA: "As a photographic subject, swans have been thoroughly overdone by both photography beginners getting started at their local boating lake and commercial photographers creating clichéd stock images. Only rarely do they get depicted as wild birds in an evocative natural setting. On a trip to Japan, though, UK bird photographer Andrew Moon visited a volcanic lake used by Whooper Swans to escape the freezing February temperatures. Shooting towards the sun to backlight the birds amongst the mist against a snowy backdrop resulted in an authentic and atmospheric scene, rounded off by a perfectly captured wing-flap by the central bird."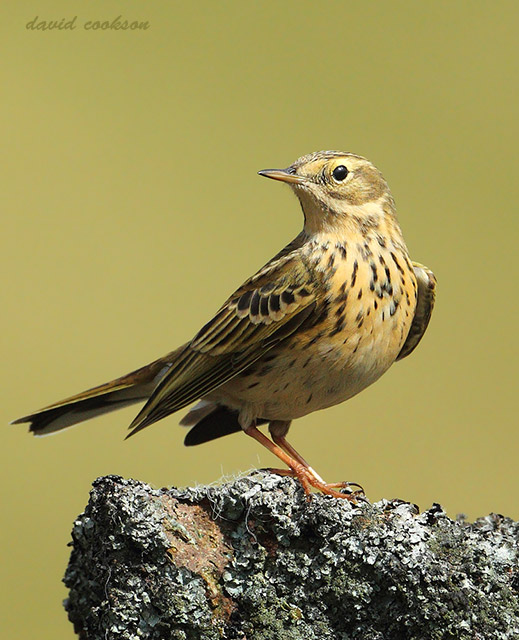 Meadow Pipit, Alwinton, Northumberland (Photo: David Cookson)
MT: "David Cookson's Meadow Pipit delivers a striking portrait of a bird that is all too readily dismissed as a "little brown job", capturing the subtle tonal differences and revealing characters central to pipit identification. With the aid of good lighting, David's Meadow Pipit displays a lemon yellow tinge to the supercilium and a warm buff to the chest. With light in the eye and a head held just above the horizontal this bird is alert and is brought to life."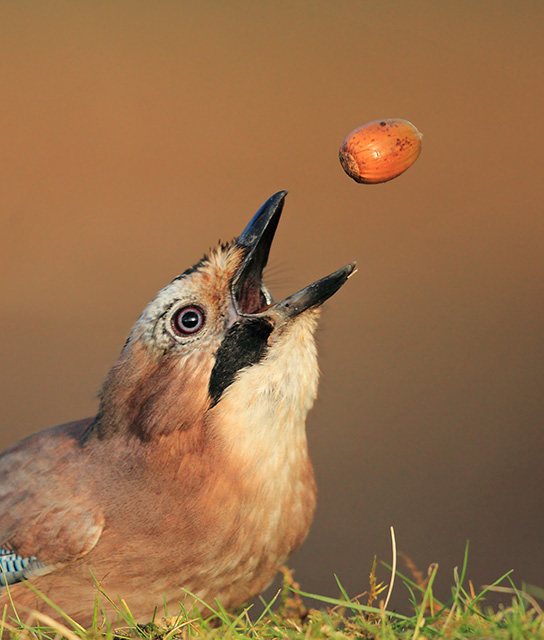 Jay, undisclosed site, Lancashire (Photo: Martin Jump)
JH: "We all know that Jays eat acorns, but how often do we get to see it ourselves, unless there is a mature Oak outside your kitchen window? For me, seeing a Jay is always a treat; that flash of azure blue on a brown bird on a grey autumnal day. I love the muted shades of brown and beige in the fore- and background of Martin's shot, but while your eyes are immediately drawn to the tossed acorn, they quickly focus on the detail of the Jay's head: the fine bristles around its gape, the smear of black moustache, but above all, this photo is about the bird's eye, a concentrated stare that for a second that focuses solely on its bounty. This photo tells a story, of an everyday moment in a Jay's life."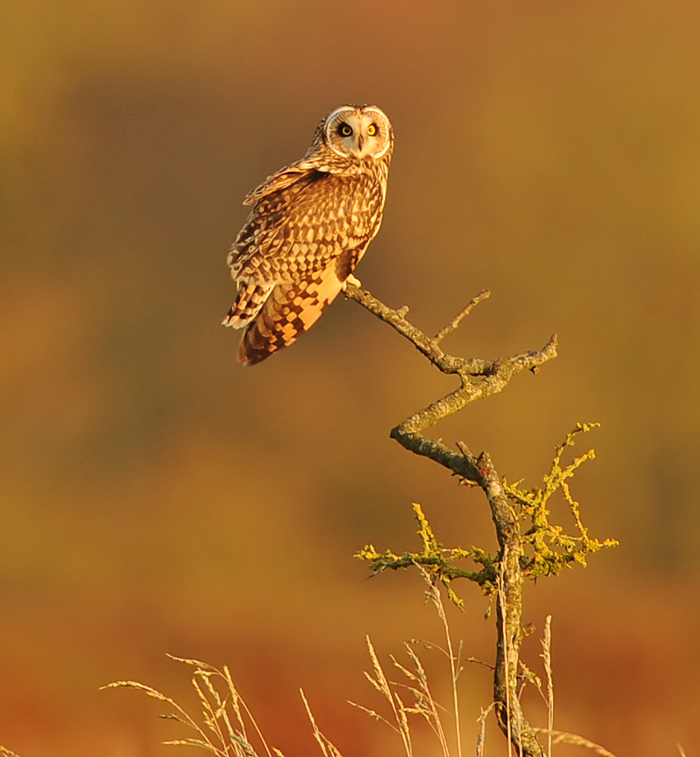 Short-eared Owl, Rawcliffe Moss, Lancashire (Photo: Brian Rafferty)
MA: "One of the key compositional choices to be made by bird photographers is how big the subject should appear in the frame. Most go through a phase of obsessively filling the frame with the bird to show maximum detail, even though this gives a claustrophobic feel and gives no sense of place to the viewer. Thankfully, many photographers develop beyond that stage and recognise the value of having a range of different subject sizes depending on the situation, with at least some showing the bird in its natural environment. Brian Rafferty's Short-eared Owl image is a great example of where a more expansive view is beneficial. Catching up with a Short-eared Owl in glorious afternoon sunlight, Brian produced an image that includes enough of the scene to make you feel you were there and, equally importantly, makes the most of the zigzag branch to create an engaging lead-in line."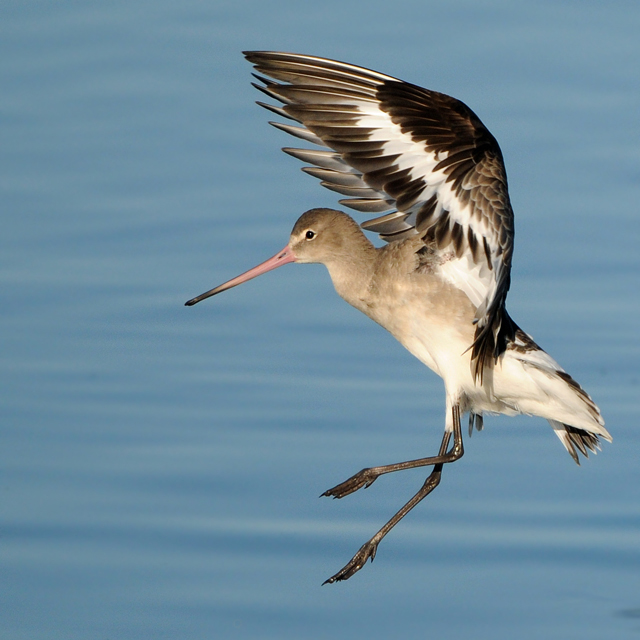 Black-tailed Godwit, Mistley, Essex (Photo: Carl Wright)
MT: "The action in this photograph is captured in a single, crisp moment, the bird frozen in flight as it comes in to land. To achieve this, beautifully sharp and perfectly lit, allows the viewer to take in the detail of the bird: the fleshy pink of the bill, the soft grey of the plumage and the fine detail of the wing. There is a delicate balance to this image, the eye drawn from left to right down the bird and then to the legs, which glisten slightly. Tonally, the image is soft, the background neutral and this allows the dark of the wing, the brilliance of the eye and the gleaming legs to stand out. It has poise and crispness, a great photograph."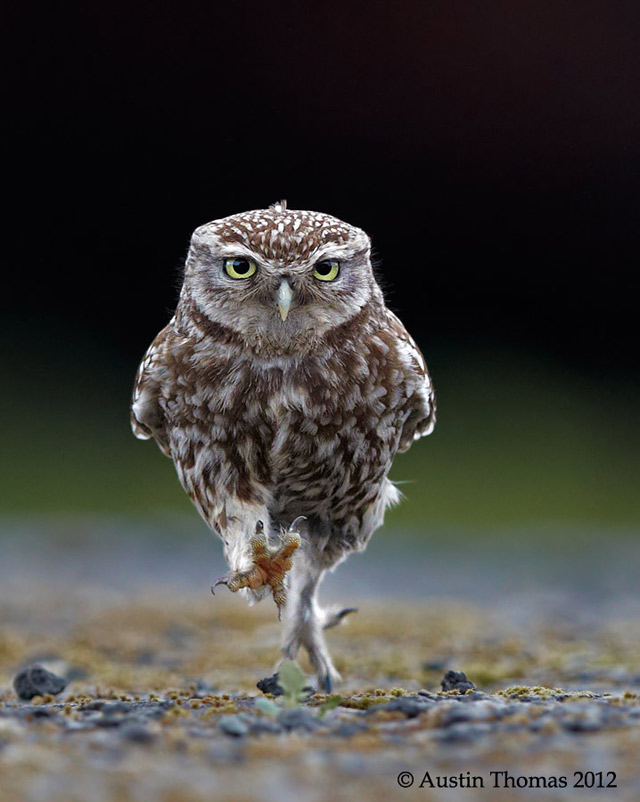 Little Owl, undisclosed site, Lancashire (Photo: Austin Thomas)
JH: "Many birders are lamenting the decline in their Little Owl population: an introduced species maybe, but one that found a niche in both the British landscape and people's hearts. Austin has a long-term project to photograph these birds in Lancashire, so this image is no mere chance shot, it's just one product of a lot of time and preparation. Above all, this picture made me smile. It could almost be that the owl is striding purposefully towards the camera to remonstrate with Austin. It's a pin-sharp picture of a movement that was probably over in seconds, with the bird's eyes showing a real concentration on its goal. Wonderful!"

Chiffchaff, undisclosed site, Norfolk (Photo: Matt Crosby)
MA: "From time to time, all bird photographers find themselves in a situation where they see a bird doing something interesting, but where the chances of capturing the scene are so remote that they have to content themselves with just sharing the moment with their temporary avian companion. For Matt Crosby, an unexpected visit from a Chiffchaff to his barn workshop to feed on insects around the rafters must have felt like one of those moments but, to his credit, he decided to have a go anyway. Setting his camera to a high ISO setting to counter the low light levels, Matt perfectly timed the action as the warbler — in flight — delicately plucked a fly from a spider's web. The background shadows emphasise the subject and the tension in the web conveys millisecond precision in the timing of this against-all-odds shot."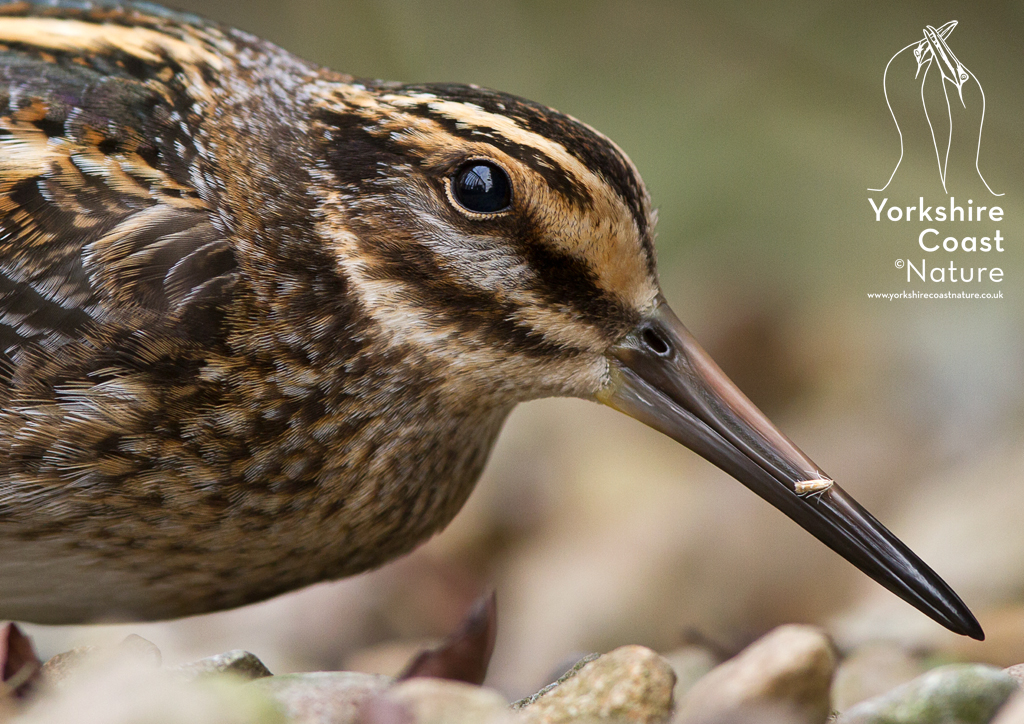 Jack Snipe, Bridlington, East Yorkshire (Photo: Steve Race)
MT: "Not an easy bird to see and photograph well, this garden-visiting Jack Snipe provides an unexpected opportunity for a rather different portrait of this engaging individual. The low camera angle and choice of cropping work exceptionally well to deliver a great frame-filling shot. The details of the feathering, in particular the soft-grey edging, underline the subtleties of plumage that are easily missed in the field. The shallow depth of field draws attention to the strong head patterning and striking eye."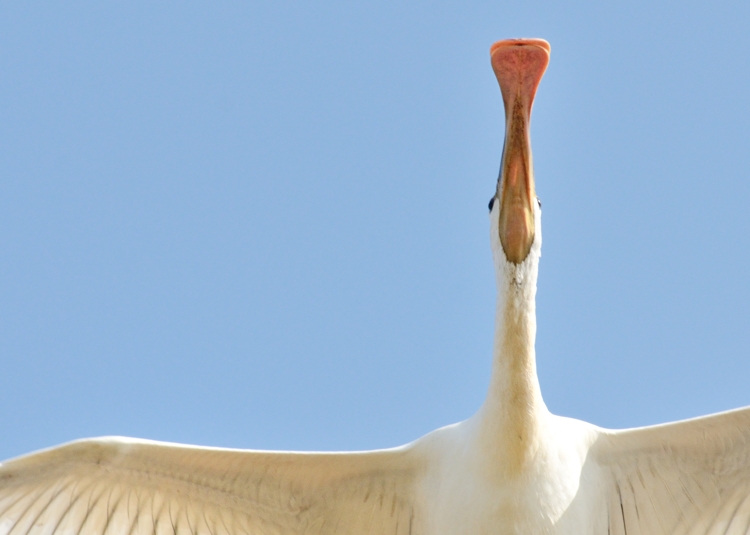 Spoonbill, Titchwell RSPB, Norfolk (Photo: Tom Hines)
JH: "Reviewing all the photos of the week is challenging enough, so it can take something 'a bit different' to stand out. Spoonbills are birds of our time, an indicator of our changing world; 20 years ago this shot would have been taken in Spain (though a sky that blue in Norfolk last summer seems barely believable!). Tom utilised the interesting shape of a Spoonbill and, with smart use of cropping, turned a nice, but perhaps rather ordinary, flyover Spoonbill into something more graphic. Cropping like this is not everyone's cup of tea, and the photographer has to have a real eye for it, as it can go badly awry. But Tom's work means the result is a very simple yet pleasing image that easily made my shortlist."
Gerhard wins an iPad mini, and all the runners-up are treated to a year's free Iris Pro membership.
Finally a big thank you to everyone who submitted pictures to BirdGuides during 2012, and congratulations to all of those who made Picture of the Week and the "notable" section of the weekly reviews. We love looking at all the photos that arrive; do keep them coming.