On the morning of 7 July I was out on Whalsay, Shetland, with a couple of English birders. We had seen Whimbrel, Black Guillemot and Twite, plus breeding Arctic Terns, Oystercatchers and Red-throated Divers. There was still over an hour to kill before my guests were leaving to watch the World Cup quarter final between England and Sweden, and I was fast running out of ideas on what to do at what is a really quiet time of year on Shetland.
It was at this point that fellow island birder Brian Marshall rang to say that he'd had an adult Long-tailed Skua fly past him at Challister Ness, a headland on the west side of the isle. The skua had then turned north-east towards West Loch of Skaw. As a bird I still needed for my island list, I was relieved that it was still in the area in the company of about 10 local Arctic Skuas. While I was off the island later in the day, I received a text from Brian to say the Long-tailed was still hanging out with the Arctics. Intriguingly he had also glimpsed a probable immature Long-tailed but wasn't 100 per cent sure, as it had been brief and distant.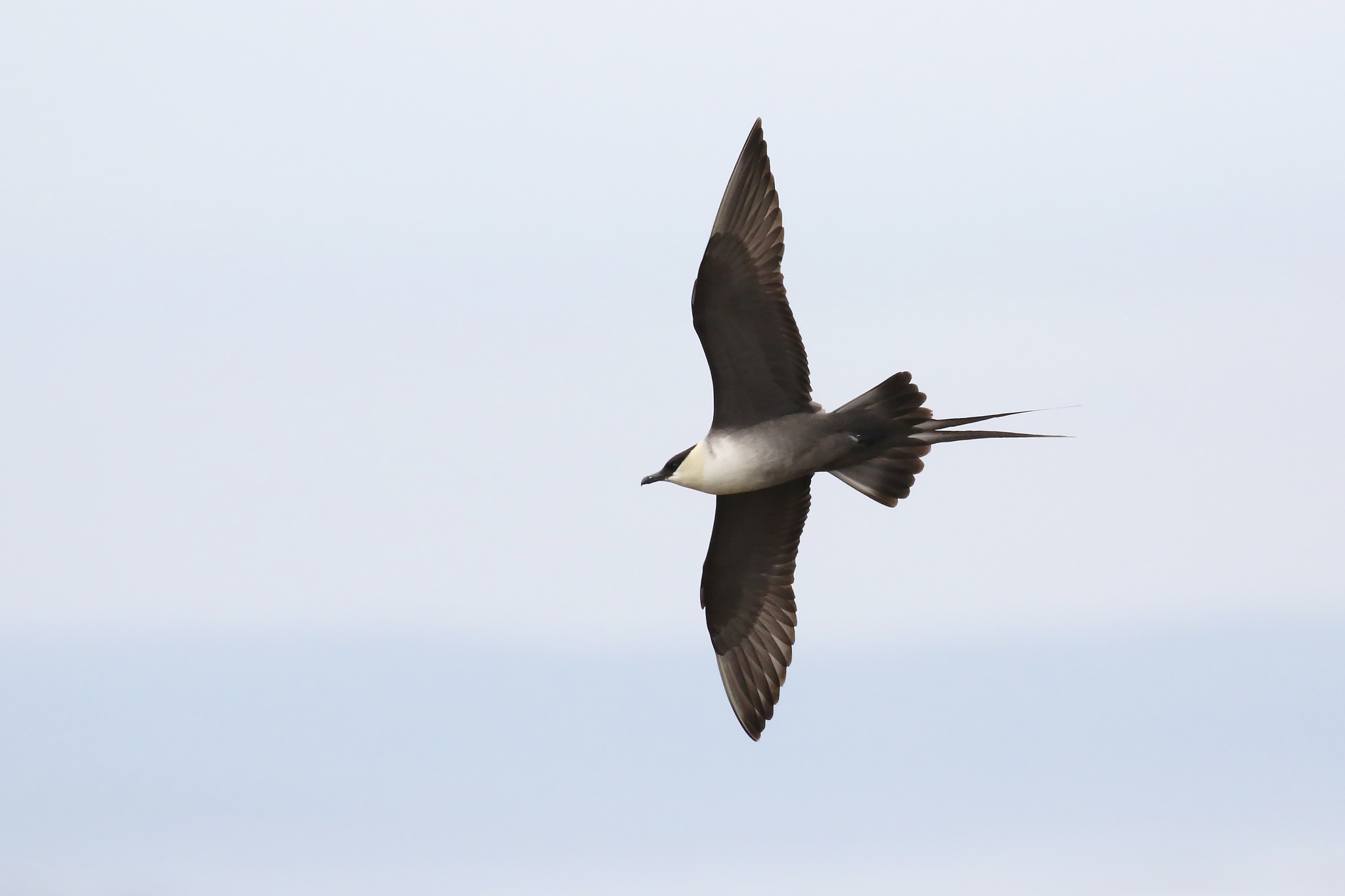 Adult Long-tailed Skua, Whalsay, Shetland, 8 July 2018 (John Lowrie Irvine).
At about 2 pm on 8th, I returned to the site and could see two pale-morph skuas on the hillside to the north of the loch. Hoping to improve on the poor record shots from the first day, I crept up towards them. Both birds flew up with the Arctic Skuas and, unbelievably, both were adult Long-tails! I put the news out on our local WhatsApp group and was soon joined by Jon Dunn. Next to appear was Brian's pale immature from the previous day which circled overhead, showing off its heavily barred rump and even began mock-diving at my head a couple of times!
As I have never seen Long-tailed Skua in my 53 years on Whalsay, three birds flying around at one time was a lot to take in, but things were about to become even more surreal: I spotted a small dark-morph skua with a really long tail approaching. With three other Long tails overhead, as well as half-a-dozen Arctics, it was obviously the same size and shape as the former species.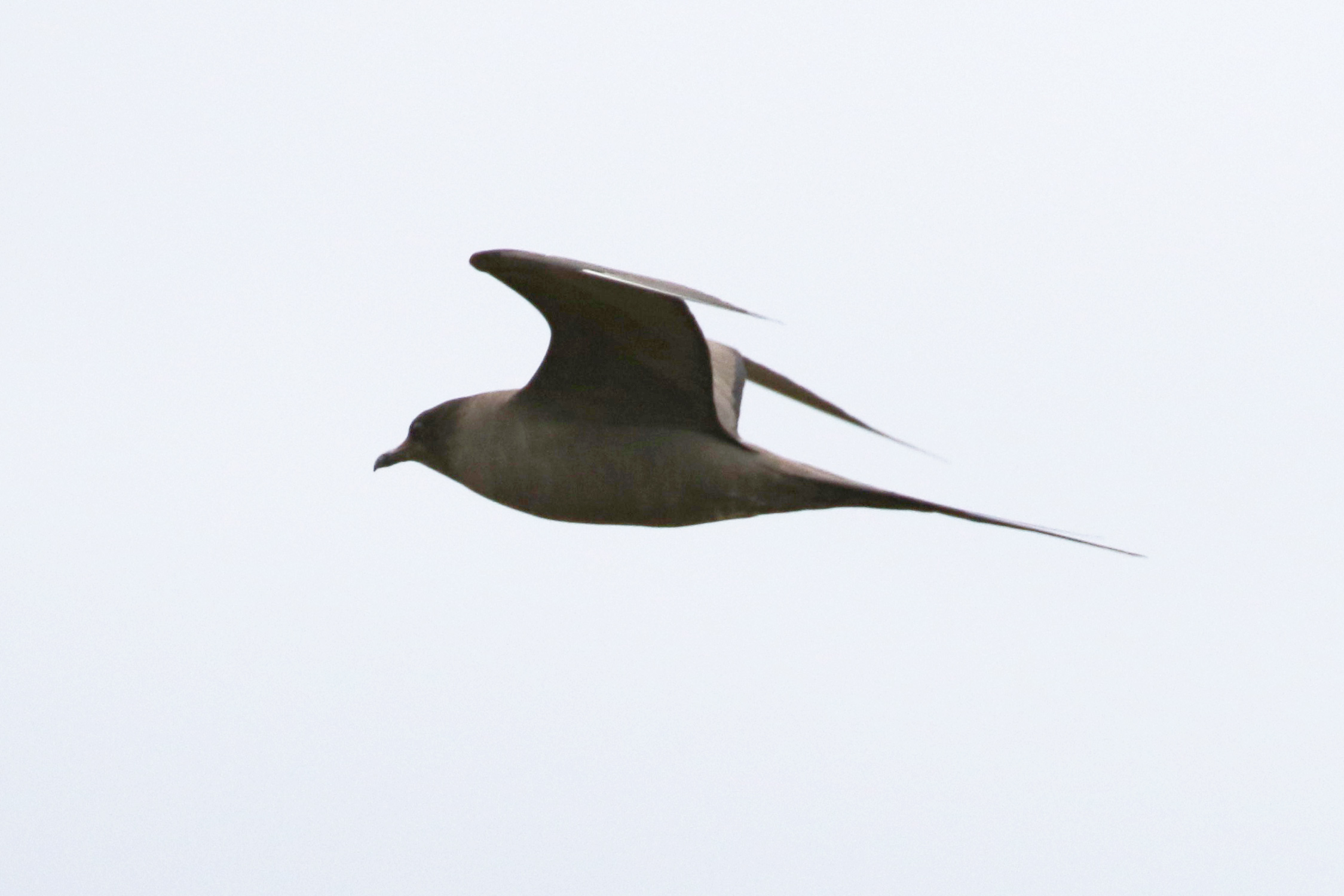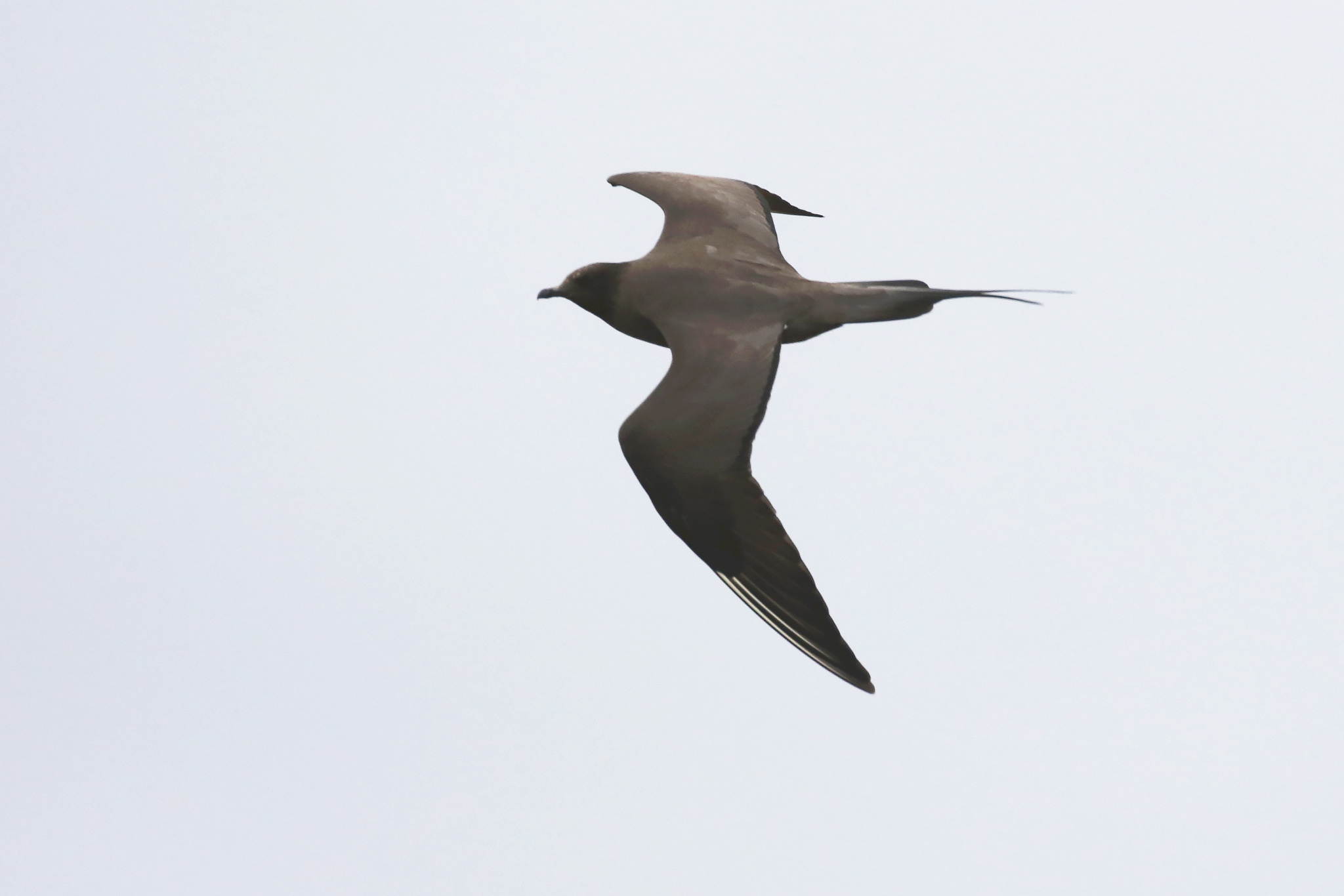 Apparent dark-morph adult Long-tailed Skua, Whalsay, Shetland, 8 July 2018 (John Lowrie Irvine).
Neither myself or Jon knew of the existence of dark-morph Long-tailed so I rang Brian. He said that there were records of such birds, but that they were incredibly rare. A bit of internet research later on seemed to imply that even this was an understatement. Photographing a dark bird against the sky proved a bit of a challenge but eventually I got two or three reasonable shots, hopefully proving this amazing occurrence beyond doubt.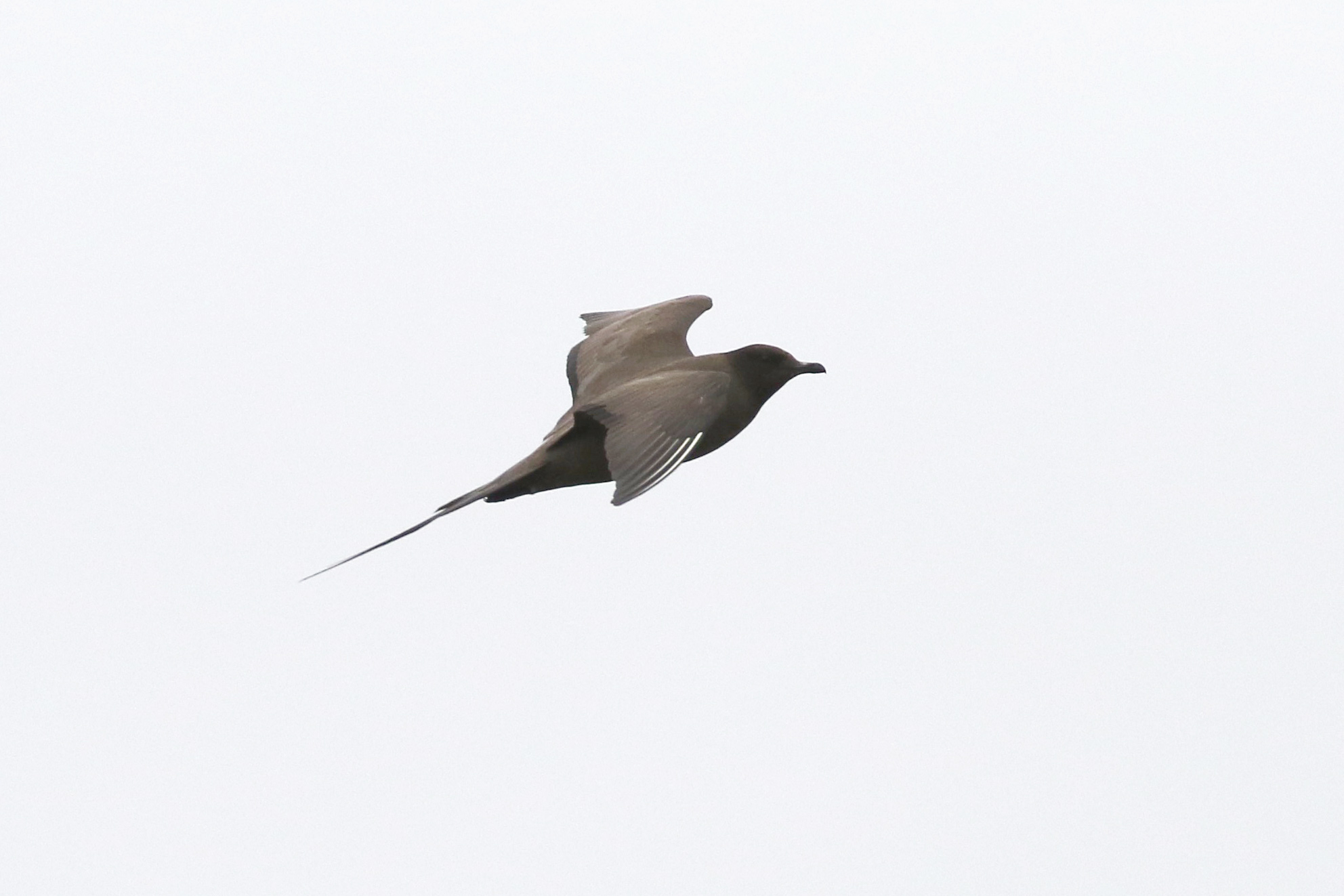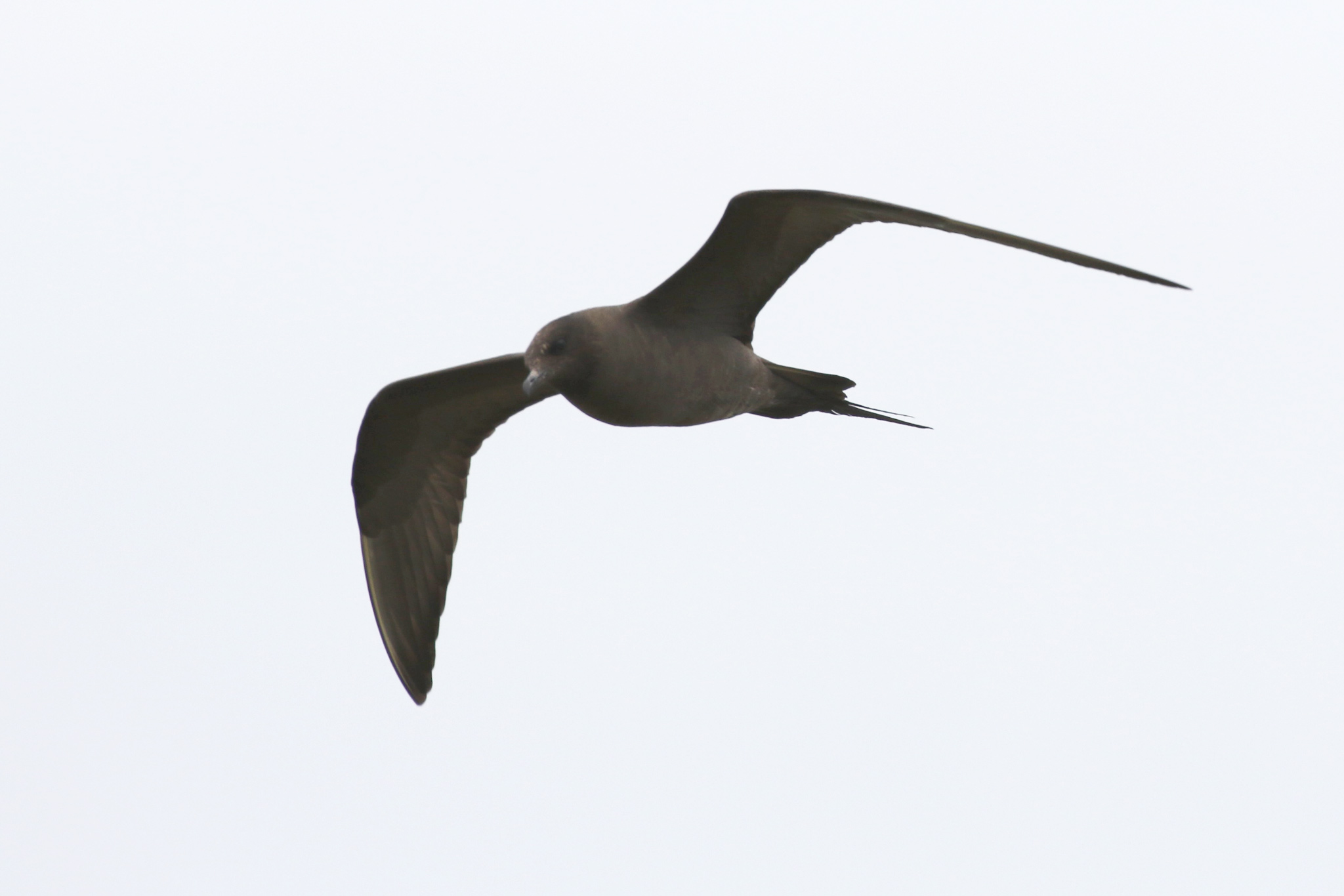 Apparent dark-morph adult Long-tailed Skua, Whalsay, Shetland, 8 July 2018 (John Lowrie Irvine).
Dark-morph adult Long-tailed Skuas are something of a mystery. There are two documented records of supposed dark-morph adults collected from western Greenland in the late 19th/early 20th century, although both apparently showed sub-adult characters, adding doubt to whether they were truly fully mature birds. There are precious few other reports, although an apparent dark-morph adult was photographed at St Paul Island, Alaska, on 14 July 2011. As with the Whalsay bird, it showed no obvious signs of immaturity. It might be expected that a sub-adult would show retained immature features, such as some barring on the underwing coverts, but the Whalsay bird shows nothing of the sort. However, the tail streamers are slightly on the short side for a full breeding adult.
A few birders from the Shetland mainland came over for a look on 9th when a dark immature was found, bringing the total up to an amazing five individuals (three adults and two immatures). The sight of five Long-tailed Skuas, not to mention the added excitement of the dark bird, hovering around the moorland on my home island will live long in the memory.
The flock was last seen on 10th, when David Cooper photographed a sixth bird, a sub-adult. All have since moved on.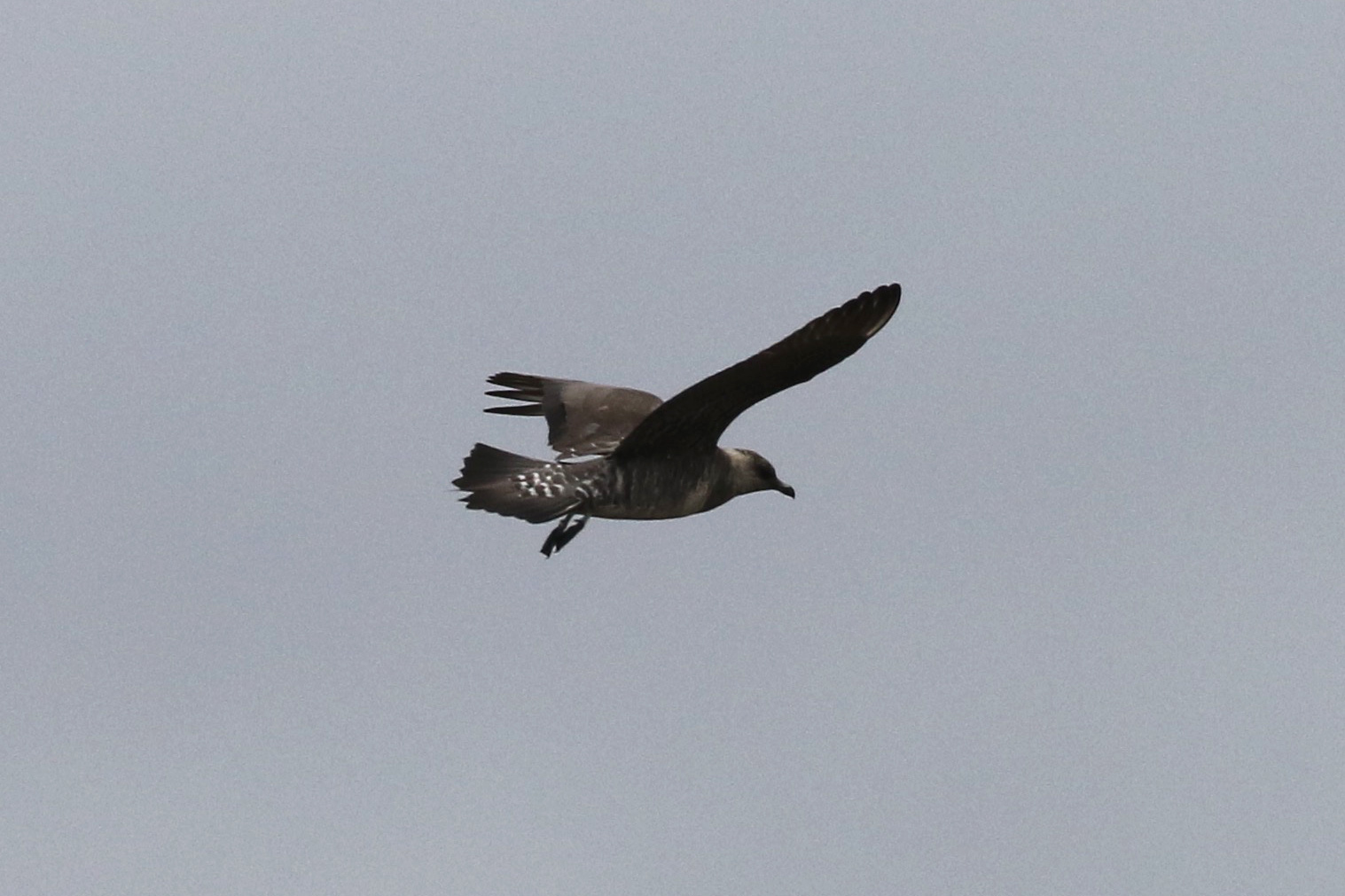 Immature Long-tailed Skua, Skaw, Whalsay, Shetland, 8 July 2018 (John Lowrie Irvine).