Where to Watch Birds in Ethiopia
Issue Media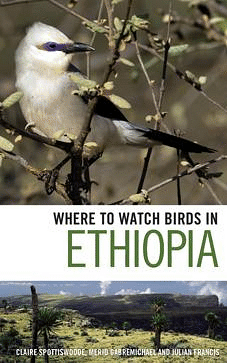 Author(s):

Claire Spottiswoode, Merid Gabremichael & Julian Francis

Publisher:

Bloomsbury

Edition:

1st

(2010)

Format:

Paperback

Pages:

192

ISBN-13:

9781408130759

Other Info:

This title is print-on-demand and offered on a firm-sale basis only with no returns. Please allow 2-4 weeks for printing and delivery.

RRP:

£30.00
The best birding sites in Ethiopia.
Purchase Options
Our Price: £27.99
Subscriber Price: £26.99
RRP: £30.00
(plus postage)
Select Postage
Full Description
Ethiopia is one of Africa's top birding destinations, harbouring dramatic scenery, a wonderful diversity of habitats, over 30 endemic species, and a number of other regional specialities that cannot be easily seen anywhere else in the world. No self-respecting world lister can afford not to go there.
This book is a comprehensive site guide to the 50 best birding sites in the country. Each site describes how to get there, what you can see there, and when to visit. A number of full colour maps complement the site texts, and GPS co-ordinates allow sites to be located with great accuracy. A section covering the top 50 species gives details of how to see each of these special birds. The book is completed with an annotated checklist of all the country's birds and more than 150 photographs of birds, habitats and even some of Ethiopia's other fauna and flora.

READ THE REVIEW
---