Birdwatch
---
Issue Media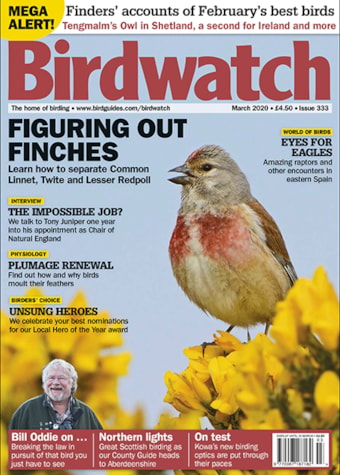 Issue Meta Data
Issue Number:

183

On Sale:

27/02/2020

Digital Edition:

£3.99

Print Edition:

£0.00 (plus postage)
Issue Summary
March 2020 - this issue is only available as a digital edition
On Sale: 27/02/2020
---
---
Why Not Subscribe?
Ensure you never miss an issue of your favourite birding magazine by taking out a great value subscription.
---
What's in this Issue?
Birders' Choice Awards
Celebrating your Local Hero nominees with the volunteers, wardens, birders and more who go beyond the call of duty
Exclusive
The full finders' accounts for American Herring Gull, Brown Shrike and Tengmalm's Owl
Bird physiology
Find out how and why birds moult their feathers in our exclusive extract from Moult and Ageing in European Passerines
Identification: finches
Learn how to separate Common Linnet, Twite and Lesser Redpoll
Comment
Mark Avery reflects on the good work of the RSPB, whilst Dominic Mitchell wishes more birders would rise to the gull ID challenge
Great Scottish birding
Our county guide to Aberdeenshire takes you to the best spots to see wintering seaduck and geese
Bill Oddie on ...
Breaking the law in pursuit of that bird you just have to see