Vanguard Endeavor HD 82A telescope
f29757b6-c625-44e0-8e26-3618fbe9c2b7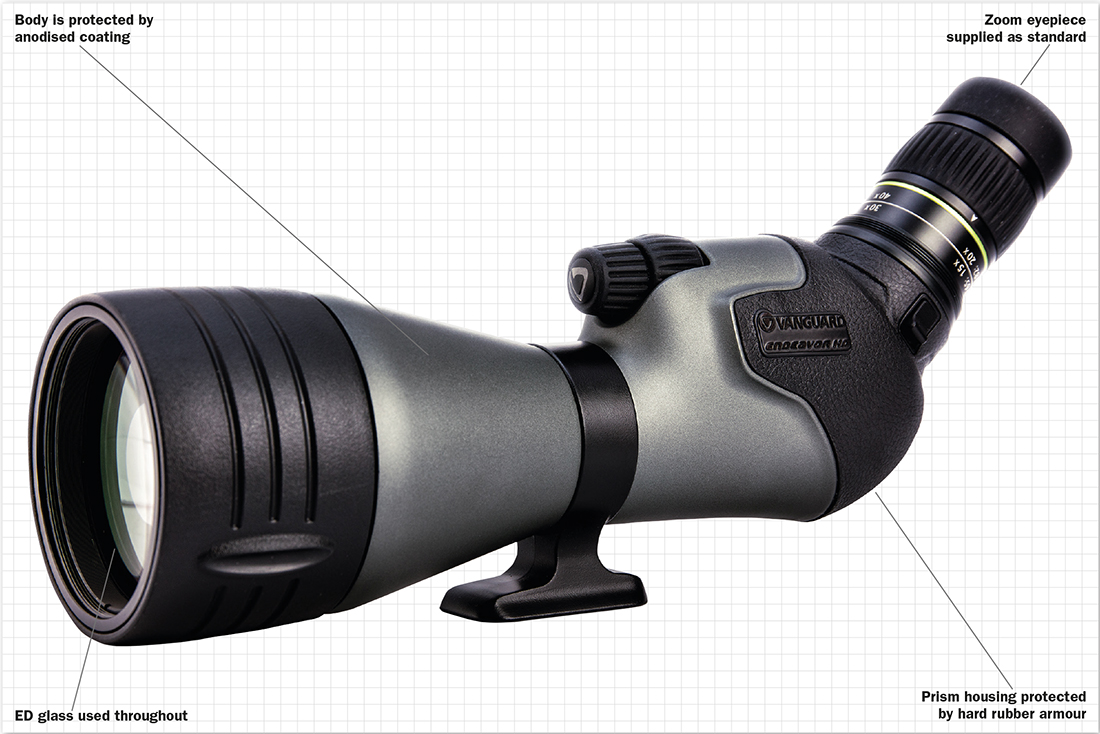 Having undergone a redesign last year, the new Endeavor HD 82A looks like it means business at the budget end of the optics market. Immediately attractive and nicely engineered, outwardly this angle-bodied scope appears far more expensive than its £420 price tag suggests. It now matches the Endeavor binocular series and is also colour synchronised with Vanguard's new tripods to provide a smart-looking package when all three are used together.

Following a period of winter testing, the lowdown on the Endeavor reveals a robust, solidly built and well-balanced scope which is ergonomically designed and easy to use. Despite the magnesium alloy body, it comes across as rather heavyweight. The chassis is protected with what appears to be a silky, anodised coating, which gives it a metallic green sheen, while around the prism housing there is an extensive area of hard, contoured rubber with a nicely textured, leather-like finish.

The sturdy, rubber-clad lens hood extends and retracts smoothly, while a rotating tripod mounting foot can very quickly be adjusted with a simple lever-lock. There are seven subtle click-stops, but the foot can be secured in any desired position around its rotational arc. The tripod mounting foot has a standard ¼" socket and is compatible with Vanguard tripods.

The Endeavor is supplied with a 20-60x zoom eyepiece as standard. This is bayonet fitted and can be very easily removed using the sliding switch integrated into the left side of the rubber armour on the prism housing to unlock it. Turning very smoothly, a thumb-width, rubber-covered zoom adjustment ring provides the necessary grip for varying the magnification. The external base of the eyepiece port is screw-threaded so that Vanguard's PA-202 DSLR digiscoping adapter can be securely attached to operate with the zoom, if required.

Focusing is achieved via a top-mounted dual-focus mechanism, which enables the observer to make fine and coarse adjustments. Both focusing wheels are broadly milled and rubber covered, and turn very smoothly. I found them very easy to use and the fine-tuning adjustment is precise without being overly sensitive.

Back to the eyepiece and this is where things become interesting. There is a twist-out rubber eyecup which offers 19-mm eye relief. With this fully extended I was able to see the full field of view only at the lowest magnification of 20x. Ramping up the magnification beyond this resulted in a gradual narrowing of the field unless some compensation was made by downwardly adjusting the extension of the eyecup. Furthermore, I found it impossible to obtain a truly sharp image at any magnification exceeding 35x. This became evident while gull-watching at my local landfill. It was no problem finding and watching a juvenile Glaucous Gull with the Endeavor, but zooming in to see further detail proved difficult.

The image quality below this watershed is absolutely fine, with high levels of contrast, brightness and sharpness to the edges. The colours are also an accurate reflection of reality. Phragmites reeds – always the acid test for me – remained straw coloured, instead of the pale brown they are so often reduced to when transmitted through many low-budget optics. Otherwise the image was fairly flat and undistorted, with an acceptable level of chromatic aberration.

The Endeavor's optical system includes ED glass and comprises phase-corrected BaK4 prisms and a fully multi-coated optical path, and you get an awful lot of telescope for your money. However, the image quality at high magnification needs to be addressed and a 'quick win' improvement would be to introduce a fixed magnification 30x wide-angle eyepiece as an option.
The scope comes with a soft stay-on case and carry strap, a tightly fitting eyepiece cover and a spring-clip objective lens cover which clips in only when the lens hood is fully retracted. A 65-mm objective version, the HD 65A, is available with the same zoom eyepiece, in which the magnification range changes from 20-60x to 15-40x.
Further info
SRP: £420
Size: 380x180 mm
Weight: 1,809 g
Field of view: 110-52 m at 1,000 m
Magnification: 20-60x
Light transmission: not available
Close focus: 6 m
Gas-filled: yes
Waterproof: yes
Warranty: limited lifetime
Verdict
Excellent value for money
Colours are accurate
Image is not sharp above 35x magnification
Full field of view only available at lowest magnification