RSPB Guide to Birdsong
f248caee-72e8-4ab9-9b88-41cf55caeaff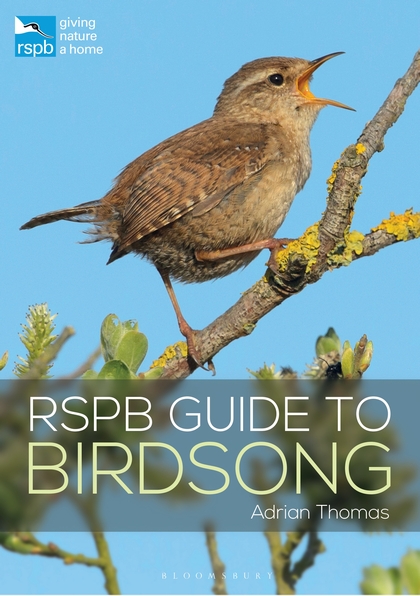 RSPB Guide to Birdsong by Adrian Thomas (Bloomsbury Wildlife, London, 2019).
256 pages, 375 colour photos.
ISBN 9781472955876. Hbk, £15.99.
Learning avian songs and calls can be a nightmare for new birders. In fact I have some mates who are experts in seawatching or raptors and yet they still struggle with bird vocalisations. I learnt how to identify these sounds at a young age, yet I find it difficult to explain to others how they can learn. Thankfully I now don't need to as Adrian Thomas has done a brilliant job with his new book.
The first 50 pages are dedicated to describing what sound is, how it works, how we hear, how birds make noise, types of bird sounds, how to describe them, the attributes of sound and reading sonograms. These pages include a nice explanation of circannual and circadian cycles, plus a detailed breakdown of what to expect per habitat type. It's easy to read, clearly illustrated and as someone with no musical knowledge makes essential reading. Even if you know how to separate a Blackbird from a Mistle Thrush this section helps take your understanding to the next level.
The book comes with a CD and you can also download the recordings online – ideal for those of us without a CD player. The recordings are of a very high quality, with the author commenting on what we hear and what to pay attention to. Often these voices can be off-putting, but not in this case – it's just the right volume and doesn't detract from the birds.
The calls and songs of 65 most frequently heard species are covered in good detail, with recordings. An additional 185 species are described, although there are no recordings of these. With online resources such as www.xeno-canto.org it's very easy to look up these vocalisations and read the accompanying text in the book.
I particularly like the author's descriptions of sounds, many of which I assume he has invented himself, from 'chip, chip shop, chippy chip shop chippy chip shop' to 'ear-yuk'!
The final pages cover recording your own sounds, something that is finally catching on in Britain, with information about recorders, microphones and the ethics of using playback. Mentioning that it is an offence to use playback on breeding birds in Britain, the author commendably doesn't use it for his recordings, something which makes them more 'real'.
Any criticism? Not really, although a couple of the photographs are mislabelled or confusing (the Green Woodpecker on page 98 is an Iberian Green Woodpecker, a recently split species, and the Temminck's Stint is a Little Stint).
I regard myself as an experienced birder when it comes to bird sounds, and this isn't a book I thought I needed, but I was wrong. It contains the clearest descriptions I have read for understanding pitch, timbre, harmonics and overtones and for anyone struggling to learn bird calls and songs it's a great introduction and I suspect for many it might just be the book they need.