Vanguard Vesta 8320M monocular
715bd3bb-8a4e-40e6-8078-b03dabdbda2a
Literally 'half a binocular' and smaller than the tiniest travelscopes, monoculars have never featured as highly within these pages as have traditional birding optics. By their very nature, they offer compactness and pocket-sized portability, allowing observation on the move, surreptitiously and in many circumstances in which it would be impossible or impractical to use binoculars.
That said, they have never become mainstream and a little 'something extra' is perhaps required to tip the balance in favour of their serious consideration. Enter Vanguard's Vesta 8320M.
The main component is an 8x-magnification monocular with a 32-mm objective. Encased in tough, black rubber armour, its symmetrical swirls give rise to a top-mounted, telescope-style focusing wheel, itself wrapped in stippled, grippy, soft rubber, which allows firm, two-finger contact.
Focusing is very precise, with just a quarter of a turn taking the focus from approximately 15 m through to longer-distance viewing at around 500 m, this being integrated within approximately one and a half anticlockwise rotations between close focus and infinity. I measured the close-focusing distance at 2.8 m.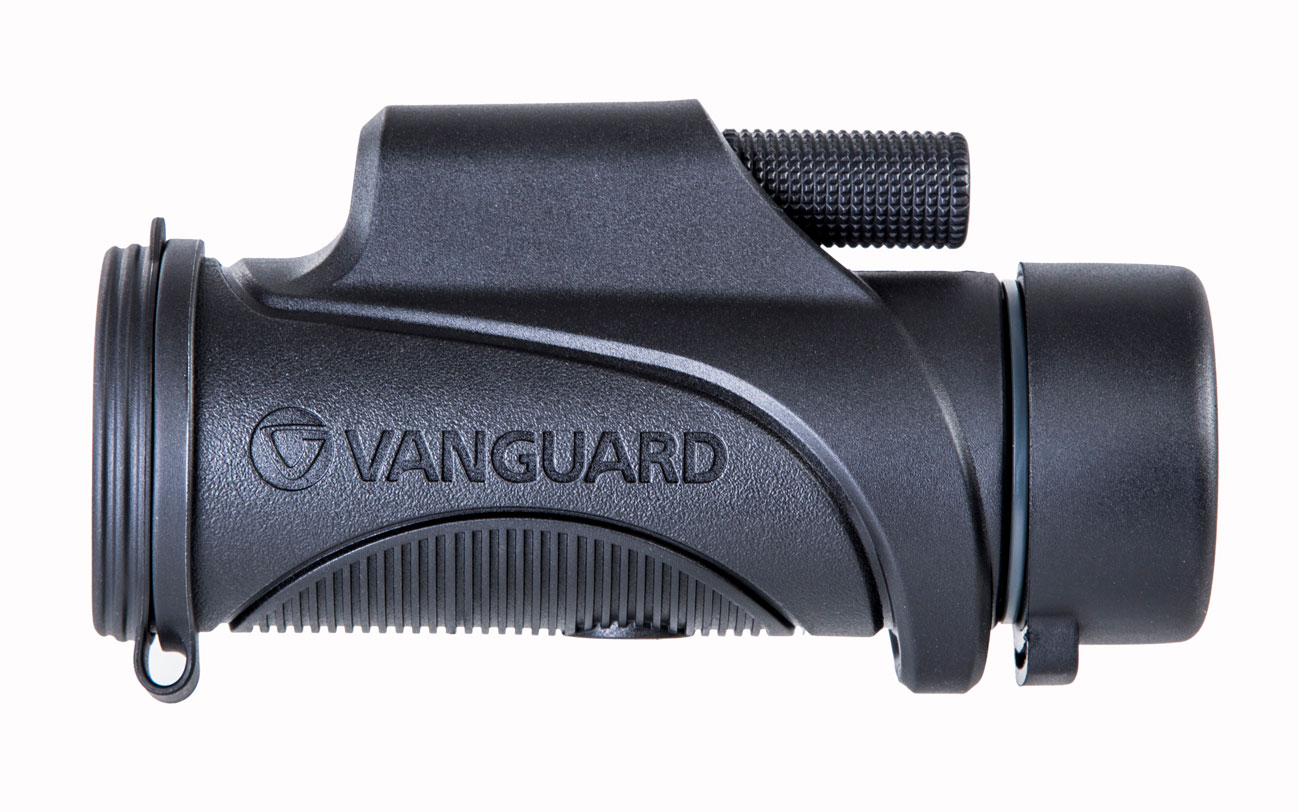 On the monocular's underside is an oval area of shallow-ribbed rubber, within which is a recessed, quarter-inch screw-threaded tripod (or monopod) release plate port. There is no anti-rotation pin hole, but in fairness, the unit probably doesn't need one because its size is such that it is unlikely to spin around once attached. Between this area and the eyecup there is a subtly protruding strap attachment lug.
The twist-out soft rubber-covered eyecup extends to two click-stop settings beyond the fully retracted position. I could see the complete field of view when it was fully extended.
Considering this is a low-cost piece of optical equipment, the image it produces is surprisingly good – pleasingly sharp almost to the very edges of the field. While there is a moderate amount of chromatic aberration, it isn't enough to cause any major concern and this monocular adequately delivers natural colours against a general cold to neutral colour rendition.
Weighing just 262 g, the unit is very light. It works quite well being handheld, which will come as no great surprise. However, I did find it easier to hold steady with a quick-release plate from a tripod screwed into the tripod port. The plate gave me extra purchase to help keep the model steady, particularly when using the additional digiscoping equipment.
The latter consists of a PA-60 universal smartphone adaptor and a Bluetooth remote control shutter release, with the adaptor simply slotting onto the monocular's eyepiece. I found the adaptor's rubber grips, clamp and variable bracket easy to attach and to adjust in positioning my iPhone. It stayed in place during use and it's said to be able to accommodate almost any smartphone up to 2.15-3.4 inches/55-87 mm wide.
It's worth noting that it works best with the eyecup set in its fully retracted position, which means the amount of 'finger-zooming' in on the smartphone's screen in camera mode (to eliminate vignetting) can be reduced, thereby lessening potential for lower image quality.
With the phone adapter and phone attached it's easy enough to take photographs successfully. However, you need a steady hand and it is far more effective to mount the kit on a tripod or monopod and use the Bluetooth remote control shutter release. This reduces blurring by eliminating image shake.
Before the shutter release can be used, it needs to be paired with a smartphone. While many smartphones have integrated software which automatically allows remote shutter operation when paired, some do not. To find out, I simply switched on the remote control, which activates a flashing blue light, and ran through the Bluetooth device pairing process before bringing up the phone's camera and pressing the remote. It worked immediately. In cases where it doesn't, users will need to download a free app in order to use the remote. I was impressed with the remote's range, which exceeded 10 m!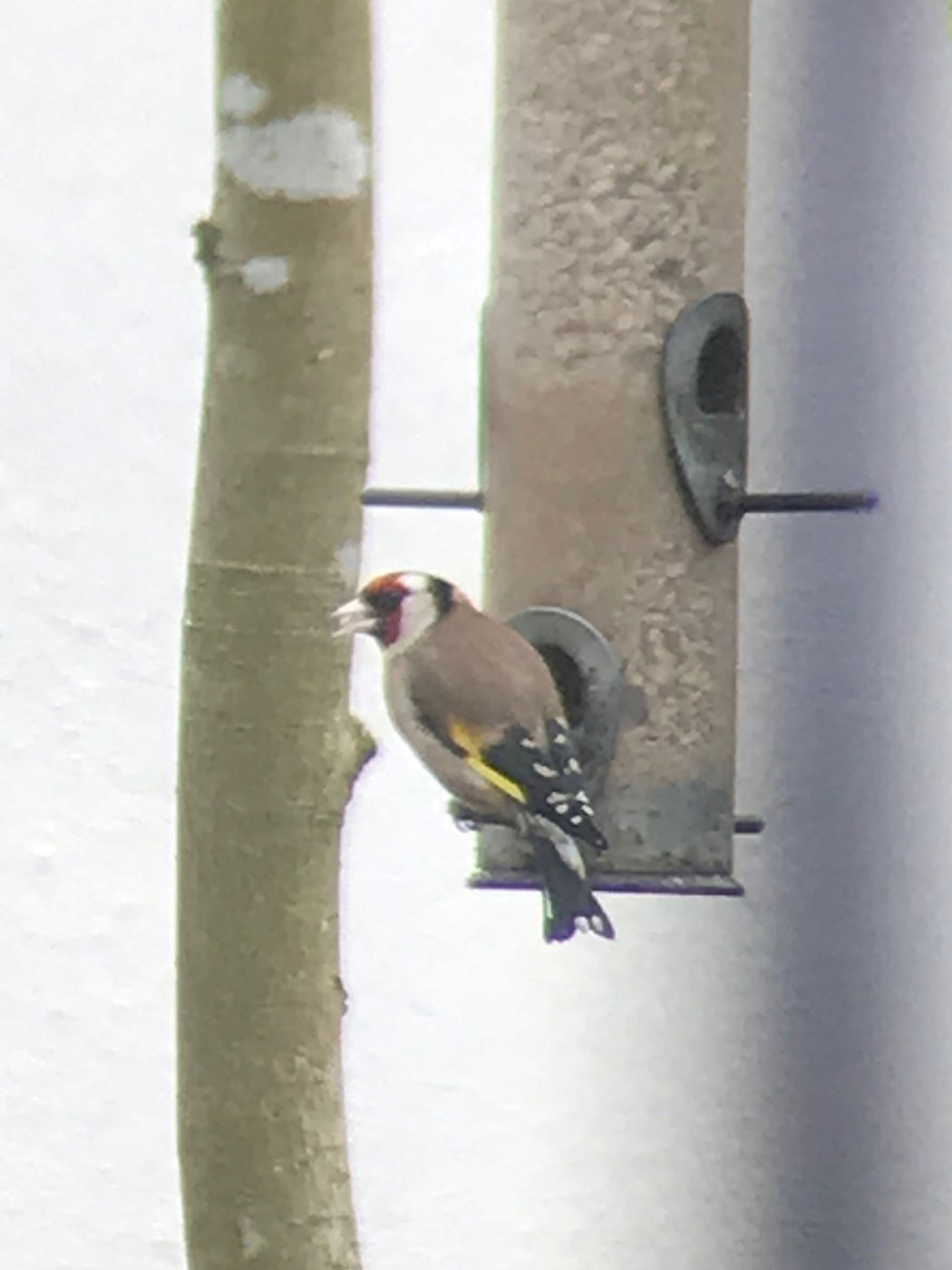 Modest record shots, like this Goldfinch at a feeder, are possible with the setup.
When using the 8320M on a tripod, it is worth considering using a short pan handle, as a standard length one is uncomfortable to operate, given the small size of the monocular and the proximity of your head to it.
The monocular is gas-filled and waterproof; it comes with a soft case, basic neck-strap and protective lens caps. While this pocketable equipment will never replace conventional, mainstream birding optics, at just shy of £80, as an entry-level phonescoping kit, the full package certainly offers excellent value for money.
Further info
Price: £79.99
Size: 127x47x70 mm
Weight: 262 g
Field of view: 131 m at 1,000 m
Close focus: 2.5 m
Gas filled: yes
Waterproof: yes
Guarantee: 2 years (option to extend to 10 years)
Verdict
+ Image sharp almost to very edges of the field
+ Easy to attach and adjust smartphone via adaptor
- Moderate amount of chromatic aberration