Celestron Birder's Starter Kit
e841ebee-9ab9-4851-81b0-16a187a659c1
Many optics manufacturers and dealers periodically put together packages designed to drive sales, principally relying on customers spending a tidy sum of money on a telescope to receive a free or reduced price tripod or digiscoping accessory. The Birder's Starter Kit, recently launched by Celestron, however, differs from this insomuch as it is aimed squarely at fledgling birders, marrying two unrelated, though essential, products: binoculars and a field guide.

While the marketer in me recognises the obvious appeal of the package, the attractive price point and the potentially ulterior motive of the hook into the brand, there is also a genuine reason behind it, as I discovered when I talked to Celestron's principal UK distributor, Hama. Senior management there are only too aware that far fewer young people are embarking on the birding road these days so, as well as being viewed as an untapped market, potential young birders' interests could be kindled by the ready availability of an affordable package to develop any embryonic interest in the pastime. It's more than likely, of course, that this kit will be bought by a well-meaning relative as a present.

So, what's in the box? Philip's Guide to the Birds of Britain and Europe, a paperback first published in 2007 and revised in 2009, is a spin-off from the old Collins field guide authored by Lars Svensson, with Håkan Delin as one of the key illustrators.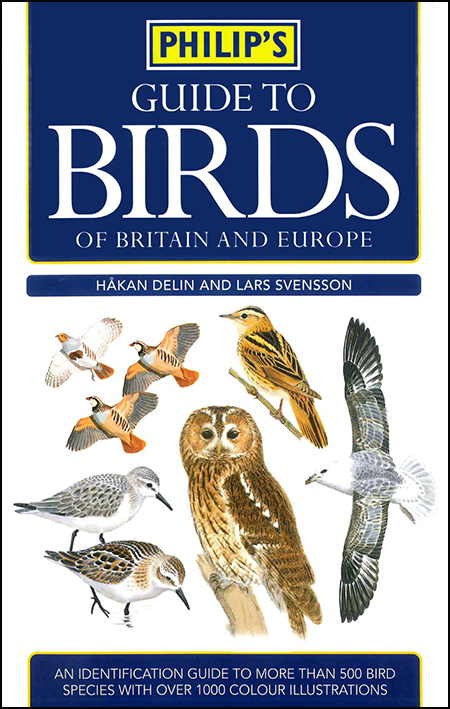 The format follows the now widely adopted standard field guide layout of text and distribution maps on the left-hand page opposite illustrations of the species on the right. The latter accurately depict the plumages most commonly encountered in Europe and the clear, concise and punchy text of the species accounts cuts straight to the key identification features, following a short introduction on habitat preferences. It doesn't include species found in North Africa or the Middle East, making it less daunting for beginner birders.

The optics element of the kit comprises Celestron's lowest-priced porro-prism binocular, the UpClose G2 7x35. To many experienced birders this may seem like a very basic model, but that's the intention. This no-frills binocular brings 'birding on a budget' to life and delivers a surprisingly good image for the price.

At 624 g, its rubber-covered aluminium body is by no means heavy and it incorporates well-placed cutaways which I found perfectly positioned for my thumbs. The rubber eyecups fold back for spectacle-wearers, but the rigid plastic individual lens caps (there is no rainguard) will not fit over them in this position. There is a freely turning, non-locking single-eye focus mounted on the right ocular which could easily be moved from its setting if the user isn't careful, while the central focusing wheel takes just over one anti-clockwise turn between close focus and infinity. I could not focus on objects closer than 7.4 m distant, despite the manufacturer's claim of 4 m, but what it lacks in close focus it compensates for in field of view, with 161 m at 1,000 m no doubt a product of the relatively low 7x magnification.

I had forgotten just how good porro-prism binoculars are at producing a '3D-type' image instead of the more usual flat field found in roof-prism optics. In this respect this model delivers and is a pleasure to use.

The image is bright, sharp almost to the edge, and the colours and contrast are both as good as many more highly priced roof-prism models on the market, although I found the colours a little darker than reality. Although chromatic aberration is present across the entire field to some extent, it's not overpowering.

A thin, single-width adjustable lanyard with no padding and two soft rubber objective lens covers are the only other accessories. At £49 the package appears to represent very good value for money. I would be happy if, as a budding young birder, someone bought me this to get me started.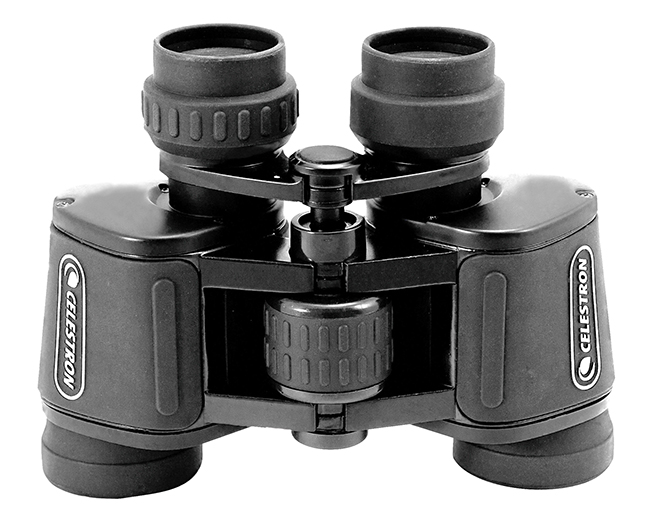 Celestron's UpClose G2 bins produce a bright image that is sharp almost to the edge.
More info
Contents: Celestron UpClose G2 7x35 binocular and Philips Guide to the Birds of Britain and Europe field guide
Price: £49
Size: 125x175 mm
Weight: 624 g
Field of view: 161 m at 1,000 m
Close focus: 4 m
Gas-filled: no
Waterproof: weatherproof only
Guarantee: limited lifetime