Olympus 8x42 PRO binocular
e1d1e555-acf6-4ab2-ac36-d1adfa7c9892
Now in its 100th year, Olympus is a brand most of us will associate primarily with photographic equipment. In October last year, however, the company launched its 8x42 PRO and 10x42 PRO binoculars, which have been designed to meet the demanding requirements of wildlife observation – even in 'harsh environments'.
Making significant headway in today's optics market is no easy task, so what unique characteristics do these models have to offer? As the successors to the existing EXWP I range, they have some potentially enviable metrics, not least of which is the high light transmission, which is billed by the manufacturer as 94 per cent.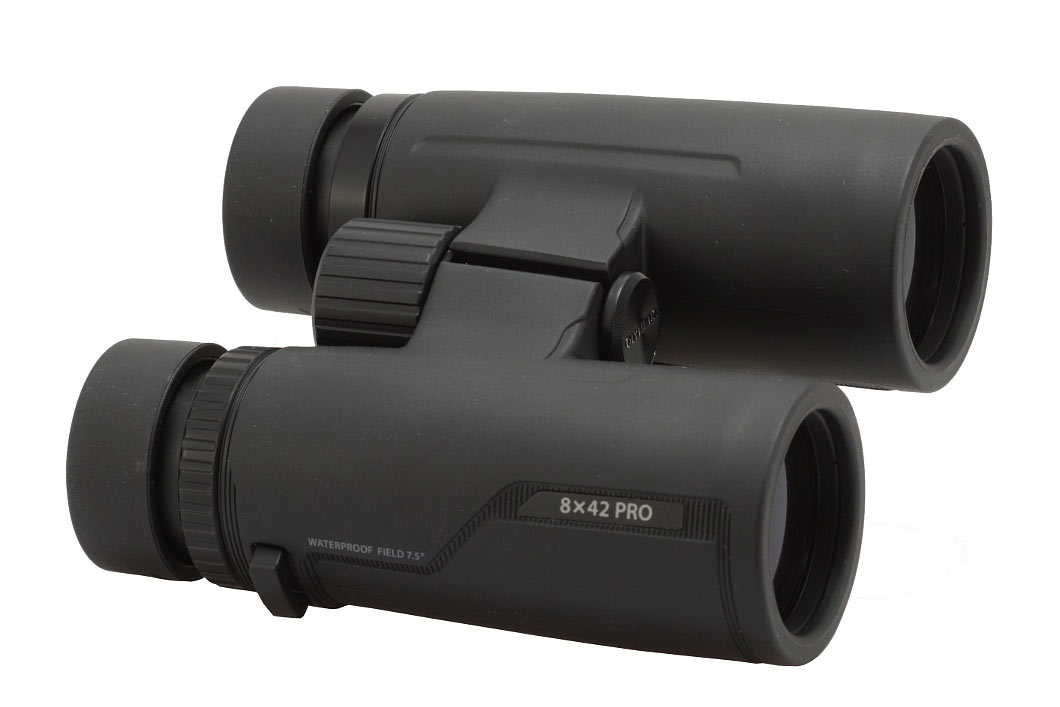 I trialled the 8x42 model and I must admit the brightness of the image was strikingly apparent from the very first moments of use – but more of that later. In terms of practicality, this model is nicely balanced and sits comfortably in the hand, with the strap lugs located almost as far as they can go towards the oculars. This means it is almost, but not quite, possible to keep your index finger comfortably straight when operating the central focus wheel.
The latter turns smoothly, with no 'drag and lag' throughout its three full clockwise rotations between close focus and infinity. That's a lot in comparison to many contemporary models, although adjusting the focus through a nominal 'mid-field' range, from approximately 15 m to 1,000 m, is rapid, requiring just one quarter of a rotation.
At a mere 1.5 m, the close-focus distance is excellent, as well as a marked improvement over the 3 m of the EXWP I. I found I was even able to focus on objects just 1.35 m away.
In common with many competitor models, the hard alloy dioptre is located on the right ocular and, although it does not lock, it offers sufficient turning resistance to avoid accidental slippage. Above this, the sturdy eyecups twist out to two click-lock positions above the base setting, offering a maximum 18 mm eye relief.
Picking up again on image brightness, I have to say it's impressive. At the beginning and end of daytime viewing, when light is at its lowest intensity, this binocular performs admirably, measuring up to top-tier equipment. This performance is also reflected in all other facets of the image. The tonal aspects of subjects viewed are natural and fully representative of what's out there in terms of background and habitat colour. For example, Phragmites reedbeds retain their natural light straw colour and do not take on the somewhat warm brownish hue which I find so frequently occurs in many other mid- to low-range binoculars.
For overall colour rendition, the 8x42 PRO sits within the cold, 'blue' light range and this lends an impression of emphasising image clarity. ED lenses have been used, as well as what Olympus refers to as 'unique glass coatings', such as phase-correction coating, dielectric high-reflective multilayer prism coating and 'ZERO' (Zuiko Extra-low Reflection Optical) coating. The last has been developed for interchangeable camera and microscope lenses and is applied to all lens surfaces to reduce ghosting and flares.
It all hangs together nicely. The image is sharp virtually to the edge, although there is a little field curvature and compression there. Chromatic aberration is pleasingly low, even when viewing dark birds against bright, reflective backgrounds.
With its slick appearance, generous body armour and a further oil-repellent coating to facilitate the removal of water and dirt particles, this binocular ticks almost all the boxes. It comes with a comfortable, padded neck-strap and removable, tethered objective lens caps, but the articulated rainguard is far too tight fitting, making it difficult to remove and apply, while the carry case is rather flimsy, not befitting its much higher quality contents.
But it's all good for the price! This is a very nice binocular and is streets ahead of what has come out of the Olympus stable previously.
Further info
Price: £450
Size: 140x131 mm
Weight: 670 g
Field of view: 131 m at 1,000 m
Light transmission: 94%
Close focus: 1.5 m
Gas-filled: yes
Waterproof: yes
Guarantee: 15 years, extendable to 25 years on registration
Verdict
Very impressive image brightness
Image is sharp almost to edge of field
Articulated rainguard is too tight fitting