Highland Bird Report 2016
e9b6db8c-7f7d-4404-a3c8-d4d9d96bbea9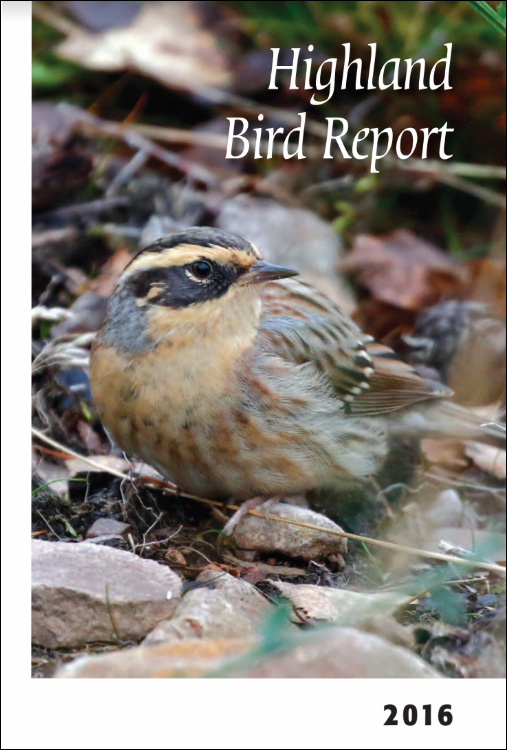 The final British record of the famous Siberian Accentor influx looks out from the cover of the most recent report from the Highland Branch of the Scottish Ornithologists' Club. The huge geographical area covered in this report includes Strathspey, well known for its Capercaillies in the east, west to Skye and its White-tailed Eagles and Corncrakes, while also encompassing Sutherland in the north. This A5-sized report has a traditional feel, being packed full of interesting information and with a bank of colour photographs in the centre.
More than 700 observers are listed near the front, presumably including many visitors to the area, as all 170,000 records used emanate from BirdTrack, though this will include a proportion uploaded by recorders from local spreadsheets. In addition, information has been drawn from several other long-running species studies, such as those of European Storm Petrel on Priest Island, Slavonian Grebe and Wood Sandpiper.
Following the acknowledgements, a helpful editorial, guidelines for submitting bird records, a section on reporting rare birds including recent decisions and a monthly weather review, comes a meaty review of the ornithological year. A total of 244 species were recorded during the year, with 151 species proven or probably breeding. Four new species to the area were logged, namely Black-browed Albatross, Baird's Sandpiper, Red-flanked Bluetail and Siberian Accentor, the latter three all having their respective finders' accounts written up later in the report. The annual review also includes a seasonal summary for each of the six recording areas within the Highland region and, given the large size of the whole recording area, I found this area focus of interest. An outline of the Highland area including geographical relief is included on the rear cover, and I wondered if this might also have included an outline of the six recording areas for the non-initiated, at least.
The 125-page systematic list follows and is full of valuable information, especially for the casual visitor. Each species account includes a brief status description, updated for this issue, which helpfully clarifies the differing regional status positions across this large region. The text is broken up by adopting a seasonal approach and I liked the different font used for breeding data.
The list is interspersed with many clear and simple tables which contain a lot of interesting data. In addition to the Inner Moray Firth Wetland Bird Survey (WeBS) counts, it includes the Icelandic Pink-footed and Greylag Goose Census totals plus a significant amount of impressive breeding information, including data shown back to 2007. For example, there are seabird productivity data for Canna and North Sutor, Black Grouse lekking totals and productivity, breeding success tables for eight species of raptor, breeding success numbers for three species of tern in the Inner Moray Firth, Raven breeding success and impressive breeding wildfowl and wader totals from the Insh Marshes, where Eurasian Teal (84 pairs), Mallard (261 pairs), Eurasian Curlew (95 pairs), Common Snipe (186 displaying males) and Reed Bunting (74 pairs) were all recorded in 2016.
A separate graph is shown for Capercaillie, which suggests an increasing population in the Strathspey area with more than 180 males counted during lek surveys out of a total of 201 across the Highland region. On the downside, productivity across the Scottish range was low in 2016 at 0.2 per hen. The national winter survey in 2015/16 found an estimated 1,115 individuals, a slight decrease from 1,285 recorded during the 2009/10 survey.
One other aspect caught my eye: there were no records submitted to the Highland Records Committee for either Scottish or Parrot Crossbill, though I wonder how many visitors included one or both of these species on their year lists.
A table of first and last dates, an enjoyable ringing report and three finders' accounts conclude this latest and very interesting report from Highland. Arguably, there is always room for tweaks and improvements, and a lack of location and date information on all the excellent photographs is a minor mis-step easily remedied in future; I would also have liked to have known who the 'three men in a boat' were, but suspect that modesty has prevailed here.
The latest report will be of particular interest to anyone visiting this popular Scottish birding area – I learnt a lot and will take a copy on future visits for sure.
Copies cost £11 including postage and can be obtained at www.highlandbirds.scot/highland-bird-report.html.