Hampshire Bird Report 2018
237de1e5-5963-4aa6-8629-38971a1c1028
A striking photo of a Hawfinch, taken by well-known Hampshire birder and photographer Lee Fuller, is a fittingly excellent image for a thoroughly impressive report.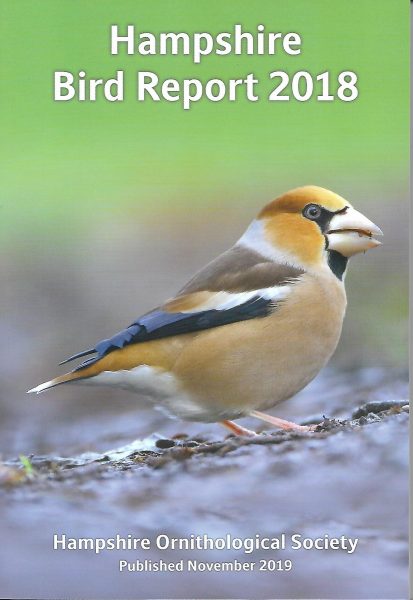 Some 256 pages long – all with easy-to-read text, charts and tables and many with superb photographs – this wonderful piece of work should serve as an example to many county or local bird reports. Clearly, a great deal of time and thorough research has been invested by the Hampshire Ornithological Society (HOS) to this report, with the document devoid of errors and all images and drawings carefully chosen and used.
Like any annual bird report, the bulk of it is taken up by a systematic list. An impressive 251 species were recorded in the county during 2018 yet, from the most abundant birds to the rarest, detail is maintained equally throughout. The text is a joy to read through, with a variety of charts and tables making for clever presentation of data. Typical tables (monthly maxima, reporting rate graphs, bird-day totals etc) feature but, interestingly, so to do vis-mig figures of certain species during a four-month period in autumn. Personally, I enjoyed reading such data greatly and certainly not every county bird report features movement statistics like this.
The photos and drawings really do bring the text and charts to life. Photography is married with birding more now than ever and HOS have capitalised on this superbly, with a Photographic Editor installed to oversee the brilliant selection of images. It helps to have quality photographers in the county, of course – the aforementioned Fuller and others such as Alan Lewis and Joe Murphy feature often. I find, in bird reports, it's always nice to be able to put a rare, scarce or localised bird to a photograph.
As well as the systematic list, there's a concise review of the year, a ringing and nest recording report and six papers, from topics as diverse as the tracking of Eurasian Curlew in the New Forest and Solent and the life history of a colour-ringed Woodlark, to a report on the first Thayer's Gull for Hampshire and the influx of Hawfinches during the 2017-18 autumn and winter.
The importance of citizen science is highlighted by the 12 pages dedicated to various survey results and the four pages of observers and contributors. Indeed, it is testament to the 1,600-strong membership of HOS that such a superb report can be compiled – such numbers of observers and enthusiasts is something that can only be dreamed of in my county of Surrey.
Despite the volume of content, the community spirit of HOS is touchingly demonstrated at the start of the report with seven pages of obituaries to five different members who have sadly passed away.
In all, this is a fantastic piece of work with a level of quality and execution that all county reports should strive for. If you bird or have birded in Hampshire, enjoy bird photography, have an interest in population trends and data or simply relish a good county report, this is well worth getting your hands on.
Ordering Information
The bird report can be ordered at a cost of £16.00 (including postage and packing). It can be obtained at a discounted price of £9 by HOS members who joined between 1 October 1 and 31 December 2019. Details on how to place an order can be found here.