Handbook of Western Palearctic Birds: Passerines
5bc6496e-f5f1-4568-b22c-a2f00e0d2e89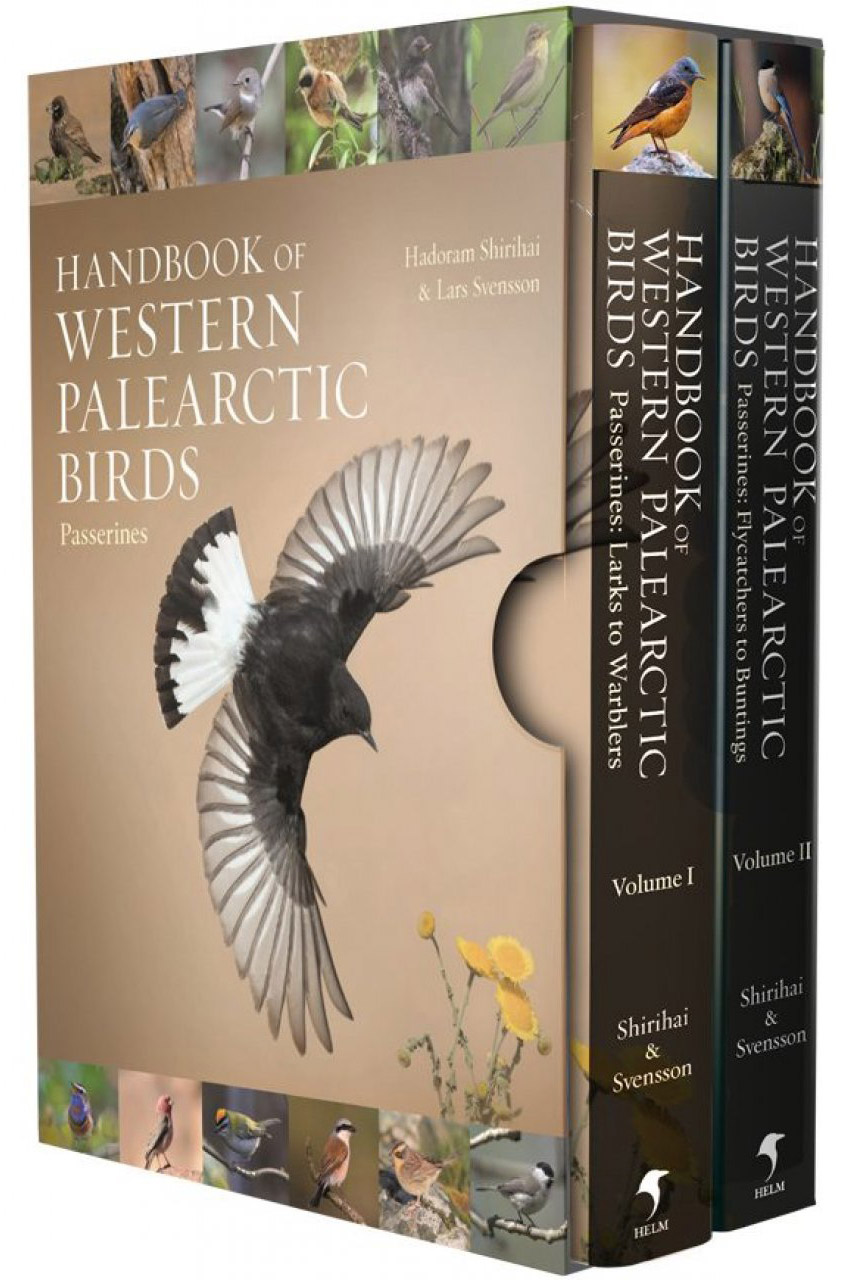 Aside from the beautifully illustrated box which houses the two volumes, the first thing I noticed about the long-awaited Handbook of Western Palearctic Birds: Passerines was just how hefty it is. It's genuinely solid – a physical reflection of the sheer mass of information contained within.
It's no surprise that one of Shirihai's dearest taxon appears on the cover – Basalt Wheatear, which is treated in the Handbook as a species in its own right. The other side is adorned by a pristine Rosy Starling, showing off its startlingly blue gape, a feature I suspect many didn't realise the species had.
In fact, the photographs are generally of excellent quality throughout, with the title featuring the work of top regional photographers such as Daniele Occhiato, Markus Varesvuo and many others. Evidently a phenomenal amount of work has gone into collating these, not least for the number of images displayed across the two volumes! Such quality simply wouldn't have been possible even 10 years ago, and the visual success of the book can be attributed to the meteoric rise of digital photography in modern birding, as well as the affordability of quality camera equipment since the turn of the century. There are plenty of outstanding images – take a look at the gaggle of juvenile Iberian Grey Shrikes with prey on p212 of volume II, or the displaying Greater Hoopoe-Lark on p47 of volume I.
Each species is illustrated by 10 or more images, although some species have many more – for example Reed Bunting has 27. Each and every image is accompanied by a detailed caption, which clearly yet succinctly points out the key identification features of the particular plumage or form shown. I noticed a few mis-captioned photographs as I flicked through. For example, Alan Lewis's photo of the Papa Westray Chestnut Bunting is listed as taken in Korea, and an image of the Welsh Marmora's Warbler in June 2010 is stated as taken in England. However, it's perhaps inevitable that there would be a few minor captioning mistakes in such a colossal project and this can be forgiven, even if it is a source of mild irritation for the pedant.
Both volumes have helpful 'vagrants' sections at the rear, with each species attributed a comparatively concise text and one or two photos. For those WP birders who follow the BWP definition of the region's borders, some of the entries here will seem alien – Blue Whistling Thrush and Golden Pipit spring to mind – although the authors clearly define their own geographical scope, and the reasons for this, in the Introduction. Included is Iran, the entirety of the Arabian Peninsula and Egypt's Hala'ib Triangle, although the southern boundary, through the Sahara, follows national borders rather than the 21°N line, thus the likes of northern Mauritania and Mali are excluded.
Taxonomy is such a subjective (and sometimes divisive) subject and it is near-impossible for all birders to agree upon a single outlook. Indeed, as the authors state in their Introduction, "a species is what a majority of informed taxonomists agree about". Nevertheless, I was mildly surprised to see that they have deviated from any of the 'mainstream' taxonomic authorities for the Handbook – something I personally have mixed feelings about, being an advocate of a single, unified global taxonomy. That said, the authors give a perfectly reasonable explanation of their decisions and many certainly seem to make sense. Examples of splits include the African and Asian forms of Dunn's Lark (to Dunn's and Arabian Larks), while Scottish Crossbill is lumped as the scotica subspecies of Common Crossbill. International Ornithological Congress species such as Gran Canaria Blue Chaffinch and Stejneger's Stonechat remain as subspecies, although Western Subalpine and Eastern Subalpine Warblers are split – despite the authors' self-qualification of their approach as 'conservative'.
The text itself is detailed, authoritative and can be considered the definitive guide for the treated region, surpassing previous tomes such as Birds of the Western Palearctic. Each species account includes an introduction plus sub-sections on overall identification, vocalisations, similar species, ageing and sexing, plus biometrics, geographical range and further taxonomic notes. The descriptions are well-written, being matter-of-fact yet sometimes with a certain elaborateness (take the description of Blackbird's song: "Most pleasing to the human ear, improvised fluty, melodic figures in a mellow alto voice … written in the major key, but with 'sincerity'").
While the price may initially put some off, it cannot be stressed enough just how much information is packed into this magnum opus. It is the new ultimate guide in Western Palearctic birding and is every bit worth the price tag. I cannot envisage that anyone who makes the investment will be left disappointed. Now for the non-passerines – hopefully this isn't another decade away!
Sample pages