Celestron NV-2 Night Vision Scope
e80272c1-e93d-4ac0-b56a-567be4de3783
Launched in September 2019, Celestron's NV-2 Night Vision Scope is the only night-vision instrument in the Celestron armoury designed to 'lift the veil of darkness', allowing observers to extend their birding beyond the hours of daylight – albeit in a limited capacity.
Appearing remarkably compact and weighing a mere 275 g, the NV-2 has a durable polymer chassis with a rubber armour covering around the objective and eyepiece lenses, as well as over both the central control panel and the peripheral attachment ports. The scope is said to offer enough water resistance to enable it to be used in damp conditions and to endure water splashes in the field.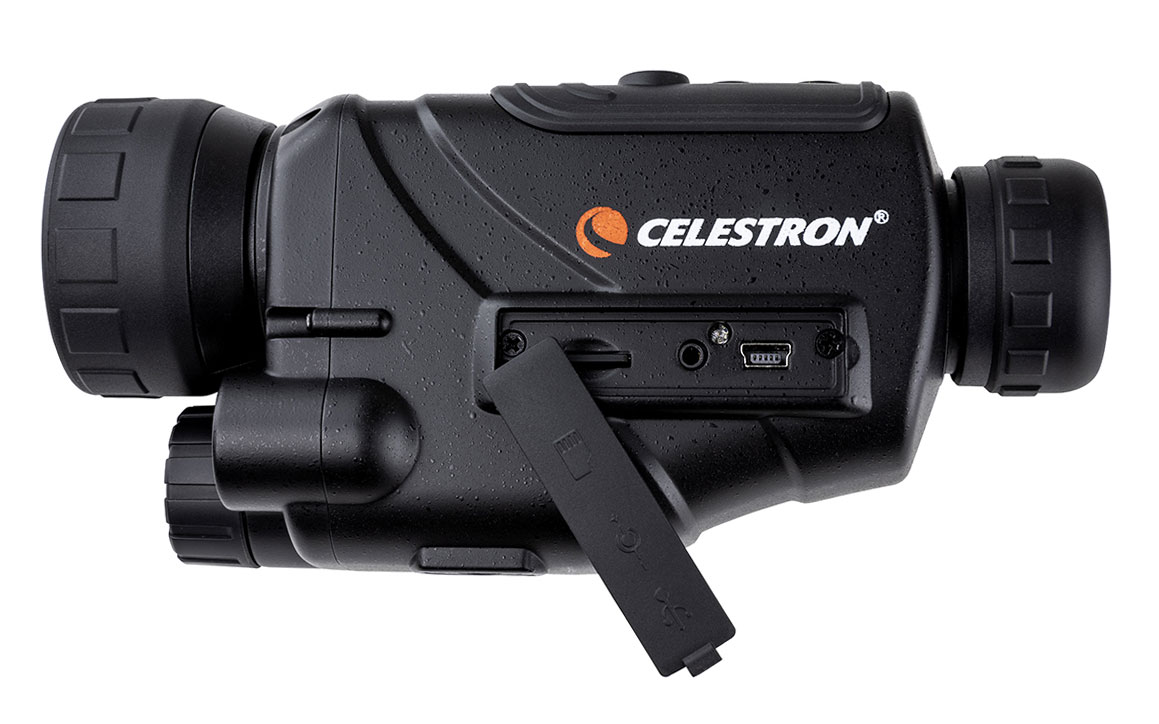 Its 40 mm objective sits in front of a 4.5x optical magnification system and a 5.0x digital zoom and it can be used in daylight as well as during the hours of darkness. Depending on the ambient lighting conditions, the NV-2's functionality allows it to be operated in two ways. Its infrared (IR) beam is mounted just below the objective and is activated in total or near darkness. The intensity of the beam is adjustable to allow observation of subjects at different distances up to 200 m, with varying degrees of clarity. In generally low light conditions, as well as in standard daylight, the IR beam does not require activation and the system operates along similar lines to a monocular – but with one notable exception.
The NV-2 contains an integral VGA 640x480 colour display screen for enhanced image quality, with light transmitted through the objective lens being processed and transferred to the screen. The image is, of course, digital and not optical. The screen brightness will adjust automatically, based on the brightness of the environment. After initially tuning the eyepiece dioptre so that the screen is in focus, standard focusing is achieved by rotating the objective lens housing.
Although not comparable to the high quality of a purely optical image, having a digital image adds a measure of versatility as it can be adjusted and captured; the NV-2 has a built-in camera and video-recording facility. This allows photos and videos to be saved to the 8 GB micro SD memory card that is included as part of the package; as with a conventional camera, images and videos can be played back in the field as well as being transferred to a computer via the USB 2.0 cable also supplied. Access is via the ports located behind the rubber cover on the side of the scope.
I found the NV-2 very simple to operate via the four rubber push-buttons located on the top surface of the scope. Screen brightness and IR beam strength can be adjusted and the digital zoom can be operated, as well as image capture and video recording. The screen itself indicates photo/video mode, battery life, whether the memory card is installed and the number of images that can be captured based on the card capacity. It also indicates the number of files stored for both stills and videos.
Daytime image capture and video recording were of 'record-shot' quality – acceptable, although understandably not up to the standard expected from conventional digital photography. But that's not what the NV-2 is for. Quite simply, it's all about night vision and low light intensity viewing and if you don't push the digital zoom to its limit then seeing in the dark becomes a reality.
As well as simple nighttime testing in woodland, in which I was able to observe almost invisible tree branches to a reasonable level of detail, I also checked out roosting Tufted Ducks and Little Grebes on a local reservoir at a range of approximately 50 m and the effect was almost like turning a light on. At around 120 m I was able to identify Black-headed and Common Gulls roosting on a pontoon in near darkness, in which there was a hint of colour, although the image appeared largely black and white. The latter was achieved at digital zoom level 3 (out of a range of 1 to 5) but pushing it to 5 introduced an unacceptable level of pixelation.
The NV-2 comes 'ready to go' with a soft carry case, detachable holding strap, single rechargeable battery, micro SD card, USB cable and an audio/video output cable to enable display of videos on the big screen – compatible with both PAL and NTSC monitors.
For the price, it appears to represent extremely good value for anyone interested in reasonably close-up nighttime viewing with added black-and-white image capture.
Further info
Price: £280
Size: 160x77x57 mm
Weight: 275 g
Field of view: 87 m at 1,000 m
Light transmission: unknown
Maximum viewing distance (night mode): 200 m
Gas filled: no
Waterproof: water resistant only
Battery: AW 18650 3.7V 2,200 mAh rechargeable lithium ion
Guarantee: two years
Verdict
Both highly compact and lightweight
Easy to use and good value for money
Daytime image capture of record-shot quality