2015 Gwent Bird Report
bcecc21c-7167-4599-9219-a1e80bc3a358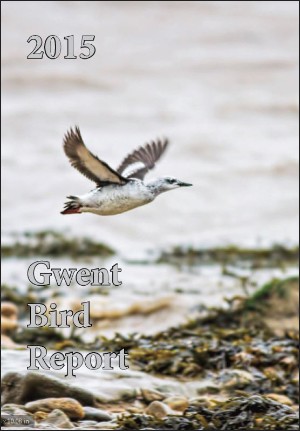 A striking cover photograph of a flying Black Guillemot, one of two new county birds in the year, gives a clear indication that this is a top-class county bird report. The 'inland' county of Gwent lies at the eastern end of the Severn estuary and possesses an array of varied habitats, from grouse moorland and ancient woodland down to the River Severn shoreline, the latter having produced records of Gannet, Fulmar, Manx Shearwater, two petrel species, Shag, auks and three species of skua!
A record number of reports was received during the year and all are succinctly encompassed in this B5-sized, 138-page report. The other new bird for the county was a Black Stork which, with the 'Tystie', brought up 306 species for Gwent, while 202 were logged in 2015.
The Chairman's report gives a strong indication of what is clearly a very active organisation, being involved in national and local surveys, indoor and outdoor meetings, wildlife crime and conservation matters. Local surveys are worthy of special mention, as the species accounts draw upon local work undertaken on many species including Red Grouse, Goshawk, Swift, Meadow Pipit, Nuthatch and Hawfinch among others. An interesting Review of the Year is also included.
The overall layout of the very readable species accounts is super, making it easy to see winter records, breeding data, passage periods, subspecies, etc. An unobtrusive style to the tables and sensible font size, pleasing me in particular, provides an effortless reading experience, not something that can said of all bird reports.
The species accounts include both the BOU English vernacular, IOC international English names (where different) and Welsh names, a status description and a conservation status (Red/Amber) in a Welsh context. Examples of birds on the up include Great White Egret, Red Kite, Marsh Harrier and Hobby, while those faring less well include Grey Partridge, Pied Flycatcher, Tree Sparrow and Greenfinch.
All the expected elements of a good report are in here, including a coloured map and two useful keys to birding locations. Small black-and-white photographs are set among the species accounts and 38 pages of colour photographs are placed throughout the report, although no artwork is apparent. The photographs are of high quality but my personal favourite is the awesome shot of two Green Woodpeckers side by side on the ground. Being critical, however, I do think all the photographs should show at least the location and month, for context.
The Ringing Report draws data from the BTO Ringing website and thus captures information on all ringing in the county. It's an interesting read and close examination of the table shows some nestling ringing numbers which I don't believe are included within the species accounts (and presumably haven't been submitted to the Society?), for example Wood Warbler (89 ringed), Pied Flycatcher (247) and Whinchat (170).
A useful WeBS summary is included, plus three very enjoyable papers on the return of Red Kites to Gwent, Great Black-backed Gull monitoring and ringing on Denny Island, and a survey of Firecrests, which found 45 territories in Wentwood Forest and other woodlands. A table on migrant dates, the county list, contributors and gazetteer close the report, and are again all very well laid out.
Typos are inevitable in any bird report, but two slightly different Sandwich Tern accounts (pages 55 and 56) will disappoint someone I'm sure; that aside, this is an excellent report and a credit to all involved.
Copies cost £11.50 including p&p and can be obtained from www.gwentbirds.org.uk/publications.