Rewilding project gets underway in east London
2c6cda03-b680-4042-8135-465ff6bc33af
The East London Waterworks Park is a community-led project that aims to acquire and transform a 5.68-ha site on Lea Bridge Road in Waltham Forest into a nature reserve.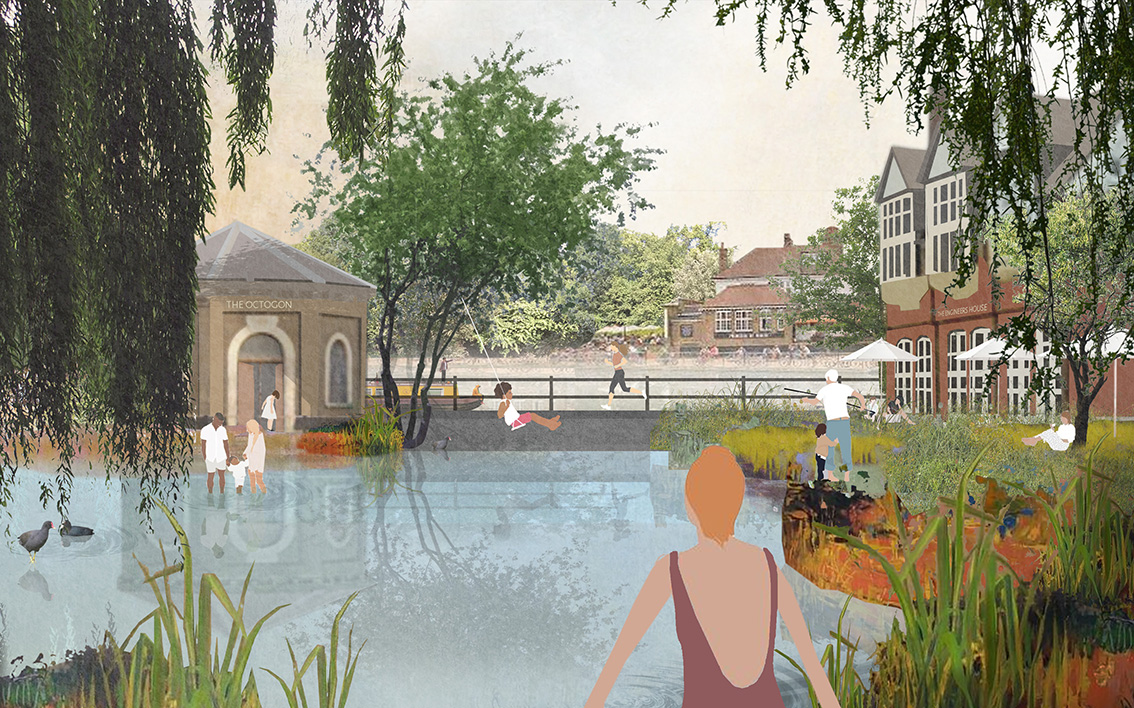 An artist's impression of East London Waterworks Park (Kirsty Badenoch).
Previously owned by Thames Water, these historic filter beds are currently a fenced-in concrete depot in the middle of a swathe of green space in east London. Rewilding the site will join together Leyton and Walthamstow Marshes to the north, Waterworks Nature Reserve to the east, Hackney Marshes and Middlesex Filter Beds to the south and the River Lea and towpath to the west.
The plan is to create a 'brownfield rainforest' – an old industrial site that has been turned into a safe haven for wildlife. Research has shown that such wastelands can provide an unexpected variety of habitats for nature and many have a higher biodiversity than traditional urban green spaces. The project is backed by organisations such as CPRE London and the London Wildlife Trust.
The site is currently owned by the Education and Skills Funding Agency (ESFA), a government executive agency. However, it is designated Metropolitan Open Land. This affords it the highest level of protection in planning policy within the capital. An application to build two free schools on the site was turned down in 2019, a decision which ESFA didn't appeal. It is understood that ESFA is now planning to sell it.
Content continues after advertisements
The East London Waterworks Park Campaign wants to acquire the site and open it up to the public. The area will be rewilded, allowing nature to reclaim the built environment naturally in some places, combined with replanting and landscaping in others. The Victorian filter beds will be redesigned for wild swimming. There will be space for conservation volunteering and local people to learn how to live harmoniously with nature. The site's historic buildings will be retained and enhanced to showcase the area's industrial heritage.
The project is currently in its initial phase, which will involve engaging a team of professionals to help develop the idea and enter into negotiations with the landowner. East London Waterworks Park Campaign is running a crowdfunding drive to raise money for this first stage. You can find out more and back the project here.
Campaign supporter and landscape architect Kirsty Badenoch commented: "In our time of environmental crisis, chances to protect and reclaim areas of inner-city Metropolitan Open Land have never been more important. This currently under-utilised site has a strategic position within the Lea Valley Regional Park and this is a rare opportunity to reconnect the wider ecologies and provide valuable community green space."