Nottinghamshire bird killers wanted by police
55f9609a-0451-45c6-94f0-563d2eefa5fe
A group of youths is wanted by Nottinghamshire Police following a spate of grim wildlife crime incidents in the county.
Nottinghamshire Police recently received six reports that dead birds had been found by members of the public in the Balderton and Barnby areas, all of which had injuries consistent with being inflicted by catapults. There were also concerns that youths were being abusive to members of the public.
The incidents related to the Bowbridge Road, Balderton Lake, Cleveland Square, Barnby Gate and Clay Lane areas during the evening time. Anthony Nicholson, 82, who lives opposite Balderton Lake, told West Bridgford Wire: "My wife and I have had to bury so much of the wildlife. Only the other week, we found two carp and a Canada Goose which appeared to have been barbecued.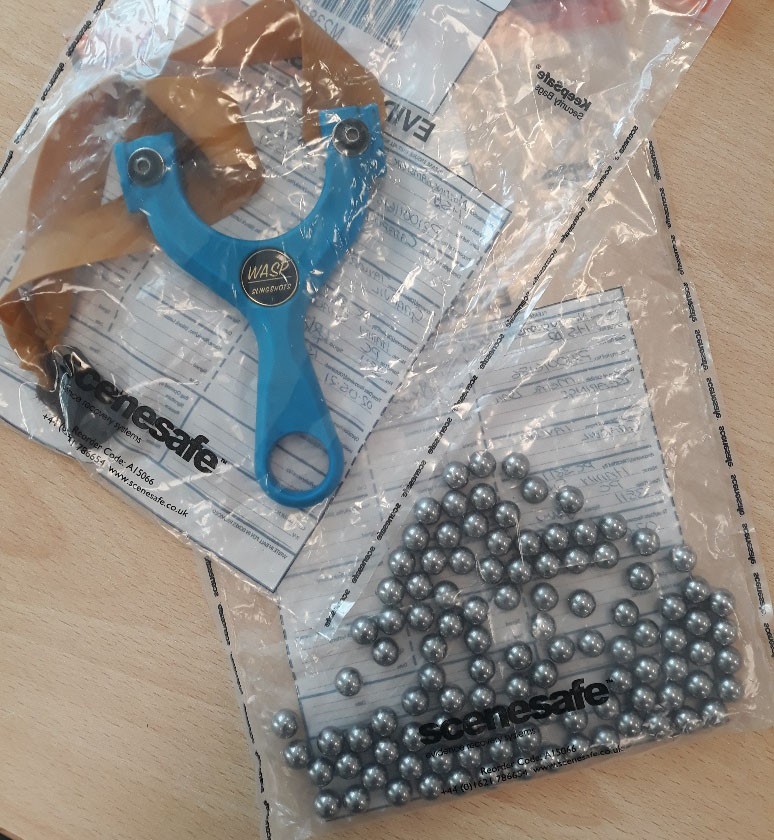 Catapults and ball bearings seized by Nottinghamshire Police (via West Bridgford Wire).
"It happens all the time. The other day a lady came to us crying profusely. She asked us to come and ave a look at what she'd found and we went down and found the big white duck, which is a bird that people were absolutely besotted with, with its neck snapped. There was also a Canada Goose which had had its chest split open and numerous Mallard with pellets in the heads. A couple of Mallards were suspected to have been tortured and burned. It's disgraceful."
The Newark policing team set up an operation involving plain-clothed officers who work alongside uniformed officers, the police quad bike and community protection officers from the district council who conducted patrols and all took part in a number of targeted days of activity which began last week.
During the first event, a 15-year-old teenager was located using a catapult and was just about to fire it at some songbirds. He was detained and the catapult was seized. He will now be dealt with by the Youth Justice Service for a number of wildlife offences. Three youths were also detained in the Blue Lake area of Barnby Gate after plain-clothed officers witnessed them chasing ducks and geese and behaving antisocially. They were all spoken with.
During further police activity, three youths aged between 14 and 15, were detained following a foot chase after officers received a report of nuisance behaviour in the Balderton Lake area. All three were stop-searched and catapults and ball bearings seized before being taken home to their parents.
Members of the public are asked to call Nottinghamshire Police if they see anything suspicious in wildlife areas or have any concerns. Commissioner Caroline Henry said: "I have spoken to residents and landowners across Nottinghamshire's rural communities and I've heard about the problems that make their lives a living nightmare. This type of behaviour is totally unacceptable and I'm pleased to see such a robust response to these shocking attacks on our wildlife."