Nightingales get reprieve in Kent
674feb15-b794-43fd-ba7a-f696ac2db5c6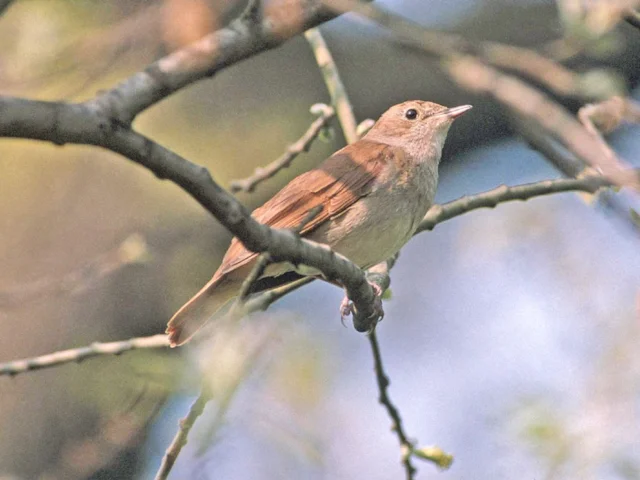 Natural England has confirmed protection for one of Britain's most important Nightingale breeding sites.
At a meeting in London this afternoon, Natural England (NE) has decided to uphold the protection of one of England's most important sites for
Nightingale
,
a bird which has declined in Britain by 46 per cent since 1995
. In March, NE notified the site known as Lodge Hill – in Medway, north Kent – as a Site of Special Scientific Interest (SSSI) for three key wildlife features, including its population of
Nightingale
– more than one per cent of the British population.
NE today has confirmed the site's notification, leaving the RSPB and other conservationists delighted that the national importance of this site has been recognised. Lodge Hill – part of which is a former military engineering school – is also noted for its nationally-important grassland and ancient woodland habitats.
RSPB Conservation Director, Martin Harper, commented: "NE's board had a very clear brief: to examine the scientific data and come to a conclusion about the site's national importance. After a laudable level of scrutiny, we believe NE came to the right decision based on clear, robust and reliable scientific evidence."
Lodge Hill is currently being put forward for a major housing development in the Medway Council Core Strategy and the Ministry of Defence (MoD) have submitted an
outline planning application for 5,000 homes and associated developments
. The RSPB is hopeful the MoD will now reconsider its plans for the site in the light of NE's decision to uphold the site's SSSI status. Harper added: "The RSPB remain committed to helping Medway Council to come up with a new plan which will provide homes and jobs for the people of the Medway, while protecting the environment for those people and for future generations."