Nightingales broadcast on BBC again after 90-year interlude
80480ad5-4240-430e-8931-d9136fd742b7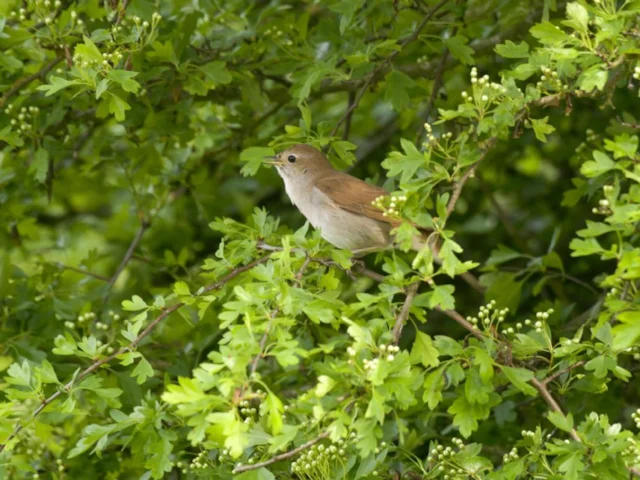 Ninety years to the day since the first outside broadcast of Nightingale song on the BBC, the RSPB has decided to do it again to celebrate the anniversary of the historical transmission.
The programme will also mark the plight of the threatened, long-distance migrant bird. Live from a site in north Kent, adjacent to
threatened Lodge Hill
–
England's most important site for the species
– a team of technical experts from the RSPB will record the bird's famous song and stream it in real time from its website this Sunday night (18 May).
Dr Andre Farrar, the RSPB's media manager and a Nightingale enthusiast, will be taking part the recording. He said: "Nightingales have sung their way into the consciousness of our country, popping up in literature and popular culture. Yet they are in trouble, and if their decline is to be halted action needs to be taken.
"Nightingales are long-distance migrants, facing the perils of a difficult journey to and from their African wintering home. Here in the UK, their most important site – Lodge Hill in north Kent, a Site of Special Scientific Interest (SSSI) – is under threat from proposals to build 5,000 houses. It seems right to mark the 90th anniversary with the Nightingales in North Kent – hopefully it will help everyone realise just how beautiful and important these birds are, and what we stand to lose."
Lodge Hill has been notified as an SSSI for its nationally-important population of Nightingales, an iconic bird which is in serious decline across England. It is the only such site notified specifically for this one species. The RSPB has been fighting plans to develop this site for housing for three years.
Once an annual event featuring a singing nightingale with cello accompaniment, the BBC outside broadcasts ceased during the Second World War because of a concern that background sounds, which included training war aircraft from overhead, could pose a threat if German intelligence tuned in.
Nightingales have declined by almost half (46 per cent) in the UK since 1995, and by
around 90 per cent in the last 40 years
. The birds, most-loved for their tuneful song, arrive in April and leave for sub-Saharan Africa between July and September. Nightingale is confined to southern and eastern England as a nesting species in the UK.
A petition asking the BBC to mark the anniversary, started by campaigner Chris Rose, who has worked for Greenpeace, Friends of the Earth and WWF, received almost 1,400 signatures. Last week the BBC announced it will be broadcasting a one-off Tweet of the Day the day after the anniversary (Monday 19 May) followed by a specially-recorded programme, Singing With Nightingales, at 11 pm the same day.
To tune into the RSPB's live nightingale streaming from 8pm on Sunday night by visiting
www.rspb.org.uk/nightingaleslive
.