Little Terns enjoy bumper breeding season
7f5fcb72-2212-4d17-904a-039d248a6c9c
RSPB survey work has revealed that more than 600 juvenile Little Terns successfully fledged in Britain in 2017, making it a bumper year for the species.
One of Britain's smallest and rarest seabirds, our Little Tern population has declined by 18 per cent since 2000, yet a survey of key sites revealed that 1,077 adult birds battled through a number of natural and non-natural threats during summer 2017 to raise at total of 617 fledglings.
The Norfolk coast remains a stronghold for the species, with 260 chicks fledged from colonies at Winterton and Blakeney Point. The population at Gronant, in North Wales, also had a successful season, with 202 youngsters reared.
Little Terns weigh no more than 55 g – roughly the same as a tennis ball and half the weight of a Blackbird – yet undertake an epic migration from the coasts of West Africa to Britain's beaches to breed each April, returning south again in the autumn.
The species lays one to three camouflaged eggs on the beach, often close to the sea. This means that nests are regularly washed away if big tides combine with stormy weather. Laying their eggs on the ground also makes them vulnerable to disturbance and damage.
As the nests blend into the beach substrates, they can often be accidently disturbed by people walking by. Additionally, as this year proved, deliberate nest disturbance is an important factor that is hampering breeding success. Colonies at Crimdon, near Hartlepool, and Kessingland, Suffolk, suffered acts of deliberate nest destruction, with more than 60 eggs lost – decimating the number of fledglings at both sites. Tidal surges proved harmful to nests at Blackwater Estuary, Essex, and Scolt Head Island, Norfolk, while chicks at Long Nanny, Northumberland, suffered from predation by other species.
Susan Rendell-Read, RSPB Little Tern Project Manager, said: "You wouldn't think when looking at it, but every year this tiny bird, against all the odds, travels thousands of miles from Africa to raise a family here in the UK. Sadly, like many of our seabirds, Little Tern is in trouble. Their numbers have dropped dramatically in recent years and they are at risk of disappearing completely from our shores."
Content continues after advertisements
"Together with different groups and local communities we've been working to protect and save Little Terns in this country since 2013. The main focus of the project has been to improve and create more suitable nesting sites for them above the high tide marks, which is starting to show success. However, it can be difficult to overcome a number of natural threats and non-natural problems that are preventing tern numbers from flourishing further."
Since 2013, the RSPB has been working in partnership with nine other organisations, including the National Trust and Natural England, to boost the British Little Tern population. Despite the work to save them being in its early stages, there has already been a steady increase in numbers since 524 fledglings were recorded in the first year of the project.
Martin Harper, RSPB Conservation Director, commented: "We need places that are rich in wildlife and that can be enjoyed by all. Little Terns are one of a number of species that have benefited from the protected areas around the country. As we leave the EU, we need to protect these spaces and create new places for wildlife so that nature can adapt to future changes and thrive throughout the UK."
To learn more about the project and to see how the partnership is working with local communities and beach users to ensure future generations can enjoy this little seabird for years to come, visit www.rspb.org.uk/littleternproject.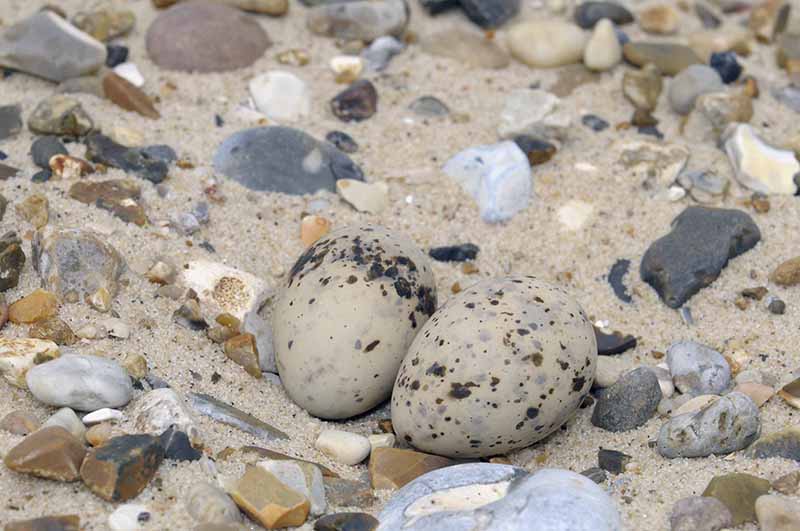 Little Tern eggs and nests are well camouflaged, and can be accientally trampled or disturbed by unsuspecting passers by. Photo: Kevin Simmonds/RSPB.