Kites fly into poisoning 'black hole'
b497dcf8-589d-4b30-bac4-5fe9a28d7178
A fourth Red Kite from the re-introduction scheme in Gateshead's Derwent Valley has been found poisoned, leading to a new investigation by Northumbria Police.
Ziggy, sporting wing tag 40, had been brought as a chick from the Chilterns in 2005 and was released into the lower Derwent Valley. In 2009 she found a mate, Jammy Dodger, and together they raised a chick at the Highland Cattle Centre near Stocksfield.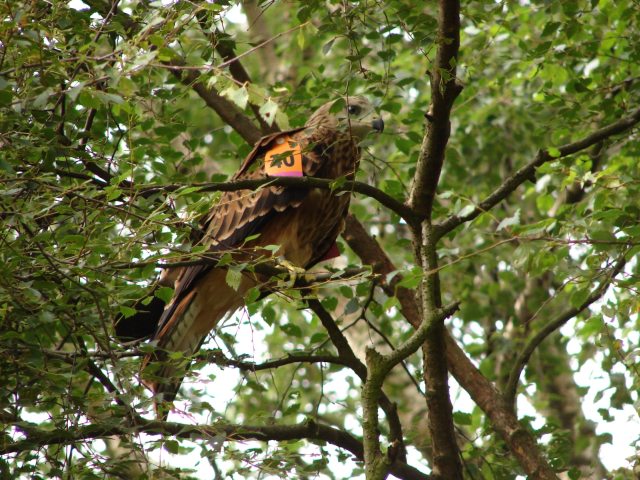 Ziggy was released in July 2005 and had been adopted by Emmanuel College, Gateshead. (Photo: FoRK.)
This spring she again nested at the Centre, with Ponteland Sunrise, and they had at least one chick, which was thriving. In June, however, Ziggy was found dead near Hindley, Stocksfield. Her mate was also found dead, two miles away. Their chick perished, having no parent to feed it. She had been poisoned as a result of ingesting the illegal substance carbofuran.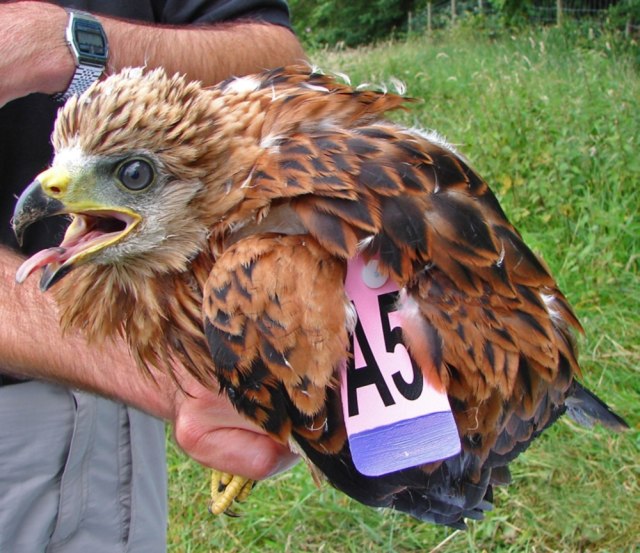 Ponteland Sunrise was released in July 2007 and had been adopted by Ponteland Community High School. (Photo: FoRK.)
Now the Friends of Red Kites (FoRK) — the voluntary group that took over its monitoring role when the Northern Kites re-introduction project ended in 2009 — is to launch a New Year public awareness campaign in the Hexham area to draw attention to the local persecution problems.
FoRK chairman Ken Sanderson said that illegal persecution and poisonings were preventing the spread of kites from the Derwent Valley to suitable nesting areas in west Northumberland. "The area seems to have become a black hole for our Kites once they start moving out to seek new territories. We hope the campaign will get the message over to the public about what is happening in their area."
Content continues after advertisements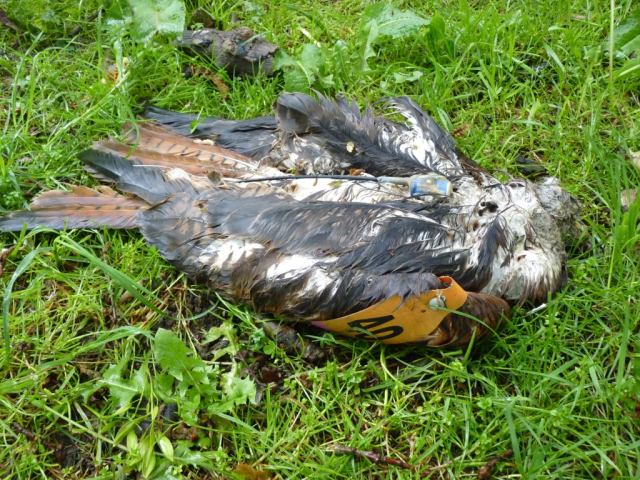 Ziggy was found poisoned this summer, with her mate close by, also dead. (Photo: FoRK.)
Ziggy had been adopted by the pupils of Emmanuel College, Gateshead. The Principal, Jonathan Winch, said: "It was a privilege for us to adopt Ziggy the Red Kite in 2005. The sterling conservation efforts of Friends of Red Kites have brought pleasure to many across the Northeast, and I'm proud that Emmanuel students are playing their part in this important project. We were naturally distressed to learn of Ziggy's untimely death, but this only strengthens our resolve to support the conservation of these magnificent birds."
The latest victims had also been a major attraction at the Cattle Centre, where a pair bred successfully in 2009. Telescopes trained on the nest 200 yards away were provided in the tea-room for use by visitors. Owner Linda Whiteley said that the pair of Kites had been a very big attraction for the public, who had followed their progress during nest-building and incubation and were looking forward to watching them as they reared young.
"We are devastated about this and so are our customers. They were wonderful birds and we only hope that the people responsible can be caught. Since they died there has been a definite fall-off in our number of visitors, so there is an economic impact as well."

The region's first Red Kite to be killed by poisoning was found on a shooting estate in Hexham back in 2005. Then, early in 2010, two juveniles were also found poisoned in the same district. In contrast, there have been no other reported cases of Kites being persecuted elsewhere in the Northeast, with birds ranging across wide areas of Northumberland and Durham.
This year a total of 27 pairs occupied territories in the region. Of these, 13 went on to fledge 24 young; the most successful season so far for the local population. Six other pairs failed during incubation stage but with no indications of human interference. Carbofuran is banned in Britain, Europe and the United States but still seems to remain the poison of choice for those seeking to target birds of prey.