International plan launched to save Helmeted Hornbill
e999bb18-b9ca-4be2-9c90-312cd4507ffd
Conservation organisations from across the world have developed an ambitious 10-year plan to save the Critically Endangered Helmeted Hornbill. The species has been driven to the brink of extinction by illegal hunting, following increasing demand for its eye-catching red casque – which, uniquely among hornbills, is solid, and can be carved into ornamental artefacts.
In May last year, numerous stakeholders, including the Asian Species Action Partnership, BirdLife International, Hornbill Research Foundation of Thailand, Sarawak Forestry Corporation, Wildlife Conservation Society and Wildlife Reserves Singapore, assembled in Malaysia to create a 10-year, range-wide conservation plan, comprising actions needed to end the illegal hunting threatening the beleaguered species. Following the collaborative meeting, the 10-year strategy was officially launched on 29 August in Thailand.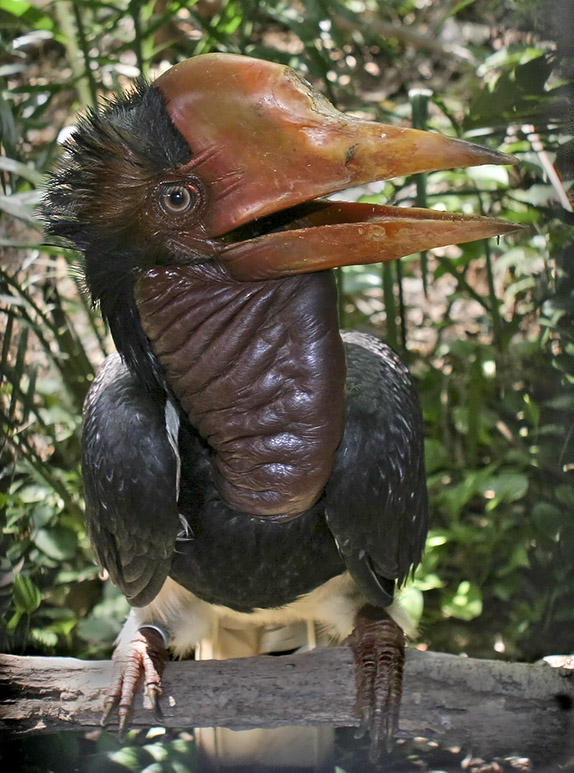 Helmeted Hornbill's red casque is solid, and highly desired by illegal poachers.
Content continues after advertisements
The actions listed in the plan include mapping potential trade routes and hubs of hornbill casque carving, identifying priority areas for protection, enforcing strong habitat management, and various community engagement efforts. A single Helmeted Hornbill casque can be sold for more than $1,000 on the black market, a price higher than that of ivory. Organised crime networks became involved in the bird's hunting and trade, and as a result of this unsustainable demand, numbers have plummeted to the point where the species was up-listed from Near Threatened to Critically Endangered in 2015.
Stopping the illegal trading has however proven difficult. Although Helmeted Hornbills have been protected under various international animal-parts trade legislation since 1975, feeble implementation has led to the rising trade. Charges for trading the hornbills range from imprisonment for just six months in Brunei to up to seven years in Malaysia and Myanmar. Fines also tend to be measly, certainly in comparison to the price a casque can fetch.
Helmeted Hornbill is found in the forests of Thailand, Malaysia, Indonesia, Myanmar and Brunei, and in their effort to secure a casque, hunters will shoot down nearly every large hornbill, hoping that it will turn out to be Helmeted. In the past eight years, more than 2,500 illegally traded Helmeted Hornbill casques have been seized, with an estimated 6,000 hornbills killed each year.