Hen Harrier Day 2014
153ce126-9f29-44e0-ad8d-020dd8c0f83b
As 12th August 2013 approached, I began to get increasingly frustrated by the annual national media attention celebrating the start of the shooting season on the 'Glorious Twelfth'. More specifically, I was frustrated that media outlets seemed simply to regurgitate the press releases sent by various representative organisations and there was no balancing press to highlight the dark side of shooting — its almost complete removal of the Hen Harrier as a breeding species in England.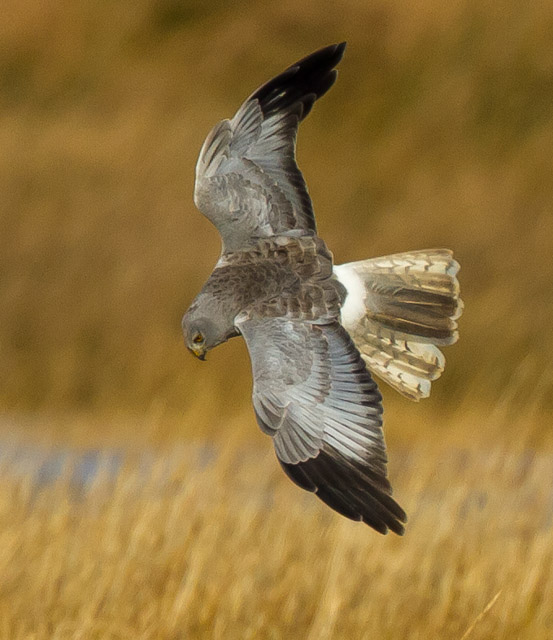 Hen Harrier, Poole Harbour, Dorset (Photo: Jon Worthington)
The news on Hen Harriers in 2013 was incredibly disappointing, with breeding attempts in single figures and all failing to get past the egg stage. I took my frustration to my blog and to Twitter, calling on birders to 'take back the 12th' and labelling it Hen Harrier Day. As I wasn't the only one feeling the frustration, there was a gentle take-up of the cause leading up to the 12th, and a flurry of tweets and posts on other social media on the day itself.
Later in the year I was approached by Charlie Moores, activist and all-round conservation hero. He had some ideas to fight back against wildlife crime. From many winter night discussions via the internet equivalent of the campfire (Skype), Birders Against Wildlife Crime was born.
This year Hen Harrier Day is bigger, better and attracting a huge amount of attention. It is organised and co-ordinated by a coalition of Birders Against Wildlife Crime, former RSPB Conservation Director and leading activist Mark Avery, broadcaster and conservationist Chris Packham, the country's leading wildlife charity the RSPB, and the North West Raptor Protection Group.
Hen Harrier Day has attracted support from a wide selection of organisations and activists, including the Wildlife Trusts, the National Trust, the Hawk and Owl Trust, the League Against Cruel Sports, the Peak District National Park, South West Peregrine Group, Birdwatch magazine, BirdGuides, Bird Information, Rare Bird Alert, the Welsh Ornithological Society and Quaker Concern for Animals.
The teams behind Hen Harrier Day have negotiated with local councils and park managers to allow peaceful, legal gatherings on Sunday August 10th at the following three sites:
Northumberland
Organised by Birders Against Wildlife Crime.
Our plan is to use the South Tyne Trail at Lambley just south-west of Haltwhistle. With a car park readily available at Coanwood, join us by walking along the former mineral railway line. The focus in Northumberland will be the 'selfie trail' we're aiming to create, and group photos. We will be on site from 09:00–16:00 and I will 'meet and greet' at the viaduct. Lambley Viaduct is situated above the South Tyne Valley at NY674583. A small car park is located just north of Coanwood at NY679595. Follow the woodland trail south for 2 km to the viaduct. Follow the minor road south from the A69 at Haltwhistle toward Rowfoot and Coanwood; turn right toward Coanwood at the Lanehead crossroads and the car park is c.200m north of Coanwood on the right.
Derbyshire
Organised by Dr Mark Avery, author and conservation expert, former RSPB Conservation Director (website).
Mark Avery is organising an event at the Upper Derwent Valley based at the Fairholmes Visitor Centre (Hope Valley SK172893 or S33 0AQ). Renowned conservationist and broadcaster Chris Packham is attending to show his support for the threatened Hen Harrier and his disgust at the level of illegal persecution of this magnificent bird. The Derbyshire event has limited capacity and is full based on the number of people who have registered interest.
Lancashire
Organised by the North West Raptor Protection Group.
The North West Raptor Protection Group will be hosting a Hen Harrier Day event at the heart of England in the Forest of Bowland at Dunsop Bridge. Anyone wishing to take part is asked to please e-mail the co-ordinator on Bowland-HenHarrier-Demo@sky.com as soon as possible, leaving your name, contact details and the number of persons within your group.
Social Media campaigns
We completely understand that not everyone will be able to join us in person on the day — but that's why social media was invented! If you can't make it to one of our events but would like to have your say and speak up for Hen Harriers...all you need is a smartphone or a computer, and maybe a camera and a willingness to take a 'selfie'!
Thunderclap: The groups organising Hen Harrier Day are co-ordinating a 'Thunderclap' — a method of using Twitter or Facebook to create an amplified message across social media. The message is sent out at the same time to all of the followers of the supporters who have signed up: in effect it explodes across social media like a thunderclap bursts across the sky. BAWC would like to thank the team who met (online) and discussed the message and timing of this campaign, and especially Naomi Rose of the RSPB who took the lead on creating it.
Twitter: Let's get #HenHarrierDay trending! If you'd like to show your support on Twitter please use the hashtag #HenHarrierDay when promoting or discussing Hen Harrier Day.
Twibbon: We've launched a Twibbon campaign for both Twitter and Facebook which, after just a few weeks, has attracted over 1000 users! Note that it is very easy to remove the Twibbon — just go back to the Twibbon website, find this campaign, and revoke permission for the Twibbon app to 'see' your account. Not sure what a twibbon is or why you might want one? Have a look at http://birdersagainst.org/bawc-twibbon-campaign/
'Selfie': Yes, we know, 'selfies' (photos of yourself posted online) have a bit of poor reputation now (thanks all you Z-list celebs) but actually they are a great campaign tool. And if you can't make it to a Hen Harrier Day event, how about being part of the action without even having to leave your home. We've uploaded a 'We're Missing our Hen Harriers' poster and simple instructions to http://birdersagainst.org/were-missing-our-hen-harriers-selfie-download/. It couldn't be easier. Please do read the T&Cs, though; we wouldn't want to use your image using our image without your consent.