Godwit trio in breeding discovery
2d0d6d34-1590-4318-b8c6-28fd49f8f4f2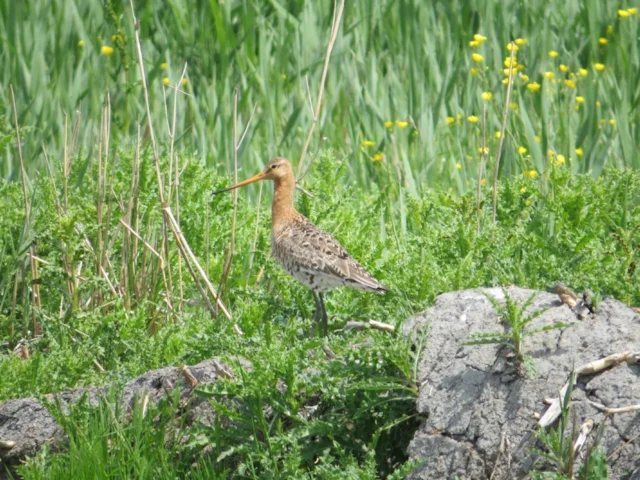 Three's company, as a male breeding Black-tailed Godwit has been witnessed raising chicks jointly with two females at Welney, Norfolk.
Staff monitoring the rare birds at Wildfowl and Wetland Trust's Welney reserve in Norfolk,
one of only two places in Britain
where they breed, reported a male working closely with two females to jointly raise a brood of chicks on the marshland there.
The adults have been very careful to shelter the chicks so it's not yet been possible to count them. If there are more than four, which is the usual number for a single female, that would indicate that he bred with both females rather than one acting as nanny to the other's brood.
In either case, it's thought to be the first record of collaborative breeding in the normally monogamous Black-tailed Godwits. Observers have speculated that it could be a reaction to the very low numbers left in the country.
Louise Clewley, warden at Welney, said: "It's already been an exciting breeding season. Two pairs of godwits have hatched broods on part of the reserve known as Lady Fen, and then I spotted this unusual family arrangement. We can't yet be sure of the story behind these three birds, and we may never know, but if it's working then more power to them.
"Incredibly, these few breeding birds at Welney make up six per cent of the entire UK population, so it's crucial that we do all we can to ensure they successfully rear a new generation each summer."
The male in the trio has been identified by a ring on his leg as being 12 years old and hatched nearby on the Ouse Washes in 2004. Neither female has been fitted with a leg-ring so little is known about them, but it is likely they also hatched on the Ouse Washes. Understanding how the birds breed and behave is crucial to helping the population to recover.
Mark Whiffin, from the RSPB Centre for Conservation Science, said: "The Welney Black-tailed Godwits have had an amazing year on Lady Fen. As part of the RSPB's ongoing study of this species we have be able to colour-ring four of the chicks and look forward to following their progress over the following years, when they themselves return to breed on the Ouse Washes.
"The male godwit with two females is unique in our experience and fascinating behaviour to witness. We wait to see if they are both with him next year."