Council accidentally bulldozes roadside nature reserve
9471d2cf-4d31-4246-a2f7-8af313ad0590
Kent County Council has unwittingly destroyed a nationally important roadside nature reserve (RNR), home to tens of thousands of orchids, as it carried out drainage ditch clearance works.
Verges at Blue Bell Hill RNR, just north of Maidstone, were churned up by heavy vehicles working on the site, in some places down to the chalk.
Owned by Kent County Council, the verge has been managed by volunteers from Kent Wildlife Trust for 15 years. As well as 9,000 Pyramidal Orchids and nearly 8,000 Common Spotted Orchids, it was also home to Bee Orchids, the scarce Man Orchid and a wide range of other special chalk downland flowers. These attracted a host of pollinating bees, butterflies (20 species, including Chalkhill Blue) and other insects, which helped support a thriving population of small mammals as well as Common Lizards and Slow-worms.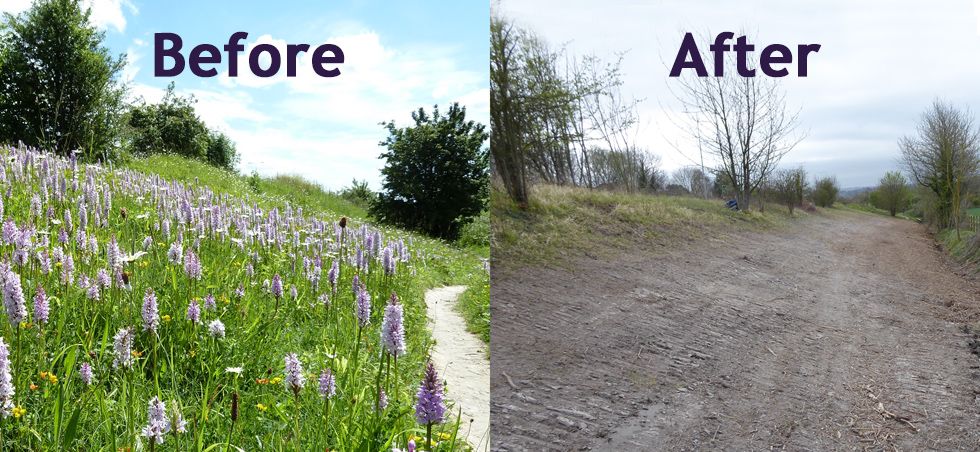 A stark contrast: Blue Bell Hill RNR in summer 2018 and spring 2019 (Plantlife).
After removing some trees from the ditch, the council scraped the bank smooth. Such intensive works will inevitably mean that much of this wildlife is lost for good from the site; other species will take years to recover. At this time of year, the Common Spotted Orchids will have been beginning to show above ground, ahead of flowering from late May onward.
Dr Trevor Dines of Plantlife said: "I worry that I've become immune to 'bad stuff' happening to wild flowers over the years. But the destruction a few days ago of 17,000 orchids on a road verge in Kent proved that I'm not.
"This mistake highlights just how vulnerable and threatened the fragments of our species-rich grassland have become – whether in a farmers' field or on a road verge – and the importance of raising our management across the entire network of road verges rather than just a few vulnerable 'jewels'."
Kent is one of Britain's most botanically rich counties. It has identified over 150 RNRs and done much work to protect and enhance verges throughout the county. Thankfully, because of long-standing partnerships and collaboration a positive way forward has been found quickly in this instance: Kent County Council has offered to pay to restore the damaged verge, following a vocal response from concerned members of the public. Plants are resilient, often showing an amazing capacity to recover. However, for Blue Bill Hill, it may be a long road to recovery.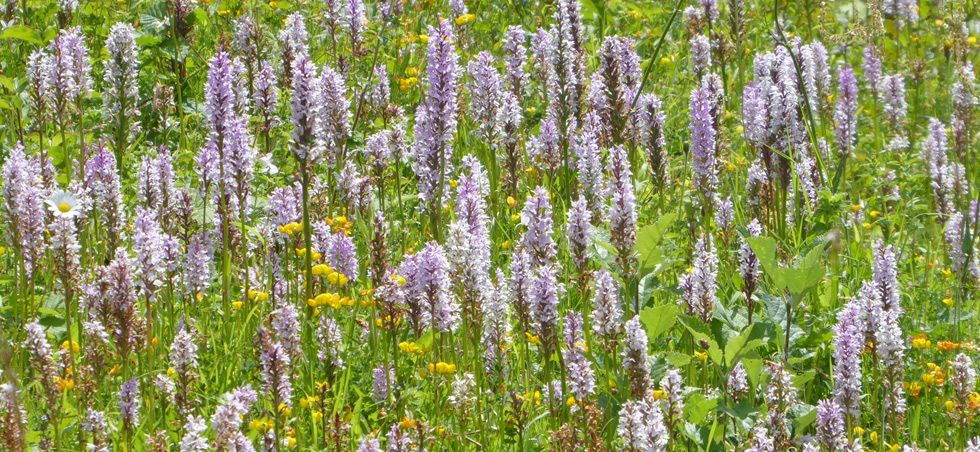 Hundreds of Common Spotted Orchids in flower at Blue Bell Hill in 2018 (Plantlife).
Plantlife's road verge campaign aims to transform Britain's entire road network, bringing wild flowers back to as much roadside habitat as possible. As some of the last refuges of flower-rich grassland in our landscape, they provide vital resources for pollinators; a hectare of road verge managed for wildflowers can produce 60 kg of nectar sugar per year, enough to sustain billions of pollinating bees, butterflies and bugs.
Plantlife is working closely with councils across the UK to improve verge management for wildlife. The more they appreciate them, the less likely they are to be damaged or neglected. To lend your voice to the campaign, please sign the petition to councils here.