Corncrake population reaches new high
4a0d9668-cc63-44d1-bbdb-7ddfb89a19c5
Britain's national population of Corncrakes has reached its highest level since counts began, an RSPB survey has shown.
An annual RSPB Scotland survey recorded 1,289 calling males in Scotland between May and July this year. Corncrake is a shy, pigeon-sized rail species which breeds mostly on the Scottish islands and migrates to Africa in winter. They usually stay hidden among tall vegetation, but can be detected by their distinctive rasping crex crex call, which also lends them their scientific name Crex crex. The new figures are a welcome surprise to experts, who had previously predicted Corncrake numbers would fall this year after the species suffered an alarming decline of 23 per cent in 2013.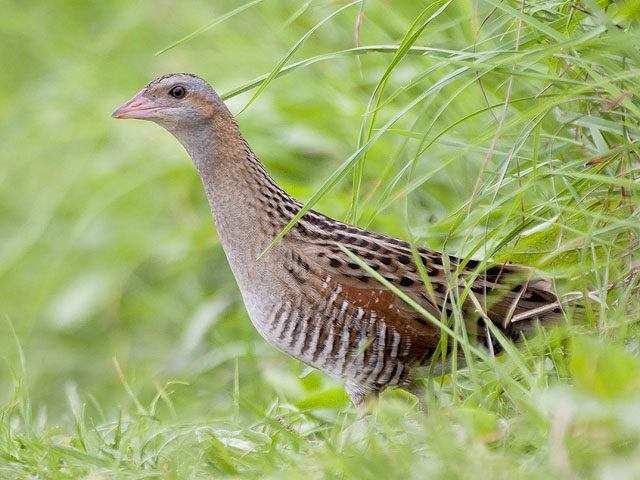 Corncrake, Poland (Photo: Karol Zub)
Corncrake was once common right across farmed landscape in Scotland, as well as parts of the English fens. However, they suffered huge declines throughout the 20th century and by the early 1990s the population had dwindled to a mere 400 singing males, highly concentrated in the Inner Hebrides, Western Isles and Orkney.
Research conducted by RSPB Scotland identified intensifying agricultural production — especially a shift to the earlier mowing of hay meadows and silage fields — as the main cause of the drastic declines.
In 1991, a co-operative conservation programme began with the intention of improving Corncrake populations in Scotland. With support and advice from RSPB Scotland, Scottish Natural Heritage and the Scottish Government, farmers and crofters have played the key role in the recovery of these birds by managing cover vegetation at field edges, leaving grass fields un-cut or un-grazed until August, and using mowing operations that favour the birds' survival and breeding success.
The Corncrake population immediately stopped declining and began to recover in response to this programme, with numbers of calling males reaching a new high this year. The biggest single island population is on Tiree, Argyll, a location which held 396 calling males in 2014.
Paul Walton, Head of Habitat and Species for RSPB Scotland, said: "This year's figures for Scottish Corncrakes are fantastic. They are testament to the dedication of crofters, farmers, the conservationists working alongside them, and to the Scottish Government and SNH officials who have helped.
"Last year's fall in Corncrake numbers was worrying and this bird remains highly vulnerable, so we can't afford to be complacent. Even though there has been an increase in numbers this year, we have so far failed to expand the Corncrake's breeding range, and they are still found in only a few isolated areas of Scotland — mainly on the islands — so that's where we need to focus our efforts next. We also need to bring together the methods we've used for Corncrake and apply them to other Scottish birds that are in trouble, like [Eurasian] Curlew and Corn Bunting, to help secure their future in Scotland."
Jamie Boyle, site manager for RSPB Scotland's Uist (Outer Hebrides) reserves, said: "The number of calling males that we've recorded this year has been very encouraging.The geographical spread is also extremely positive, particularly the robust population in Lewis, [Outer Hebrides], which is an area that we were concerned about. Preserving the special wildlife of the islands for locals and visitors is all about landscape-scale conservation which works hand-in-glove with the crofting community. I very much hope that we can continue to work with the townships to build on this success."