Cormorant put down after being shot
a262151a-e185-4e3d-b152-c8c60b3c01ef
The RSPCA is appealing for information after an injured Great Cormorant was found shot in Wickford, Essex.
The animal welfare charity is investigating after an x-ray revealed the cormorant had been shot with a shotgun. RSPCA Inspector Jessica Dayes was called to rescue the bird on 2 March after a concerned member of the public found it running around their garden in Rectory Lane.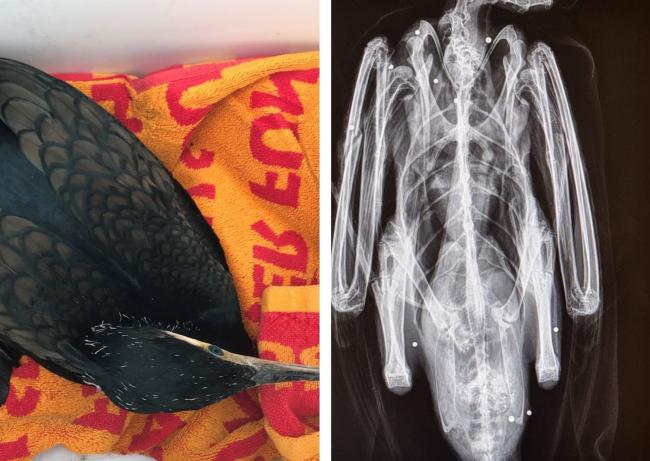 The Great Cormorant (left) and its x-ray, showing gunshot lodged in its body (RSPCA).
The cormorant was grounded and unable to fly. Jessica collected the bird and took it to the South Essex Wildlife Hospital to be assessed. While there, vets performed x-rays and discovered the bird had a number of pellets inside their body.
Sadly, the injuries were so severe that the vet made the sad decision to put it to sleep. Jessica said: "It is very upsetting to think that this beautiful bird was deliberately targeted and shot.This may be an offence under the Wildlife and Countryside Act 1981.
"Anyone with any information about how this bird came to be harmed is urged to call the RSPCA Inspector appeal line on 0300 123 8018."