Cautious optimism a year on from Kazakh hunting ban
35aa06e5-ca7e-4d36-9db0-25674688562b
In early 2017, the government of Kazakhstan introduced a ban on spring hunting, and some positive effects are already being seen.
The news that the government planned to ban spring hunting was welcomed with great optimism by the Association for the Conservation of Biodiversity of Kazakhstan (ACBK; BirdLife partner in Kazakhstan). The announcement brought much-needed hope for many magnificent birds that make the country their home – from ducks, geese and swans to grouse and Eurasian Woodcock, as well as mammals such as Brown Bear.
The decision, which came into effect in time for the 2017 spring season (16 February-14 June), was a giant leap towards better wildlife protection in Kazakhstan. It came in the wake of many years of hard advocacy work by ACBK. Back in 2014, after gathering environmental data in support of a spring hunting ban for waterbirds, the organisation submitted its findings to the Forestry and Wildlife Committee of the Ministry of Agriculture; in 2016, at the committee's request, the organisation, along with the Institute of Zoology of Kazakhstan, reviewed the effectiveness of limiting the shooting season.
Why does Kazakhstan need a hunting ban, and why does the ban's continuation this year and next remain so critical? The figures speak for themselves, and they tell a sorry story. Numbers of many common waterfowl species that nest in or migrate through Kazakhstan are half of those in the mid-1990s. Black Grouse and Capercaillie counts began to show an alarming downward trend between 2013 and 2016. These birds already have serious challenges to contend with, most notably habitat loss and climate change. Therefore, to continue to allow hunting in springtime – during the breeding season – is clearly a recipe for disaster.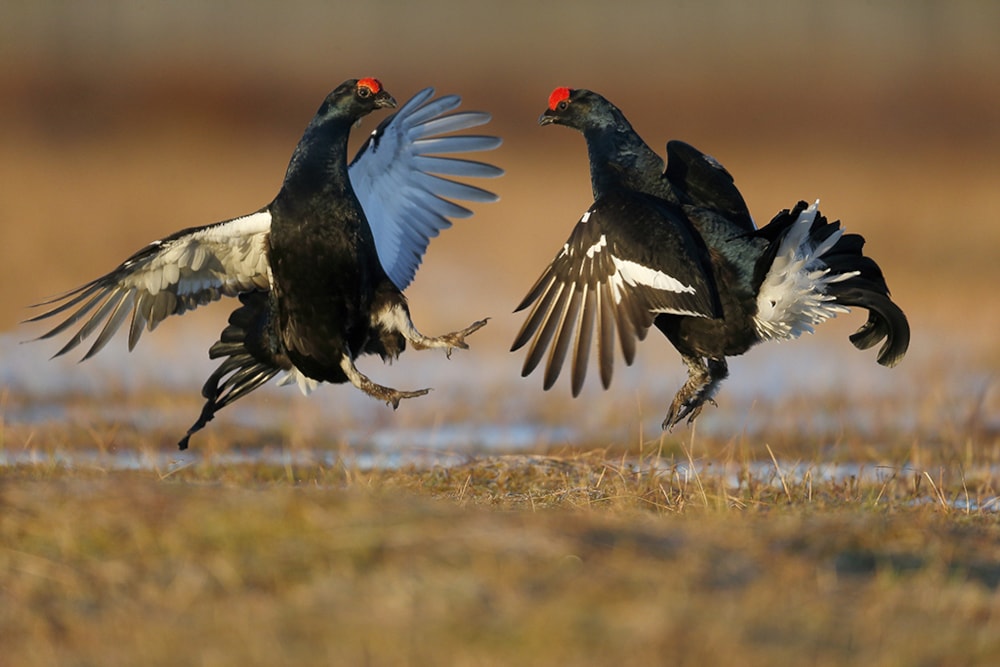 Black Grouse has declined alarmingly in Kazakhstan since 2013 (Mike Lane).
Waterbirds are most affected by hunting. Though officially only males were permissible to hunt, because many species choose their mates during winter, the risk of one of the pair being killed in the spring dramatically reduced the chance of producing young. Furthermore, it's proven impossible for rangers in hunting areas to effectively monitor and enforce laws due to staff shortages and lack of training. Consequently, female ducks and protected geese and swans were being illegally killed.
The situation was not much better for the Brown Bear population in East Kazakhstan. In spring, bears, including females with their new-born cubs, emerge from their dens. It is difficult for hunters to distinguish between males and females and therefore the risk of killing a female that has a family is very high. The cubs are hard to spot in the undergrowth, and without their mother, their chances of survival are low.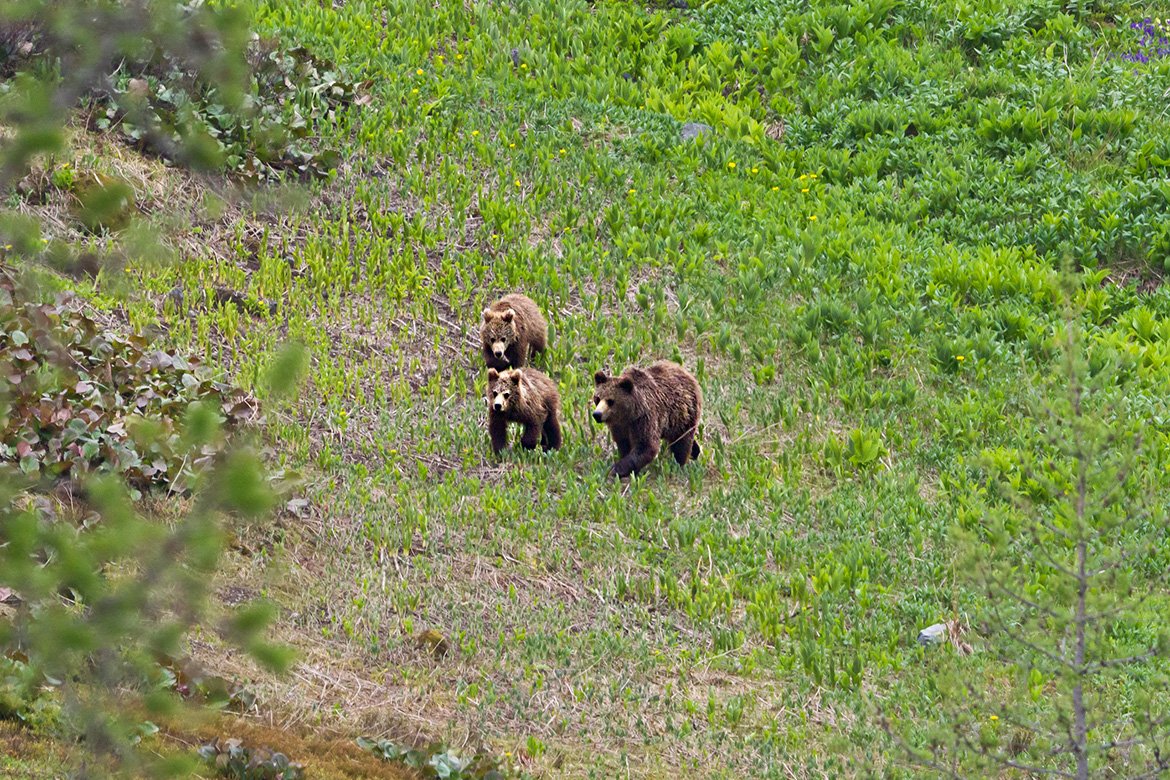 A ban on spring hunting of Brown Bear ensures that females with young cubs are not killed (Aleksandra Klimenko).
A year on since the ban was introduced, the rationale for maintaining it remains the same. And despite some protests and petitions against the ban – both last year and again this year – ACBK continues its work to uphold it.
Encouragingly, there has been a lot of support for the ban. Even some hunting groups have started conducting waterbird counts and have reported a positive trend in the growth of nesting birds. For example, in North Kazakhstan, 55,000 geese were counted on breeding grounds in 2017, compared to 46,600 in 2016, while in the Karagandy region, the number of ducks rose from 472,000 to 512,000 during the same period. Nesting birds are also being recorded where they had not been surveyed previously.
These results are very promising, but more work is needed. Conservation bodies have to ensure better enforcement of the law, while more accurate bird counting needs to take place. Surveys routinely class birds by very general categories such as 'duck' or 'geese' when proper records, counted species by species, are necessary. As a result, some species, such as Eurasian Woodcock, are being left out entirely. ACBK is working hard to put this right, and will continue to do so.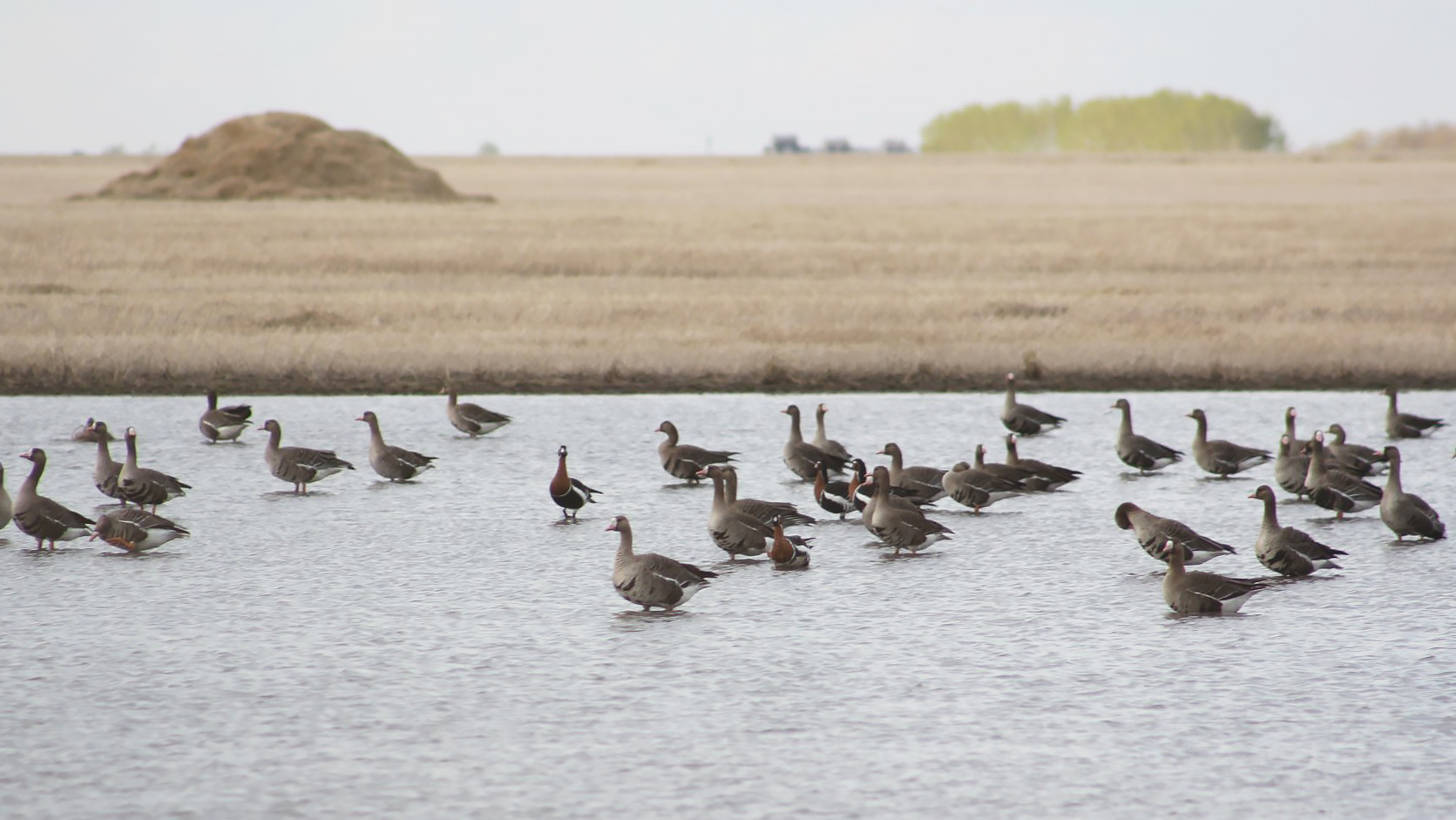 Red-breasted and Eurasian White-fronted Goose is routinely shot in Kazakhstan, but it is hoped numbers will bounce back following the spring ban (Ivan Zuban).