Cambridgeshire RSPB reserve doubled in size by quarry restoration
6e1af349-3c39-4cca-889e-4f3bc00681d1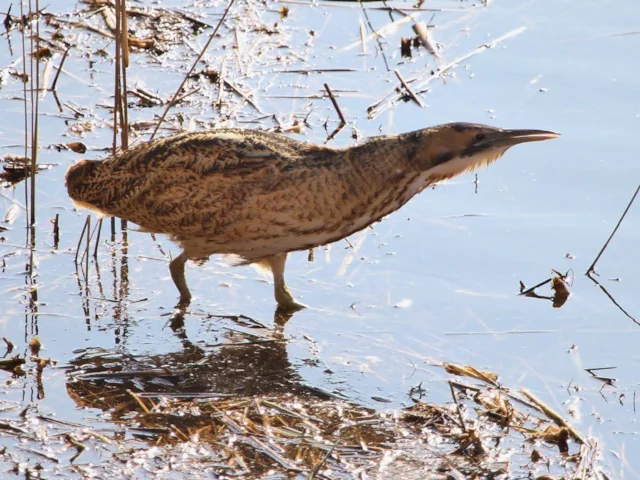 Ouse Fen RSPB in Cambridgeshire has doubled in size following the recent handover of land from a gravel extraction site.
A recent handover of land has set an RSPB reserve on the way to becoming Britain's largest purpose-built reedbed thanks to a groundbreaking 30-year partnership project between the RSPB and construction materials company Hanson.
Hanson has handed over a further 96 ha of land to the RSPB, transforming a sand and gravel extraction site to a wildlife rich wetland. This is part of an ambitious project to create a 700-ha nature reserve at Ouse Fen in Cambridgeshire through restoration of quarried land to wildlife habitat. It is the largest planned nature conservation restoration scheme of its kind in Europe.
The new nature reserve is already providing a lifeline for Bittern, which came close to extirpation in Britain in 1997. Ten 'booming' males (named after their resonant territorial calls) were present at Ouse Fen in 2015, twice as many as expected.
The new land will double the size of Ouse Fen, making it cover 218 ha, larger than 200 football pitches, and will provide a much larger area for Bitterns and other scarce species such as Marsh Harrier, Otter and Water Vole to thrive.
Once complete, the site will incorporate eastern England's largest reedbed, recreating some of the extremely rare habitat which has almost been lost in Britain over the last 400 years. The site has the potential to be of international importance for reedbed wildlife, supporting some of the largest populations of Bitterns, Bearded Tits and Marsh Harriers in the country.
There are benefits for people, too. Bringing nature back to an area presents an excellent opportunity for local communities to get closer to the natural environment and the wildlife on their doorstep. People can explore the nature reserve using the many available footpaths which can encourage green tourism and leisure pursuits, and in turn can help the local economy.
Dave Hoccom, RSPB Area Manager, said:"It's fantastic to see the reserve double in size as a result of this handover. The reserve has been so successful that, last year, expectations for one of its star species, Bittern, were exceeded ahead of time, with double the numbers expected being recorded. This is a phenomenal achievement in only 15 years. This land transfer will help to ensure that scarce species like Bitterns will continue to thrive at Ouse Fen RSPB into the future."
David Weeks, Hanson UK Communications manager, said: "The Needingworth project is a fantastic example of progress through partnership – not just with the RSPB but with many other national, regional and local organisations, most notably Cambridgeshire County Council. We recognise that quarrying, like farming, forestry and other rural activities, can have an impact on the countryside. This project shows that we can make a very positive contribution to the UK's landscape, its wildlife, its habitats and its biodiversity."
Over the next 15 years, Hanson will continue to donate small parcels of land as sand and gravel extraction is completed, which the RSPB will manage and develop for nature conservation, until the 700-ha nature reserve is complete.
Content continues after advertisements