Breeding Spoonbills cause a stir
fb61bf15-6eae-4dfd-8993-f448caf58beb
Natural England have just announced the successful breeding of a colony of Spoonbills at Holkham National Nature Reserve in Norfolk. Careful monitoring has confirmed that four pairs have fledged a total of six young, with at least two more pairs still feeding their young. This is the fourth successful breeding record of Spoonbill in recent times, but at no time since the early 1700s has more than one pair bred in the UK and conservationists are hoping that the unique breeding success at Holkham will not be a one-off.

One of the successful Spoonbill families at Holkham NNR (photo: Andrew Bloomfield)
Attention was first aroused when nine birds in full breeding plumage arrived in the area. They proceeded to set up home in the mixed breeding colony of Cormorants, Grey Herons and Little Egrets already on the site. Visits to the secluded breeding site were kept to a minimum to avoid disturbing the birds, but it soon became clear that one adult bird was sitting on a nest with several others present in the surrounding area.
Breeding behaviour was actually noted from single pairs in 2004, 2006 and 2007 but, although nests were built, it was never confirmed that eggs had been laid and certainly no young were fledged.
Michael Rooney, Natural England's Senior Reserve Manager at Holkham NNR, said: "A lot of careful work has gone into creating and managing ideal habitats for a range of nesting birds at Holkham, so it is very exciting that the reserve has become a safe haven for a breeding colony of Spoonbills. As several pairs nested successfully this year, we hope that the birds will return and establish a permanent colony in future years."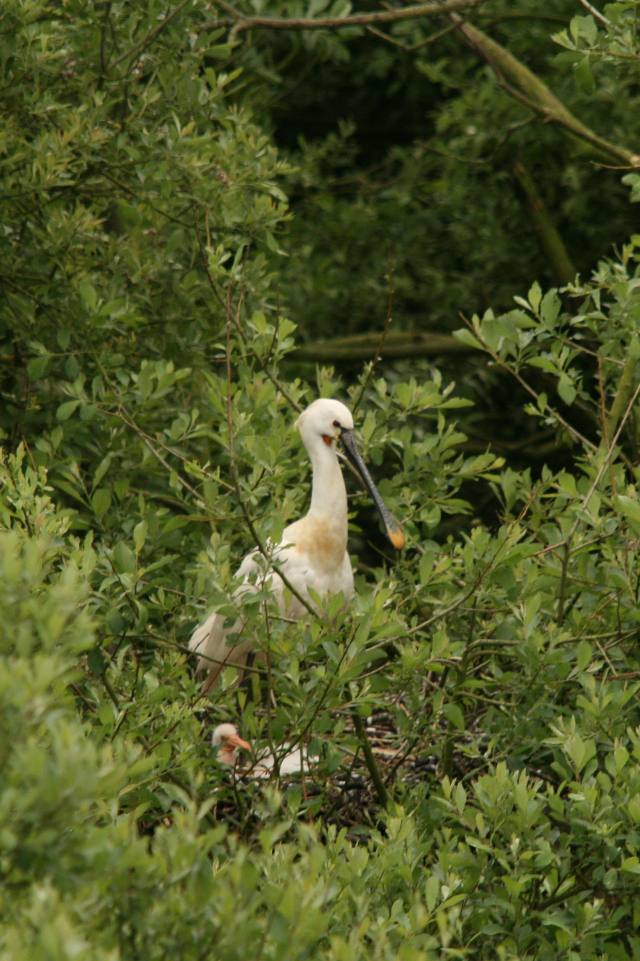 Adult Spoonbill at the nest with a chick at Holkham NNR (photo: Andrew Bloomfield)
Natural England manages the freshwater marshes at Holkham to cater specifically for breeding waterbirds. Maintaining high water-levels through the spring into midsummer is critical and has resulted in a dramatic increase in the population of many breeding species. The nesting colony is surrounded by water and is therefore safe from predators, while the presence of pools in adjacent fields provides nearby feeding opportunities for the adults raising hungry chicks.
Michael Rooney continued: "Many, if not most, of the Spoonbills that visit Holkham and other areas of England originate from the increasing breeding population in the Netherlands. As numbers have been increasing in Western Europe in recent years, expectations have been high that Spoonbills would soon colonise Britain. White-plumed Spoonbill chicks taking their first flight above the Norfolk marshes is something we hope will become an annual occurrence on the Holkham NNR."
Birders should note that the Spoonbill nest sites are not visible and the remaining adult birds are only seen very occasionally. As soon as further young fledge and are on view Natural England will release more details.