Birds Illustrated magazine
8c644670-6924-447c-a854-9624dfb764ab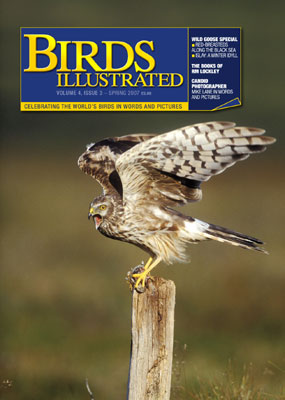 The range of magazines available to birdwatchers has been extended in the past few years by a relatively new title, Birds Illustrated. It's the brainchild of Dave Cromack, who was previously the editor of Birdwatching magazine but wanted to take on a magazine of his own. To carve out a niche in the market, he set out to make this magazine distinctively different from the likes of Birdwatching and Birdwatch. Hence, there's little or nothing in Birds Illustrated about bird identification or UK bird sightings or back-garden birdwatching. This leaves room for top-quality bird images, both photos and paintings, to be presented in the best way possible with full-page and even double-page spreads to do justice to the most stunning images.
The emphasis on art and photography, both in the images and the articles, might lead some birders to suppose that this is a magazine just for bird photographers but that's really not the case. The articles, even those about photography, definitely aren't about f-stops and focal lengths but instead they are much more like 'photographers' tales' of fantastic journeys, exciting places or special moments in a hide - all illustrated with the best examples of their work. They will appeal particularly to the many birdwatchers who have fantastic cameras and want some inspiration on where to go or how to achieve some stunning results but they are written and presented in a manner that all of us can enjoy and appreciate - at least those of us who enjoy the beauty of a bird and not just its rarity or the challenge of its identification.
If you enjoy drooling over fantastic bird images and admiring the skills of the best artists and photographers, this is definitely the magazine for you but there's more to the magazine than that. Each edition has useful 'Where to Go…' type articles covering sites in the UK and abroad and there's always at least one fascinating article about bird behaviour or biology as well as a terrific review of recent scientific papers on birds, covering the results of the latest behavioural studies rarely mentioned elsewhere in the popular birding press. There's a very good coverage of books too, including reviews of the 'back-catalogue' of well-known authors as well as reviews of recent titles which include images of double-page spreads from within the books ie what you would see inside the book - so much more useful than just its cover. The coverage of foreign locations means this is a great read for anyone who loves to travel in search of birds and is pondering what their next destination might be.
The theme of the magazine is very much about enjoying birds. If you want to admire them in the field there are ideas for where to go and how to get close to them but, even if you don't follow in the footsteps of the authors and artists, you can still enjoy their birds second-hand through the magnificent images and descriptions presented here.
Birds Illustrated is published quarterly and is available at £20.00 per year.