Bee-eaters fledge on the Isle of Wight
f04ccfa1-eff3-4b46-aa80-7fcdf2dfedf5
At least four Bee-eater chicks have fledged on National Trust land on the Isle of Wight thanks to a joint protection operation by the National Trust, the RSPB and Isle of Wight naturalists. It is the first time the birds, which usually nest in southern Europe, have successfully raised young in the UK since a pair fledged two youngsters at Bishop Middleham Quarry, Durham in 2002.
Three of the chicks fledged on 15th and the fourth has tried out its wings in the past few days. There have been reports of up to nine birds in the area (including on 19th), although this has dropped to just two birds on 20th and 21st. If all the young survive, this will represent the most successful Bee-eater breeding attempt in UK history.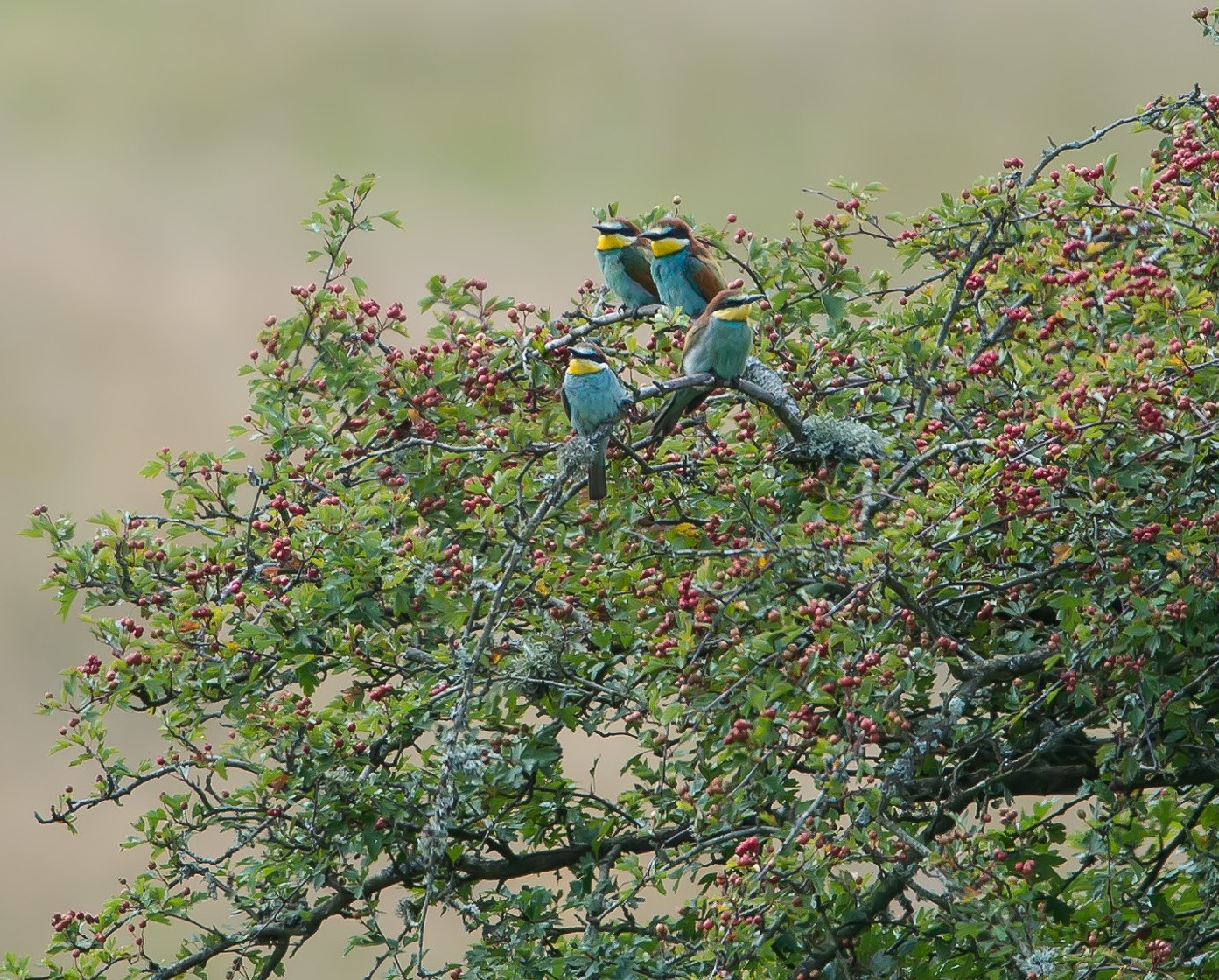 Bee-eaters on the Wydcombe Estate (Photo: John D'Arcy)
The Bee-eaters excavated their nest (a hole in the ground) on the Isle of Wight more than a month ago on the National Trust's Wydcombe Estate. National Trust ranger and birder, Ian Ridett, noticed the Bee-eaters were active on the island at a time they ought to be nesting. The nest was located and the joint 24-hour protection operation (dubbed "Operation Bee-eater") was launched.
Keith Ballard, site manager at the RSPB's Brading Marshes reserve near Bembridge, commented: "We are thrilled that the Bee-eaters have managed to breed successfully on the Isle of Wight. It has been an amazing year for exotic species breeding on the island. Working with the National Trust has been very rewarding and the RSPB has been able to utilise its protection experience to make sure the birds were not disturbed and to minimise the threat from predators and egg thieves."
Ian Ridett added: "We are delighted to see the juveniles are out and progressing well. We've worked day and night with a team of over 60 volunteers and staff from the National Trust, RSPB and Isle of Wight Ornithological Group to monitor the site and provide a supervised viewing area for visitors. Around 3000 people from around the UK have been rewarded with views of the adults catching bees and dragonflies. The question that everyone is asking is, 'will they return next year?' However, it all depends on the weather and a degree of chance. With changing weather and climate, this is just one of the examples of birds and butterflies that are starting to spread north and west into the UK. The Isle of Wight has some great habitats and is in pole position for events like this to re-occur."