April's Birdwatch on sale tomorrow
d1e7285e-5b0f-4047-b349-c32627143562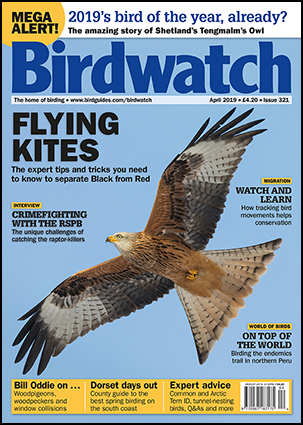 The April 2019 issue of Birdwatch goes on sale tomorrow [Thursday 28 March] and this month features an interview with the RSPB's Head of Investigations Mark Thomas. Editor Rebecca Armstrong visited the wildlife charity's headquarters in Sandy, Bedfordshire, to find out what it's like to be on the frontline of investigating wildlife crime.
Also in this edition is an in-depth look at identifying Red and Black Kites in all plumages. Raptor expert Dick Forsman provides all the information you need to recognise these two species, as well as some confusing Black Kite forms.
A special section on bird movements – just in time for peak spring migration – discusses the importance of both bird observatories and ringing in gathering data to give an insight into this fascinating behaviour. For those wanting to get out in the field, Dorset is this month's County Guide destination, while northern Peru makes for a fantastic trip abroad.
As well as this, there'll be all the rarities, scarcities and finders' reports, topical comment from columnists Mark Avery, Dominic Mitchell and Bill Oddie, reviews, news and expert advice from our knowledgeable team.
You can buy the issue from newsagents or order online with FREE UK p&p.
Content continues after advertisements
In the digital edition
This month's bumper digital edition features 11 more pages to read! A total of 21 bonus videos includes footage of the Shetland Tengmalm's Owl, a Lesser Yellowlegs in Weymouth and the Dutch Nutcracker, as well as RSPB advice on what to do if you find a dead bird of prey. There are also two extra image galleries and you can listen to the song of Golden Oriole.
The digital edition is available for PC, Mac, iPhone/iPad and Android. Sample issues are free, and subscriptions or single copies can be purchased. Click here to find out more.