Anti-bird netting ripped down in Shropshire
0b2c3ea4-2100-4d70-ac42-992e108f5142
Anti-bird netting that was strewn over hedges at a site marked for development was last week pulled down by 'eco-protesters'. The green nets had been installed at a site off the A4117 in Rocks Green, Ludlow, ahead of 200 new houses being built. However, they were ripped down ahead of a planned demonstration against wider netting schemes which was set to take place last weekend, but was cancelled following the removal.
Ludlow North councillor Andy Boddington believes anti-bird netting – which has gained significant media coverage in recent weeks – should be illegal or subject to regulated circumstances, but also said tearing down the net was "a stupid way of protesting". He also claimed the deliberate removal of the nets "wasn't an act by the developer or the landowner – it was an action by eco-protesters".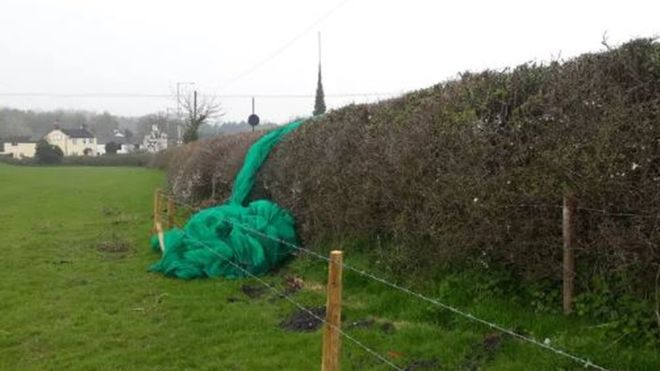 The green nets were pulled down ahead of a protest against the scheme (Andy Boddington).
Mr Boddington continued: "There may be some cases where netting cannot be avoided. These should subject to prior approval by the local authority and subject to strict guidelines on installation and inspection. I don't believe people vandalising nets around the country will help to educate developers to behave more responsibly, nor will it help our petition against netting to be passed."
A demonstration against the netting, installed by Pickstock Homes, had been due to take place on Sunday. However, the event was cancelled after the netting was removed, and Pickstock Homes have said they will not be replacing the netting, but will still remove part of the hedge. Housing developers around the country use netting on vegetation (mainly trees and hedgerows) to safeguard themselves against any issues involving nesting birds later in the breeding season. A national petition to make netting hedgerows a criminal offence has attracted more than 343,000 signatures.
The Chartered Institute of Ecology and Environmental Management (CIEEM) and the RSPB "urge professional ecologists to think very carefully before recommending netting and for developers to consider the potential negative impact on wildlife and local communities in their activities."