Wednesday 12th September 2012 marked the start of the new British Trust for Ornithology (BTO) Winter Thrushes Survey. Over the next two winters, BTO will be asking people across the UK to record where and when they encounter any of our six species of thrush (Blackbird, Song Thrush, Mistle Thrush, Redwing, Fieldfare and Ring Ouzel), either found here on migration or during the winter months. Populations of all six species have shown signs of decline over the last 40 years. Blackbird, Song Thrush and Mistle Thrush have largely sedentary populations in the UK but the Blackbird population is heavily augmented each winter by huge arrivals of immigrants from Scandinavia and continental Europe, along with a sometimes massive winter influx of Redwing and Fieldfare from Scandinavia and Iceland. It is clear that these birds find something to their liking in the British countryside during the winter months. The aim of the survey is to discover exactly what this is and to determine seasonal and geographical patterns of how thrushes use the countryside.
John Marchant, the Survey Organiser at the BTO, said, "This is a survey that anyone can take part in, whether new to birdwatching or an experienced BTO surveyor. There will be a wealth of online resources, from species identification videos, photographs and audio material, to guides on berries, fruit and crops that are likely to be important for thrushes. If you have a regular winter walk, and you see thrushes, then this survey is for you."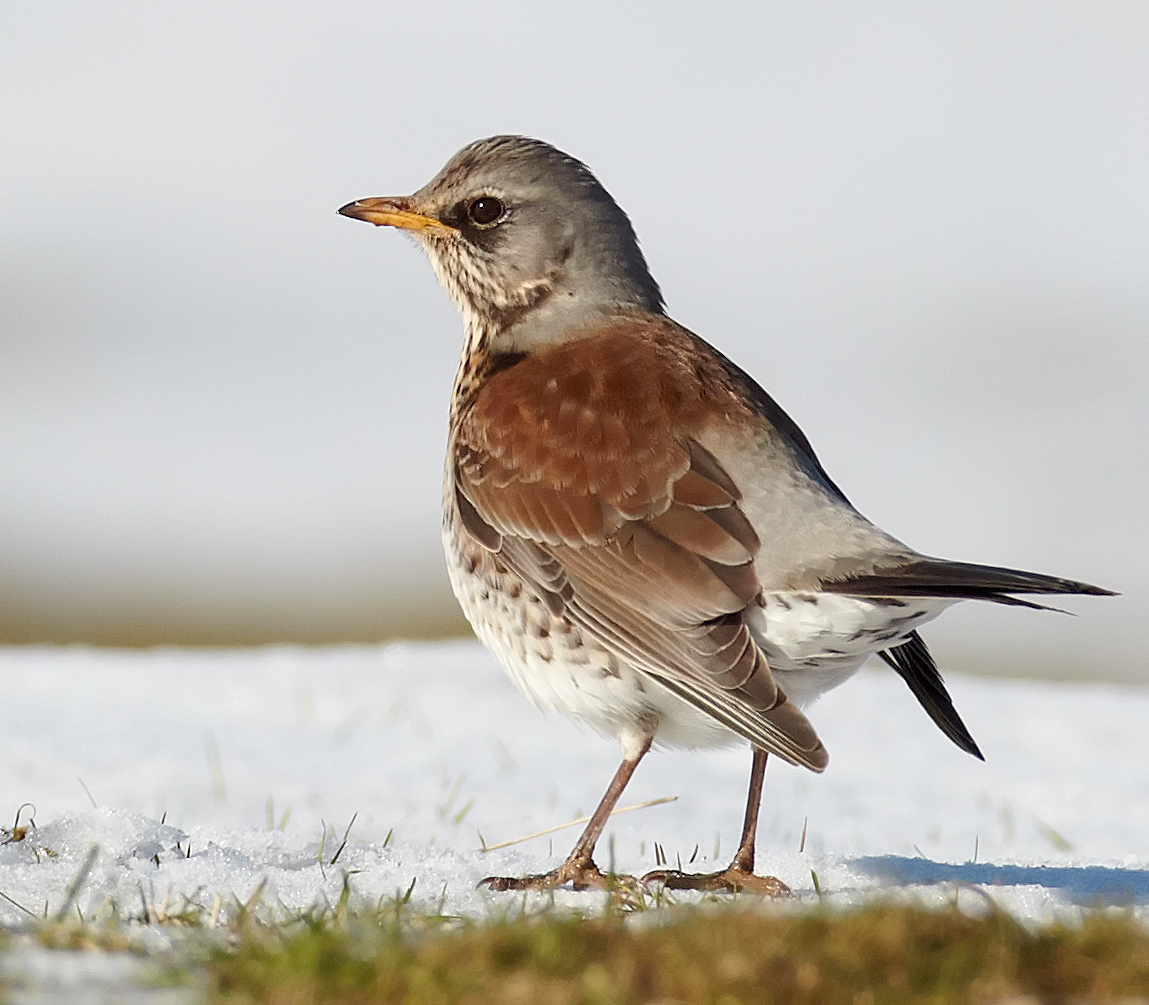 Fieldfare, undisclosed site, Hampshire (Photo: Simon Johnson)
In the UK, thrushes show a strong liking for berries such as hawthorn, blackthorn, ivy and holly in the first part of the winter, and then forage extensively for earthworms, snails and other invertebrates later in the season. An important aspect of the survey will be to record which food sources the birds are using at different times and places. It will also look at how changes in the countryside have affected thrush populations and how important food resources provided by gardens, orchards, hedgerows and woodlands are to their winter survival. To take part in the survey, and help find answers to these questions, all you will have to do is map the thrushes you see on your favourite winter walk, or in your local neighbourhood, observe their habitat and behaviour and report details to the survey using a simple online recording system.The survey will run from 12th September 2012 to early April 2013 and again in winter 2013/14. A parallel piece of work, launching on 30th September and running over this winter, examines how wintering thrushes use the berries and other fruits available in gardens. This work, the 'Birds and Garden Berries Study', will identify which fruits (both native and non-native) are used at different points throughout the winter. It will also establish whether birds show preferences for particular types or colours of berry.
Further details are available from the BTO website, www.bto.org.