Think of Magnificent Frigatebird and one's mind is automatically transported to the tropics of the Western Hemisphere. From Florida to southern Brazil via the Gulf of Mexico and the Caribbean, the species is both a familiar and commonplace sight along coastlines — their unmistakable, and slightly formidable, shape makes them instantly recognisable. Populations also occur on the Pacific coast of Central America and in the Galápagos, but what many people don't realise is that it's also very much a Western Palearctic (WP) species too — at least for the time being.
The presence of Magnificent Frigatebird in Cape Verde has long been documented. On his inaugural voyage to the Americas in 1492, Christopher Columbus noted the following in his journal as he passed this southern outpost of the WP region:
"They saw a bird that is called a frigatebird, which makes the boobies throw up what they eat in order to eat it herself, and she does not sustain herself on anything else. It is a seabird, but does not alight on the sea nor depart from land 20 leagues. There are many of these on the islands of Cape Verde."
The final statement is particularly poignant. Recent decades have witnessed a steady decline of this relict population to the point that extinction appears imminent and unavoidable. Throughout the 20th and 21st century, Magnificent Frigatebird has been known to breed on just two small islets off the eastern and southern coasts of Boa Vista. As with other seabirds species in Cape Verde, the initial decline of the archipelago's frigatebird population was likely triggered by human persecution after the islands were first colonised by man in the 15th century (Hazevoet 1994, 1995).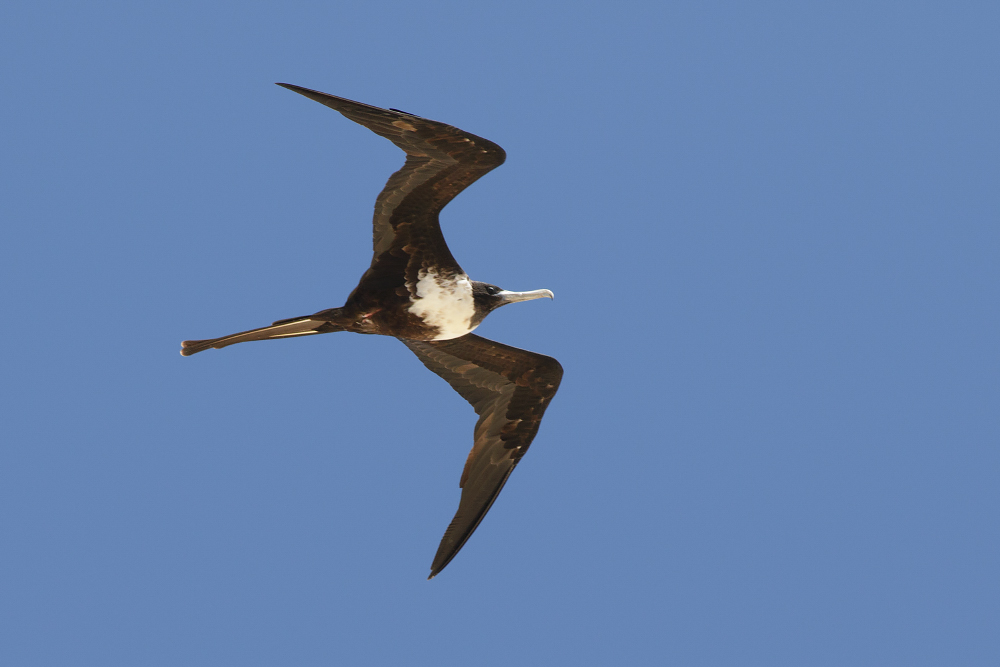 Female Magnificent Frigatebird, Boa Vista, Cape Verde, March 2016 (Photo: Josh Jones)
While the Cape Verde population may always have been relatively small (despite Columbus' observations), numbers have diminished markedly over the past 50 years. In 1965, 10–12 pairs were estimated to breed on Ilhéu de Curral Velho, yet by 1992 this had reduced to no more than five pairs across both known breeding islets (Lopez-Suárez et al 2012). By the early 2000s the total number of individual frigatebirds had slipped into single figures — four males and two females were recorded on Ilhéu de Baluarte in 2003. By 2006 this had reduced to just four birds (two males and two females), all at Curral Velho. At this time the population was surveyed for seven consecutive breeding seasons and consistent reproductive failure was noted, presumably the result of genetic (inbreeding) and demographic imbalances (ageing birds, lack of new individuals joining the population and the Allee effect; Lopez-Suárez et al. 2012)
The frigatebird population has been monitored only sporadically since; most sightings in recent years have been made by visiting birders investing significant quantities of time and effort into purposefully tracking down the few remaining individuals. In 2012 just three birds were recorded — two females and a single male. This final male has not been seen since May 2015 and is feared to have perished (Lopez-Suárez pers. comm.). In 2015 and early 2016, just a handful of sightings of females were made on Boa Vista. Photos, taken in spring 2016, depict two different individuals — these two almost certainly the last surviving frigatebirds in the Western Palearctic.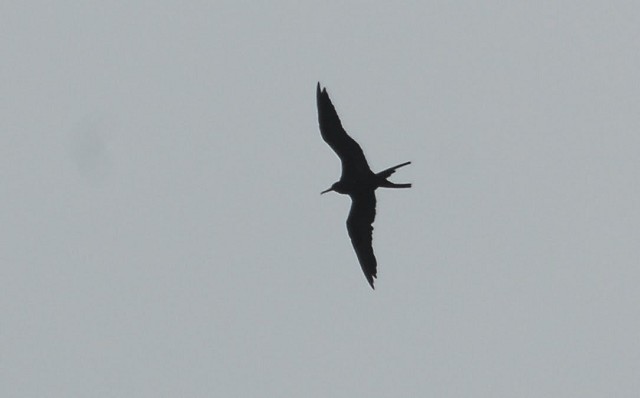 Male Magnificent Frigatebird, Boa Vista, Cape Verde, August 2011. This, the final male, was last seen in May 2015. (Photo: James Spencer)
Given that the futile breeding attempts have now ceased altogether, catching up with these birds has become an even more difficult task — frigatebirds are notoriously wide-ranging and will travel great distances in search of food. In recent years, sightings have been made right around the coast of Boa Vista, though most regularly at Sal Rei harbour, in the north-west, and at the traditional location of Curral Velho in the south. Despite the lack of breeding success over the past decade, the latter site still appears to be the most reliable spot at which to connect with the birds — presumably the birds return here out of habit and no doubt find the islet's large colony of breeding Brown Boobies, which they kleptoparasitise, an irresistible draw.
With seemingly just two birds remaining, it is important to recognise that seeing Magnificent Frigatebird at Curral Velho is very much a waiting game. On 19 March 2016 it took us five hours to connect but stories of it taking 'days' have been known. Birds may be observed flying right along the beach in this area but there is no doubt that the islet proves a focal point for them. Below I have reproduced a map detailing how to view Curral Velho as well as detailing other favoured sites, both past and present.
As these final, ageing birds draw closer to the ends of their lonely lives, it is a tragic reminder that Magnificent Frigatebird's struggle to maintain a foothold in the Eastern Atlantic is ill-fated. For any birder wishing to see this imposing yet elegant species in the Western Palearctic, a visit to Boa Vista should be of paramount importance in the coming few years, for the unmistakable black shape of a frigatebird drifting overhead against a vividly blue Cape Verdean sky is something that will soon be lost forever.
References
Hazevoet C J, 1994. Status and conservation of seabirds in the Cape Verde Islands. Pp. 279–293 in: D.N. Nettleship, J. Burger & M. Gochfeld (eds.), Seabirds on islands: Threats, case studies, and action plans. BirdLife Conservation Series No. 1. BirdLife International, Cambridge, U.K.
Hazevoet C J, 1995. The birds of the Cape Verde Islands. BOU Check-list No. 13. British Ornithologists' Union, Tring. 192 pp.
Lopez-Suárez P, Hazevoet C J & Palma L. 2012. Has the magnificent frigatebird Fregata magnificens in the Cape Verde Islands reached the end of the road? Zoologia Caboverdiana 3 (2): 82–86
López-Suárez P, Varo Cruz N, Hazevoet C J & López Jurado L F. 2007. Restricted nesting habitat and reproductive failure of Magnificent Frigatebirds Fregata magnificens in the Cape Verde Islands. Atlantic Seabirds 7 [for 2005]: 107–120