My usual weekly routine includes two full days' birding at Rutland Water; always Tuesday and Friday unless something else gets in the way. Recently most of the more noteworthy birds have managed to avoid these days and I suppose I was due a good one. The two days leading up to this Tuesday were distinctly cool and showery and largely unproductive for birding locally, giving me a chance to finish sorting out the county records for 2007. I managed to resist the temptations of a couple of Fulmars at Rutland Water, hoping that they would remain until my Tuesday visit.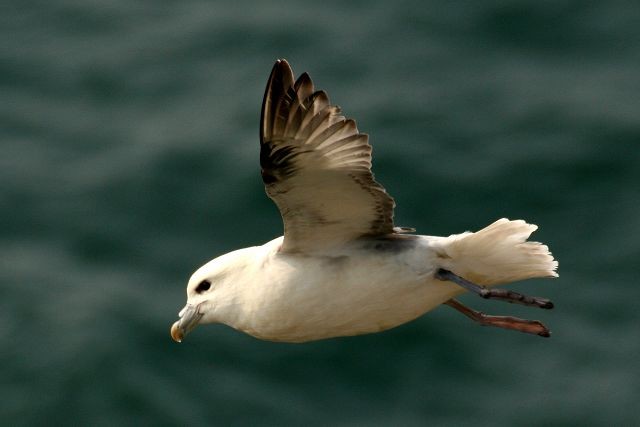 Fulmar (Photo: Chris Cook)
Tuesday morning was dismal to begin with. I arrived at about 7.30am to find clouds of drizzle drifting across the main water on a moderate northeasterly breeze, and no sign of any Fulmars, although I did catch up with one later in the day. My initial circuit of the reservoir produced little more than swirling flocks of Swifts and House Martins concentrated by the weather and then the 'resident' third-summer Yellow-legged Gull. I was just settling down to check through the Cormorant colony for colour-ringed birds when reserve manager Tim Appleton rang to let me know that there was a flock of about twenty waders distantly on Lagoon I of the Egleton reserve. So having noted just 'Blue LU' I moved round there, arriving at about 10.20, just as Tim Mackrill (Rutland Water Osprey Project officer) rang the other Tim to report a wader that he and Derbyshire birder Clive Prescott were watching from Harrier Hide: they did not know what it was, so it had to be something good. Tim A. quickly arranged for John Wright (also an Osprey Project officer) to pick us up and drive us round to Harrier. On the way we discussed Tim Mackrill's description and began to think what it could be....
The bird had just walked out of view when we arrived, and in ten minutes it did not reappear, so John moved to Mallard Hide: from there he could see it distantly and knew straightaway that it was a Stilt Sandpiper, an adult in virtually full breeding plumage. This is what we had been suspecting it might be. The rest of us quickly joined John to enjoy distant views of an amazing bird. The weather was still unhelpful, lenses quickly being coated by the drizzle and not picking up much plumage detail in the dull light, but Stilt Sandpiper it was. A first for Leicestershire and Rutland, the first proper inland record for Britain (Frodsham and Wisbech birders might argue with that), only the 37th British record, and the first in the country since 2006.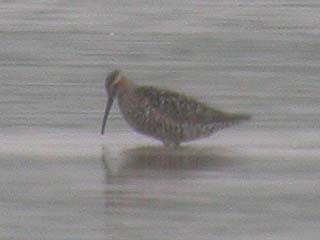 Stilt Sandpiper, Rutland Water, Leicestershire and Rutland (Photo: Simon Wilson)
Content continues after advertisements
Over the next four hours the bird gave good views to the couple of hundred birders who came to see it, often alongside a fine summer-plumaged Knot. It showed consistently but at a range of 250-300 metres from Mallard Hide, and less regularly but much closer from Harrier Hide. The weather soon improved no end, although it remained overcast, enabling a detailed study of the bird's plumage. Unfortunately at 14.55 the Stilt Sandpiper flew off high to the west and was not seen again.
By 18.30 most people had left, realising that the Stilt Sand was unlikely to show again. I was heading back to the Cormorant colony when Tim Appleton shouted to me "Either Marsh Sand or Lesser Yellowlegs at Harrier Hide". Surely this must be some sort of mistake? But no, when I joined Tim he explained that local birder Matt Mulvey had found a wader that was one or the other but it was too distant and the light too poor to be certain of the identification, and now both he and Rutland Water devotee Matthew Berriman were watching it. We rushed round to Harrier Hide with a sense of déjà vu: this time the bird in question opted not to walk out of view, and we soon agreed that it was in fact a Marsh Sandpiper when it revealed the distinctive white wedge up the back. Not quite as rare as the Stilt Sandpiper, but still another county first, and in full breeding plumage. The bird soon moved to the shoreline between Mallard Hide and the Anglian Water Visitor Centre for about half an hour, and then back to the Harrier Hide area. It gave excellent views down to about 40 metres. A few people who were still around hoping that the earlier bird might show up again were quite happy with the compensation! And county birders who had just got home from their earlier visits had time to come back and enjoy the second rare bird of a truly wonderful day.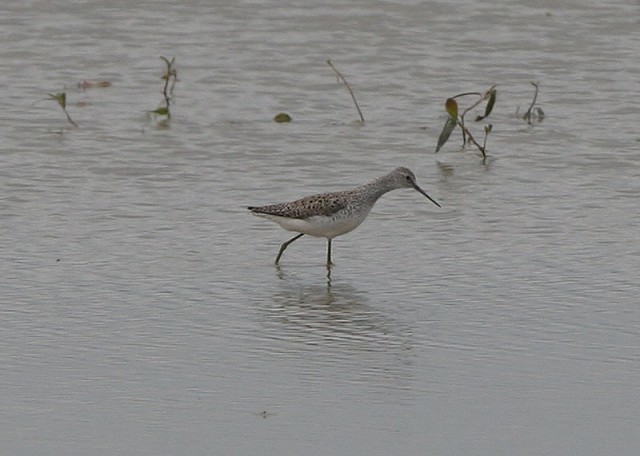 Marsh Sandpiper, Rutland Water, Leicestershire and Rutland (Photo: Steve Seal)
Fourteen species of waders were seen at Rutland Water during the day, including 21 tundrae Ringed Plovers, the Knot, three Sanderlings, three Black-tailed Godwits and two Turnstones. On the way home I called in at Cossington Meadows and added the Temminck's Stint that had been reported earlier in the day.
Two really top-class birds found at exactly the same spot within eight hours. Both county firsts. Both cracking adults. This really was the type of birding that dreams are made of. The person who was hoping a Terek would drop in to round the day off was probably being a bit too ambitious though, but there is always Friday....
Many thanks to the finders of both birds and to Tim Appleton for getting the news around so quickly.