The fastest free-flying bird in the world: a fact guaranteed to amplify that familiar pre-twitch feeling of nervous apprehension far beyond anything previously experienced.
That was certainly the case in the moments following a call from my colleague Alan Tilmouth, who was easily the most animated that I'd ever heard him, a little after 16:00 on June 25th. He'd heard through a friend that Adam Gretton and Mark Cocker had independently discovered a White-throated Needletail in the small town of Tarbert, on the northeast side of the Isle of Harris on the Outer Hebrides. Panic ensued as I broadcast the news on Bird News Extra. Now came the first challenge – put a team together, and work out the best method of getting on and off the island in a day. First call was to Dan Pointon, who I left in charge of checking boats and planes. It was at this point that I took time to reflect on a call that I'd taken the previous day from Dick Myatt, who'd coincidentally phoned BirdGuides with reference to a mystery swift he'd seen near – yes, you guessed it – Tarbert.
Dick had rung in at around 12:45 on 24th to report a "large swift with white on" over Loch Direcleit, just to the south of the town, a short while before his call. However, from what I could gather, his views had been brief and in poor conditions and the bird had since disappeared. Over the phone, I ran through the key identification points of both Alpine Swift and White-throated Needletail, but Dick had been unable to ascertain whether the white was on the upper or underside of the bird. He did say to me, though, that he didn't believe the bird to be a needletail and added that, given how poor his views had been, he'd struggle to rule out an aberrant Common Swift. We discussed the options available and decided, given the brevity of view and the bird's apparent subsequent disappearance, to abstain from broadcasting any news. Dick did promise to ring back if he saw it again.
Fast forward 28 hours and the picture was immediately clear: Adam and Mark's bird must have been that seen by Dick the previous day, which meant two things – 1) there was a needletail on Harris and 2) it was there for its second day. It transpired that they'd seen the bird flying down the street in the middle of Tarbert as they'd walked out the convenience store! The last hour of work was a little bit of a blur: texts, phone calls, tweets and bird news all tackled with an inherent numbness as my mind wandered well away from the hustle and bustle of London. Though admittedly a keen 'twitcher', I generally keep a cool head with such things and rarely get worked up about seeing a bird in the way that many others do. That all went out of the window on Tuesday, though. I genuinely don't remember much of my journey on the Piccadilly Line that evening. I was in a stupor, the combination of copious adrenaline, nerves and stress all making me feel rather sick. I finally escaped the grasp of the M25 at around 19:30 and rushed up to meet Dan near Birmingham, and John Pegden and Chris Bromley near Stoke. The team was assembled, now all we had to do was get to Inverness for our 07:50 flight.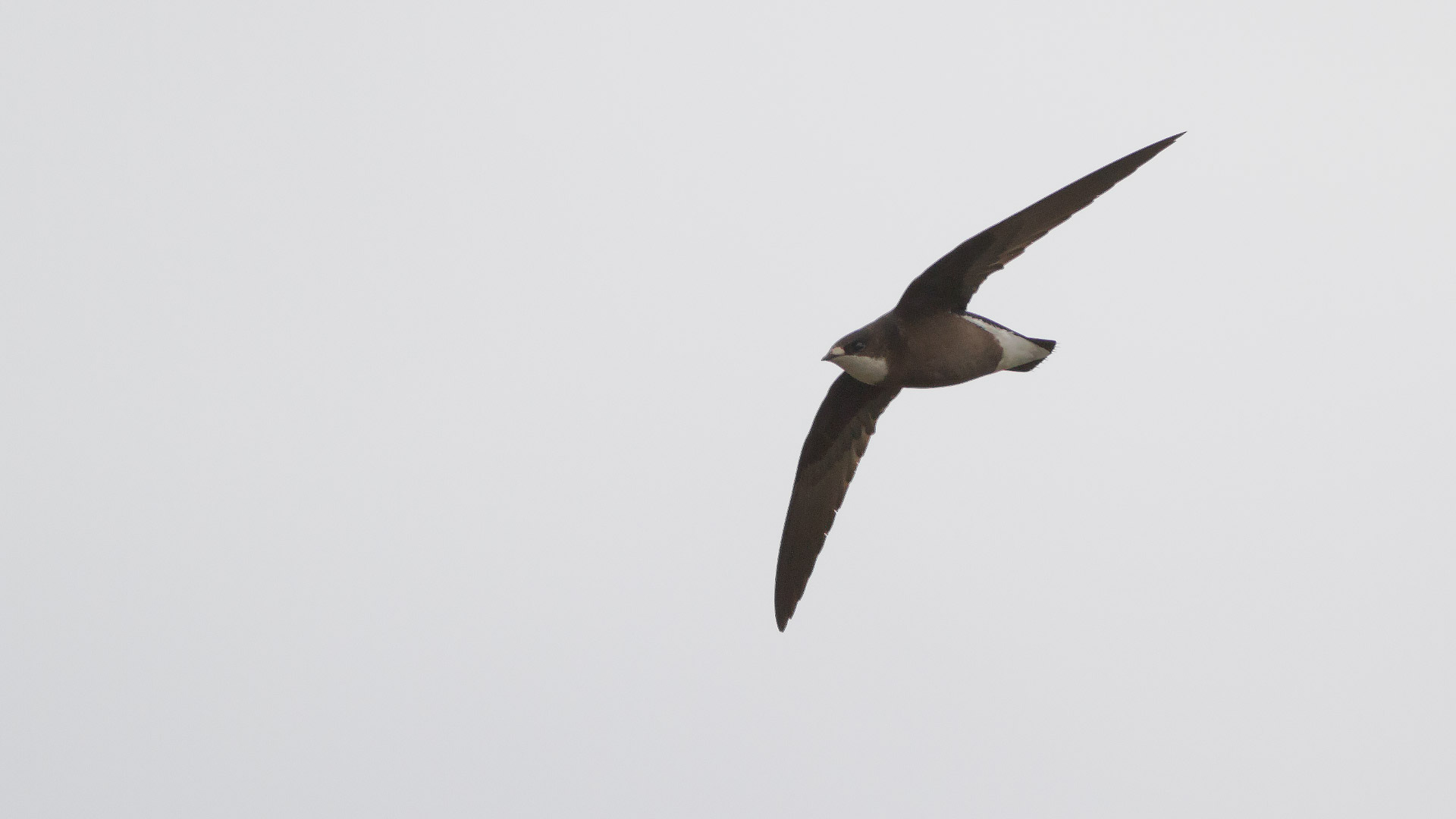 White-throated Needletail, Tarbert, Harris, Outer Hebrides (Josh Jones)
A police stop near Gretna and subsequent engine issues (finally resolved by bump-starting Dan's Ford Focus on the hard shoulder of the M74!) brought the sickness feeling back again but, despite temporarily worrying that we weren't going to make it to Inverness, we rolled up at the airport at around 05:30. Now it was a waiting game. The adrenaline and nervousness levels were reaching all-time highs as we paced about the executive lounge ('Plus' tickets – a sort of premium economy – were the only tickets left for the flights we had booked). At quarter to eight we boarded the plane, with still no news on the bird. At twenty past eight we landed at Stornoway and Dan had a voicemail waiting. "The bird is still there", he excitedly announced, "Seen at 07:08!"
Game on! The hire car was rapidly obtained, and soon we were flying (literally on the odd occasion – the road south to Harris is quite uneven) towards Tarbert. But then came the first twist of the day: our elation was cut short, just after our arrival at 09:30. The wonders of modern [mis]communication meant that the morning's report had actually referred to the previous evening and had been wrongly interpreted! There was unanimous deflation among the twenty or so that had flown over that morning& – it was back to square one, at least for now.
Around 45 minutes of idle chatting and scanning passed, with small clusters of birders scattered about the town and up towards the loch where it had been first seen. At 10:15, the peace was shattered as the call we'd been waiting for came: "It's just been seen flying from the loch down towards the town!" Headless chicken mode prevailed for a few minutes until, finally, there it was – effortlessly speeding around over Loch Direcleit. Fifteen travel-dominated, nauseous hours became worthwhile in an instant. It was incredible. Joy and elation returned as the bird showed down to just a few metres, zipping over the heads of hand-shaking and hugging birders! It was time to ring and update Alan Tilmouth, who was manning Bird News Extra. Alan summarises his morning and afternoon below:
"Up early, I was getting nowhere near Harris. But, as I've discovered since working for BirdGuides, the next best thing is to be at the other end of the hotline, for observers' excitement is often tangible. I'd been hoping to break the continued presence of the needletail early on and so to hear that the earlier message was erroneous had been something of a disappointment. I was thrilled when, at 10:15, a breathless Josh gasped "it's still here!", and moments later Tim Cleeves was also on the phone adding some vital details. So, at 10:17 we were able to run with the news that everyone had been waiting for it – the needletail was still present!
"Late morning and several (!!!) reports later, but still no images. Then a tweet from Josh: a classic 'back of the camera' shot and a Neil Armstrong-esque greeting 'Hello from Harris...' which I instantly republished across BirdGuides' social media outlets. Excitement was quickly hitting fever pitch across the online birding world and the continued presence of the swift was simply fuelling the fire. Josh et al were reporting views to within touching distance. The swift's mobility over the following few hours had me feeling all the ups and downs no doubt being experienced by those on Harris – it was certainly a unique afternoon to be working!By mid-afternoon excitement levels were gradually dropping; the swift had been relocated and was showing, while, elsewhere around Britain & Ireland, it was a slow news day. A shot dropped into our photo approvals and I clicked on it expecting another Great Spotted Woodpecker or Oystercatcher, and was caught completely off guard when a full-frame, side-on, incredible image of the Needletail appeared in full, glorious colour on my laptop screen.
"I sat stunned, drinking it in, eyes wide, time stood still. Suddenly the adrenaline kicked back in: this was an iconic photograph that we simply needed to publish."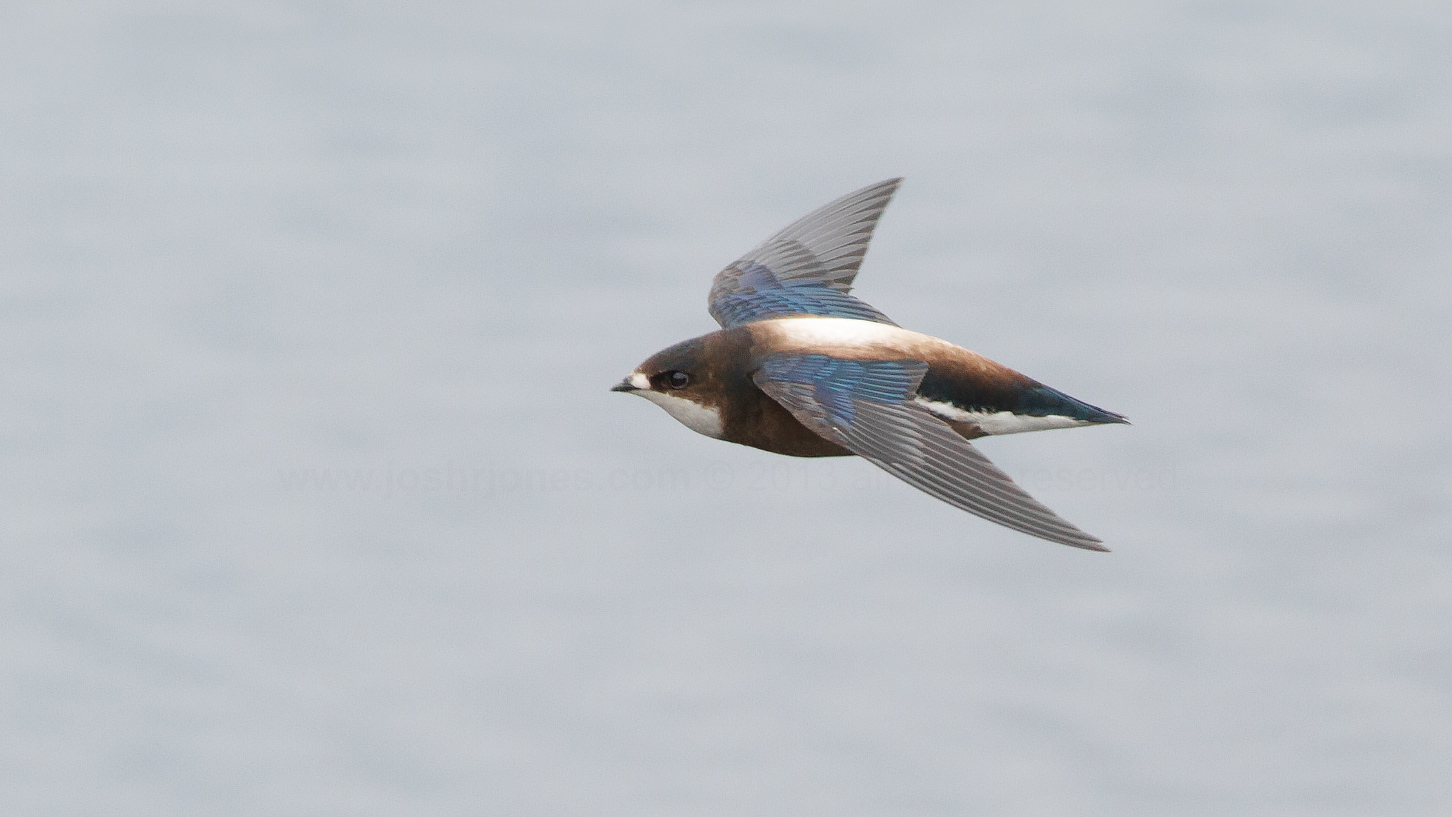 White-throated Needletail, Tarbert, Harris, Outer Hebrides (Josh Jones).
We'd spent an unforgettable two hours in the company of the needletail. Though it could prove mobile, and twice made brief visits down over the town, it spent much of its time hanging in the skies above Loch Direcleit or bombing low over the water and adjacent fields, gorging itself on insects. The response of the crowd was unanimous: just as those who'd seen the Hoy bird had said many years ago, those fortunate enough to witness this true master of the skies hawking insects just inches from their faces on Wednesday morning were all in agreement that it was the best bird they'd ever seen. Sometimes it was so close that you could hear the whoosh as it acrobatically manoeuvred its way through the assembled crowd, seemingly treating us as it would livestock as it caught insects immediately above and around us. The speed of the bird and the dullness of the day made it a difficult subject for photos, but those present managed shots nevertheless. Some recorded the bird with their phones as it careered by. Others just simply stood and stared with mouths wide open, speechless at its outrageous performance. All I can say is that it was the best birding 'experience' I've had in Britain to date – the bird, the twitch, the location, the scenery and those I'd shared it with. It had been a special day.
The White-throated Needletail showing low over assembled birders' heads – video with an iPhone only! (Josh Jones)
Before our flight back to Inverness, I'd managed to upload a few images of the swift to my personal blog and the BirdGuides Iris galleries using a dodgy internet connection and, although I was pleased with the photos, I had no idea that they'd generate the reaction that they did. It was also great to hear from Tarbert that Peter Stronach and Bob Swann had relocated the swift several kilometres to the south of its original location and that those coming on ferries from the mainland had all connected. Peter shared this great photo of the carnage on the road near Plocrapol, shortly after they'd refound it – it captures the pandemonium of the twitch brilliantly: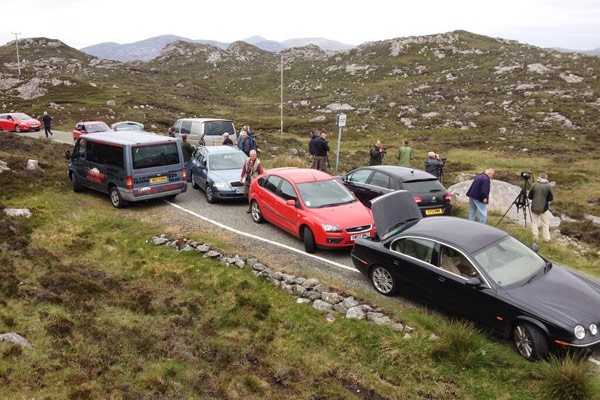 Needletail twitchers engulf the road near Loch Drinisiadair (Peter Stronach).
However, the elation of the day was suddenly dispelled once more as yet another twist in a breathless day developed. Some time after 17:30 we received the tragic news that the bird had appeared to collide with a wind turbine on the moor near Loch Drinisiadair. This was confirmed when David Campbell tweeted that he'd picked the swift up, followed shortly by photographs depicting the unfortunate creature in the hand. The incident must have been awful for those who'd witnessed it; it was a sobering situation for us, having seen the bird in an altogether happier state just a few hours previously. It was hard to imagine how those must have felt who had booked flights and ferry crossings on the news of the bird's continued presence during the afternoon. Unanimous shock and disappointment prevailed, anti-wind farm debates began to rage and the day looked to end in an altogether uglier manner than could have ever been imagined. Without wanting to get embroiled in controversy, it is worth remembering that most of the lost waifs seen on our shores probably meet an untimely end in one way or another – it is just unusual that birders were there to witness it on this occasion. Having relayed the news of the bird's unfortunate passing to Alan, he commented to me that, despite it being an otherwise quiet day on the news, he was exhausted. As he said, "[I'm] not sure I'll ever have a day like it again, I may have been hundreds of miles from Harris but I lived the needletail through the eyes and ears of those there and the emotions of many more reading the news. I won't be forgetting 'the best bird ever' in a hurry. An incredible day."
The demise of a beautiful bird (David Campbell).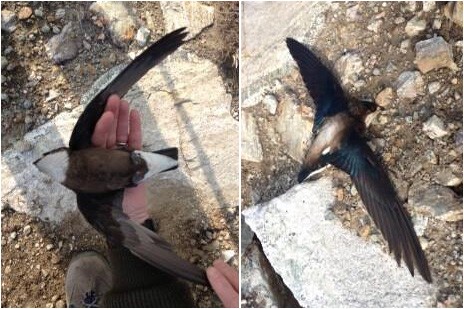 The needletail in the hand (David Campbell).
An incredible day it was, very hard to sum up in words. I finally arrived back in London at 04:00 on Thursday morning, a full three hours before I needed to be up and on my way back into work. Sitting here writing this, it's remarkable to think how much action, drama and emotion can be unlocked by simply chasing after a bird. But this wasn't just any old bird; it was the fastest bird in the world – a species that could be hundreds of miles away in just a few hours had it chosen to be. The thrill of the chase was one that I've never experienced before and am unlikely to again. The emotions experienced were meteoric – relief, exhilaration and despondency all figured in a topsy-turvy few hours. The bird has unfortunately paid the ultimate price for its wayward meanderings in utterly tragic circumstances, but not before it made a lot of people very happy indeed.