In recent years, the UK's estuaries and wetlands have seen some notable changes in the birds using them. Little Egret and Avocet are now present in much higher numbers than ever before, but familiar species such as Ringed Plover and Dunlin are at all-time lows. Other coastal waders, such as Redshank, Curlew and Bar-tailed Godwit, have also experienced recent declines.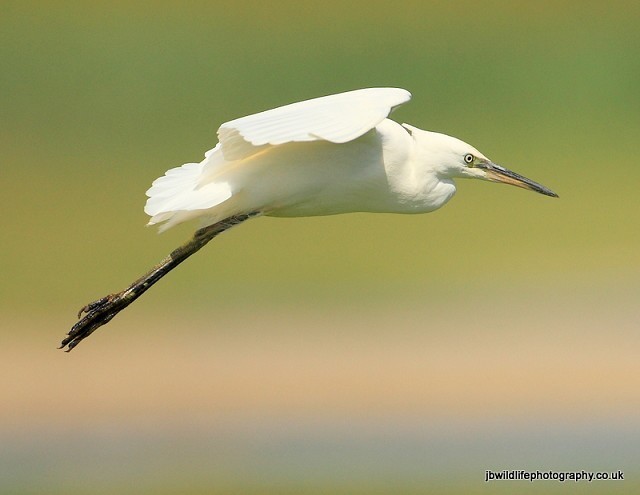 Little Egret, Cley Marshes NWT, Norfolk (Photo: John Betts)
The latest Wetland Bird Survey (WeBS) report (now available online), covering the winter of 2008/09, details the increase of four native waterbirds, with Pink-footed Goose, Svalbard Barnacle Goose, Little Egret and Avocet all at record levels. Avocet, for example, has increased by over 1000% in the last 20 years. Other species on the increase were either non-native (Egyptian Goose and Mandarin Duck) or re-established/feral (Greylag Goose and Barnacle Goose).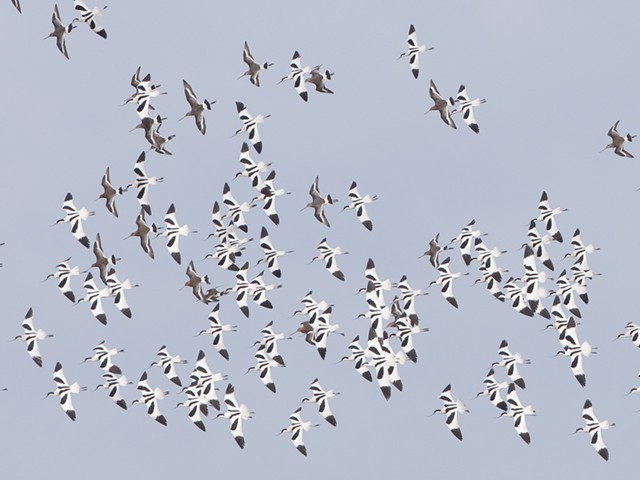 Avocet, Cley Marshes NWT, Norfolk (Photo: David Horsley)
In contrast, populations of six species reached an all-time low point: Mallard, Pochard, Goldeneye, Red-breasted Merganser, Ringed Plover and Dunlin — all of which have declined by at least 20% in the last 20 years.
Content continues after advertisements
Chas Holt, WeBS Organiser at the BTO, commented: "Once again our volunteers are recording dramatic changes in Britain's birds. Just 20 years ago, Little Egrets and Avocets were scarce in the UK but nowadays they are a familiar sight at coastal wetlands on the south and east coasts. At the same time, numbers of some of our internationally important wader populations are in decline — probably partly because they are shifting range in response to climate change. To see how many species responded to last winter — the coldest across the UK for over 30 years — will prove especially interesting."

Pochard, Old Hall Marshes RSPB, Essex (Photo: Mark Bicknell)
Simon Wotton of the RSPB added: "The Wetland Bird Survey proves that the UK is rightly renowned for the millions of ducks, geese, swans and wading birds which visit each autumn and winter. The survey also highlights the fluctuating nature of these populations with some recording their highest or lowest figures since the survey began. With the UK boasting many sites of international importance for wetland birds, we have a global responsibility for these species and sites. In coming decades, climate change, development and sea-level rise will all place great stress on one of the UK's greatest wildlife treasures."
David Stroud from the JNCC said: "The monitoring data from WeBS are essential to enable the UK to fulfil its obligations under international conservation treaties such as the Agreement on the conservation of African Eurasian migratory waterbirds. This Agreement provides a legal framework for countries to work together to conserve waterbirds that move between many countries in the course of their annual migratory cycle."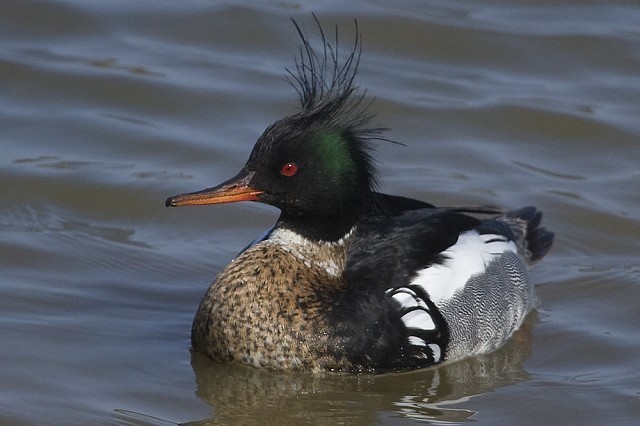 Red-breasted Merganser, Hauxley NR, Northumberland (Photo: Tim Mason)
Richard Hearn, Head of Species Monitoring at WWT, concluded: "Data collected by the WeBS counter network are invaluable to waterbird conservation and allow this latest assessment of trends to be made. They continue to highlight deterioration in the status of many migratory waterbirds in the UK, yet for many of these the causes of this are not fully understood. Flyway-scale research that helps to explain these trends is urgently needed to ensure that appropriate conservation action can be taken in good time. Red-breasted Mergansers, for example, are declining at an alarming rate in the UK, but increasing in Sweden. We need to catch and ring more of this species to understand better whether these trends are linked, or whether other factors closer to home may be causing the decline."
WeBS monitors the numbers and distribution of non-breeding swans, geese, ducks, waders and other waterbirds at over 2,000 sites across the UK, providing the principal data for the conservation of their populations and wetland habitats. It is a partnership between the BTO, RSPB and the Joint Nature Conservation Committee (JNCC), in association with the Wildfowl & Wetlands Trust (WWT).