New results from the British Trust for Ornithology's Garden BirdWatch suggest that the Coal Tit is one of a number of species struggling to find food this winter. Through its network of 14,000 'citizen scientists', the charity has charted a substantial upsurge in garden use, with Coal Tits turning to feeders in huge numbers. It appears that tree seed crops have been poor this year, leaving many seed-eating birds with little natural food on offer in the wider countryside. As a consequence, many species have been turning to bird-table fare. Perhaps the most noticeable of these arrivals has been the Coal Tit, a species usually recorded in roughly half of gardens during November and early December, but this year visiting nearly three-quarters of gardens.
As well as the patchiness of natural seed crops, the recent wet weather has also proved problematic for Coal Tits. The seed cones of conifers only open under dry conditions and damp weather leaves them firmly closed; Coal Tits then have to find food elsewhere and we have seen a resulting increase in the use of garden feeders. Coal Tits have visited more gardens in the last few weeks than during the same period in any of the 17 years over which the BTO Garden BirdWatch survey has been running. This December, the BTO wants more birdwatchers to help chart the influx of 'Old King Coal' into gardens. Anyone who watches garden birds can get involved with the charity's Garden BirdWatch project, which is the largest year-round survey of garden birds in the world. Not only is the survey great fun but simple observations made by participants help to protect bird populations.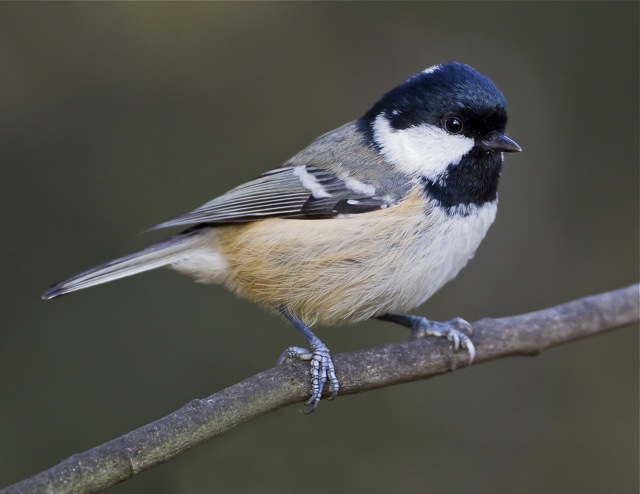 Coal Tit, Staveley NR, North Yorkshire (Photo: Antony Ward)
Coal Tits bring plenty of activity into gardens, as they dash restlessly to and from seed feeders. During autumn they spend much of their time storing food to ensure that they have plentiful supplies for the winter ahead. Research shows that they can remember such hiding places for around four weeks, so look out for individuals retrieving these morsels in the depths of winter. Dr Tim Harrison of the BTO Garden Ecology Team commented: "Off the back of a difficult breeding season, the rain over the past few weeks has hampered Coal Tits yet further, drawing them into gardens in search of food. They will often arrive in a crowd — look out for them travelling with Blue and Great Tits, and perhaps also with Long-tailed Tits and even Goldcrests. Other wonderful birds, including Goldfinch, Bullfinch and Nuthatch, are also amazing householders in unusually high numbers at present. With many natural foods seeming to be scarce, this winter is set to be one of the most exciting ever for garden bird lovers. Make your sightings count by getting involved in BTO Garden BirdWatch."